The Pulse of Entertainment: 'I Love to Call Him' Released by Vincent Bohanan & SOV on HezHouse Label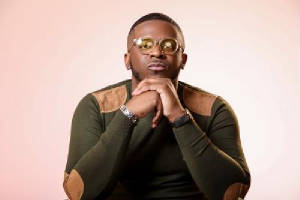 (February 21, 2023) - "It's part of our next album 'Live in Dallas'," said Vincent Bohanan about the new single "I Love to Call Him" (HezHouse Entertainment/Provident Music Group) of Vincent Bohanan & Sounds of Victory (SOV). "In this song...pretty much...is a bass line...driving the song."

The "I Love to Call Him" single is released in celebration of the choir's nineth year. The choir was formed to provide young Gospel singers a platform to develop and express their talents.

"Our sound is churchy. Contemporary and traditional to give it that churchy sound," Bohanan added. "(SOV) Members are pretty much the same, though we get lots of new people, but the core people stay the same."

The single, like the upcoming album, was recorded live in Dallas, Texas. Vincent Bohanan & SOV just finished a European tour that had them performing at The Vatican. Their project and current single is distributed by Grammy winning Hezekiah Walker's label HezHouse Entertainment, which is distributed by Providence Music Group. The label is dedicated to progressive choirs and ensembles. The HezHouse label also has on its roster Mark Hubbard & the Voices and Kevin Lemons & Higher Calling.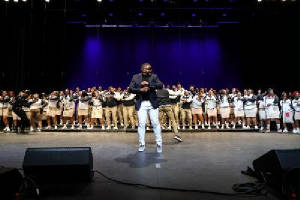 "I try to put out music every year for the people," he said.

Vincent added, "Every year for our anniversary we perform in difference cities...Orlando, Philadelphia, Chicago. We decided to perform close to home (Washington, DC), so why not Howard? Its people will support what we do...and we can introduce ourselves."

The SOV event at Howard University was hosted by Warner Music/Blavatnik Center for Music Business in the Cramton Auditorium. While there Vincent was asked to speak to students about his career as a choir director, songwriter, and artist.

"It was a great opportunity to share what I was trying to do...they had great questions," he said about the experience.

Howard University is not the only college Vincent Bohanan & SOV have performed at. Other institutions include Ohio State and Yale University.

"They were very excited," Vincent said about Howard University. "We brought...young people and Gospel to Howard." www.VincentBohanan.com
SYNDICATED COLUMN: Dr. Eunice Moseley has an estimated weekly readership of over one million with The Pulse of Entertainment. She is also a Public Relations and Business Management Strategist and Consultant at Freelance Associates, and is Promotions Director (at-large) for The Baltimore Times. www.ThePulseofEntertainment.com EVENTS: "Uplifting Minds II" Entertainment Conference (ULMII), founded by Eunice in 1999, is into its 24th year. Next events are coming to Baltimore via Zoom Saturday April 15, 2023, presented by Security Square Mall and The Baltimore Times, and Los Angeles via Zoom Saturday, November 11 2023. The ULMII event is a free entertainment conference offering a Professional Industry Panel Q&A Session, a Professional Talent Showcase and National Talent Competition (vocal, songwriting, dance and acting) where aspiring artists have a chance to receive over $17,500 valued in prizes/product/services. Log onto www.UpliftingMinds2.com, a 501 c3, for more information or to RSVP for Zoom Access email info@ThePulseofEntertainment.com.