The Pulse of Entertainment: Jazz Pianist Melvin Johnson Debuts with 'Little Red Wagon'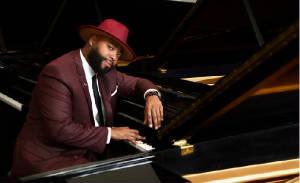 (March 3, 2023) - "I'm perfecting myself for now," said Jazz pianist Melvin Johnson about debuting the "Little Red Wagon" album after such a long career as a musician who has opened for such greats as Will Downing, Bilal, Vivian Green, and Chante Moore. "I've always been a live performance musician. My dad was a pastor...churches are serious in Houston. I do clubs...love its energy. I appreciate that immediately feedback."

Melvin is a music teacher for 1st through 5th graders. That means he has the patience needed to produce perfection, as noted by his many awards, such as the Best Rhythm Section Musician at the Gulf Coast International Jazz Festival.

"I play trumpet, drums, piano and bass," he said when we talked about the recording process.

He went on to tell me that because he is so instrumentally versatile he could send the musicians featured on the project their part on the same instrument.

"I learned you have to have the right pieces," Johnson explained. "I had to get past live performance and work on myself (as a recording artist). I recorded my parts and slowly added people...some didn't make it."

Melvin Johnson also has his own band The Electro-Akoustic and some of the members are featured on his debut. The motivation to debut a project he said was family. He has a track dedicated to his late father Robert Lloyd Parker, his wife Tamara and his son Gavin.

"My sister had a (singing) voice bigger than life...beautiful, always an inspiration and I had nothing of her voice," he explained when ask about why debut now. "My son was four...we were having a conversation and I was telling him about her beautiful voice...so I decided to work on it (a project) for my son."

The "Little Red Wagon" album offers nine selections, a message to his father, a reprise of the title track, and an interlude. The San Jacinto College North graduate served as music director at Bel Ami, and was director of musical ministry at Great Vision Church, where he met his wife who sang in the choir. Melvin is also the first chair of the Texas Music Educators Associates that is a Jazz pianist all-state.
SYNDICATED COLUMN: Dr. Eunice Moseley has an estimated weekly readership of over one million with The Pulse of Entertainment. She is also a Public Relations and Business Management Strategist and Consultant at Freelance Associates, and is Promotions Director (at-large) for The Baltimore Times. www.ThePulseofEntertainment.com EVENTS: "Uplifting Minds II" Entertainment Conference (ULMII), founded by Eunice in 1999, is into its 24th year. Next events are coming to Baltimore via Zoom Saturday April 15, 2023, presented by Security Square Mall and The Baltimore Times, and Los Angeles via Zoom Saturday, November 11 2023. The ULMII event is a free entertainment conference offering a Professional Industry Panel Q&A Session, a Professional Talent Showcase and National Talent Competition (vocal, songwriting, dance and acting) where aspiring artists have a chance to receive over $17,500 valued in prizes/product/services. Log onto www.UpliftingMinds2.com, a 501 c3, for more information or to RSVP for Zoom Access email info@ThePulseofEntertainment.com.