January 7, 2011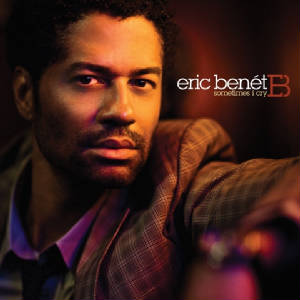 Eric Benet's 'Lost in Time' is finding its way - to the top of the charts

(January 7, 2011) - "I needed to hear some music on the radio with real passion," said R&B's Eric Benet about his latest CD project "Lost in Time" (Reprise). "Musicianship and live authentic realism...my ears was not hearing that - not saying it wasn't good music out there - but this CD is recorded live...with live strings...we used as little of modern technology (as possible)."

Eric Benet's latest CD project debuted on the Billboard Charts at #11 and the single, "Sometimes I Cry," debuted at #44. The official music video to the single has reach almost 350,000 views in two months.
Benet (44) executively produced "Lost in Time" and co-wrote/co-produced each song with his cousin George Nash, Jr., who was once in a group with Eric - along with Eric's sister Lisa - called Benet in 1992. In 1993 he became a single father to his daughter born in 1992, after the tragic death of his daughters' mother. A year later - in 1994 - he signed with Warner Bros Records and released a solo project, "True to Myself," in 1996.

In 1999 he released "A Day in the Life" which garnered the hit single "Spend My Life" featuring Tamia. Eric received a Grammy Award nomination for that single and the CD. In 2005 he released "Hurricane" and by 2008 "Love and Life" was released garnering the #1 Adult R&B Song "You're the Only One."

If passion is what Eric wants to hear his first single "Sometimes I Cry," one of my favorite cuts on the project, certainly provokes that feeling.
"I hope that and want a powerful reminder to the record companies and radio that people are hungry for real music," Benet said this was his hope of what the project will produce from those that listen to it. "Real singers, real artists and craftsmanship - not to slight the auto-tune because that's an art form too."

Well I think it was very crafty how he and Nash combined the sounds of the 70s with the contemporary R&B (and Pop) sounds of today. I can clearly hear the influence of The Stylistics in several of the songs. Though the entire album is a treasure because of selections like "Feel Good" with Faith Evans and "Good Life" featuring Ledisi, my favorite cuts on the CD include - aside from the hit single - "Never Want to Live Without You" because it's reminiscent of the Stylistics' "Betcha By Golly Wow" hit and it's a sweet and honest confession of a bad move; "Always a Reason" has a 70s vibe too and Eric's tenor capabilities is just amazing; "Paid," featuring Eddie LaVert, took me back to the O'Jay's vibe, and "Summer Love" an R&B/Pop selection featuring Eric's daughter India - how sweet - she does a wonderful job harmonizing with her father.
"India is very talent," Eric told me about his daughters' skills. "She is a singer and songwriter...she is developing her own sound and direction."
For more on Eric Benet log onto his website at
www.EricBenet.net
or you can follow him at
www.twitter.com/ericbenet
.
BET's Celebration of Gospel, an extravaganza of Praise & Worship performances, to air January 30, 2011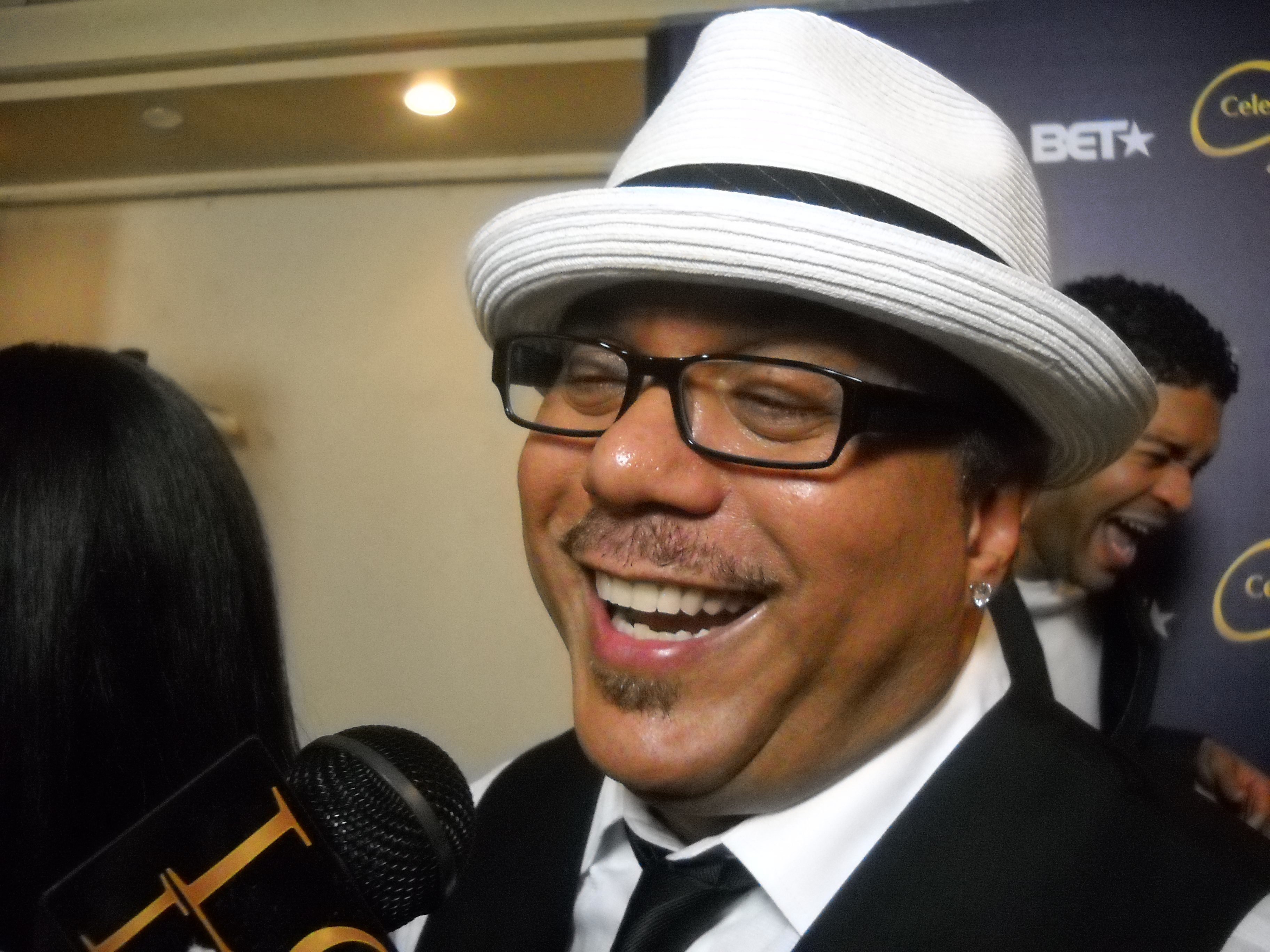 I was invited to cover the BET Celebration of Gospel, to air January 30, 2011, that started with an early-morning Prayer Breakfast where Dr. Bobby Jones and Dr. Jamal Bryant prayed briefly. Then it ended with the red carpet arrivals and the show which attracted enough people to fill The Orpheum Theatre in Los Angeles and form a line of anxiously - standing room only - hopeful attendees three blocks long.
There were over 22 artists there (Gospel and secular) to perform during the BET event such as Chaka Khan, Dr. Bobby Jones, Howard Hewitt, Israel Houghton, James Fortune, Kim Burrell, Smokie Norful and Mary Mary. The list just goes on and one with performances by Kelly Price, Kirk Franklin, El DeBarge, Donnie McClurkin, Beverly Crawford, Rance Allen Group, Kathy Taylor, Vashawn Mitchell and its all hosted, again this year, by the very funny Steve Harvey. It even has Whitney Houston surprising everyone when she appeared on stage to perform. In between performances you will get encouraging words from the likes of Bishop T.D. Jakes, Angela Bassett, Hill Harper and Keith David.
"You'll only be lonely at the top if you don't take nobody with you," Dr. Bobby Jones pointed out at the Prayer Breakfast.
If watching over 22 major artists perform with one thing in mind - praising God precious name - don't uplift, inspirit or comfort you - I don't know what will. So if you are ready to be inspired tune into BET's Celebration of Gospel January 30, 2011. For more information on BET or the event log onto www.BET.net.
Trueful's promo-tour takes him along the west coast corridor, stops by Club Aurora in Studio City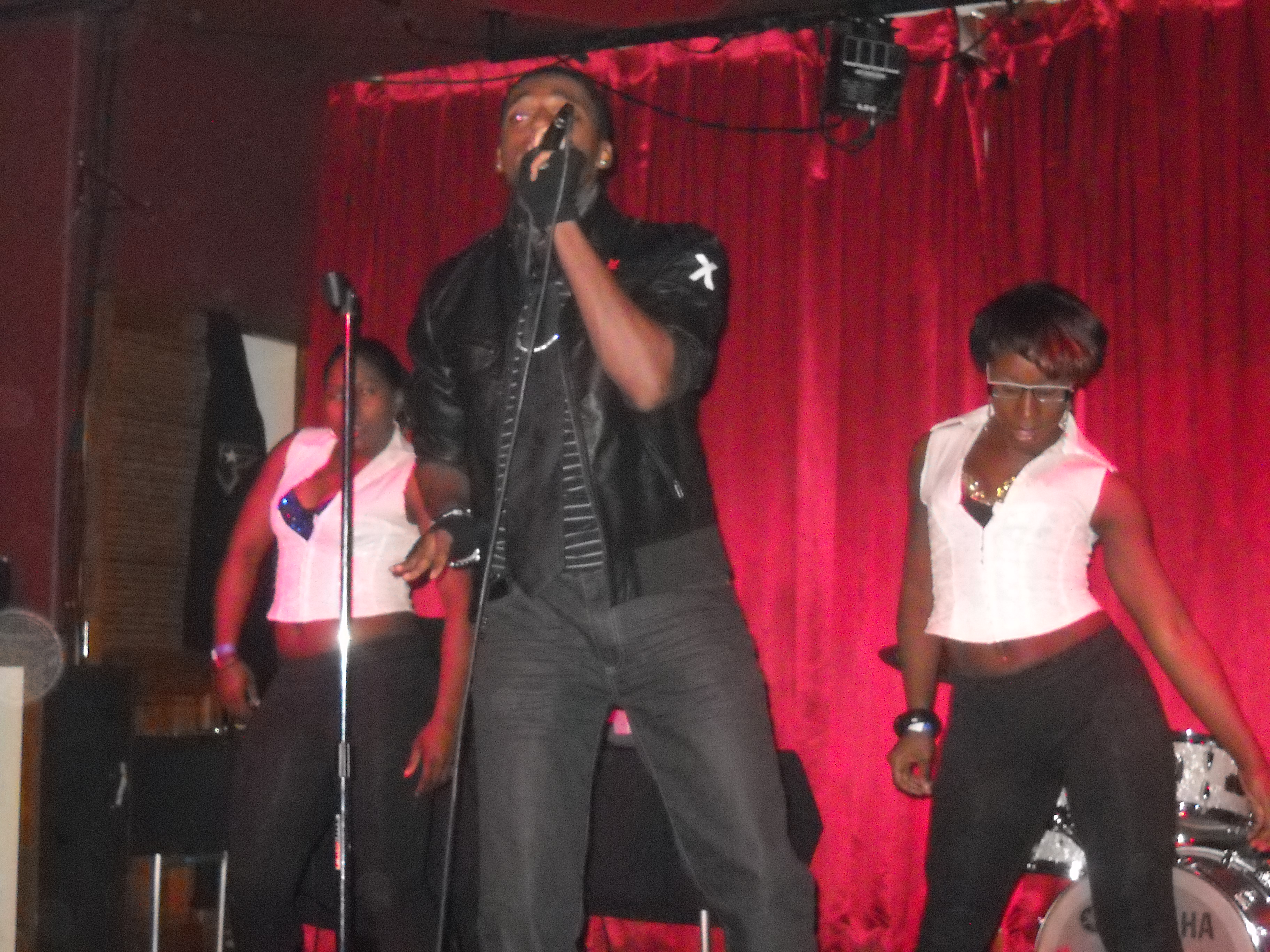 I stop by one of the many performances of Trueful, R&B's new singing/songwriting sensation, because I just love to see him perform - especially with his French Royalty Dancers. This particular performance was at Club Aurora in Studio City, part of his promo-tour to support his latest project "Taste of Class" (French Royalty Entertainment).
As usually the crowd seemed to be more excited about Trueful's performance than anyone else - as was I was. We knew he was going to be entertaining, because this boy always puts his "all" into his performances - a true professional.
Trueful, who recently celebrated the release of his sophomore project with a CD release concert that featured platinum acts Dru Hill and H-Town, performed three selections from his CD that night:"Feeling You," "Beast," and "My Baby."
Aside from his music, Trueful is also an actor - his latest role is in the Screen Gem film Easy A. For more information on performance dates or the CD log onto his www.myspace.com/BeTrueful or follow him at www.facebook.com/TruefulFrench.
February 4, 2011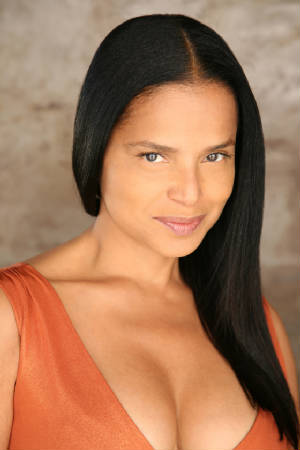 Tear-jerking 'Of Boys and Men,' starring Robert Townsend, Victoria Rowell and Angela Bassett, exams the power of family
By
Eunice Moseley


"The opportunity to work with Harvest Productions...two women inspired by true stories that happened in their family," said Emmy nominated Victoria Rowell about why she took the role as Janay in the Warner Home Video DVD presentation, 'Of Boys and Men," as the sister of Holden - played by Robert Townsend.

Victoria continued on with her list of motivators for taking the role, "the opportunity to work with Robert Townsend (also producer), with the director (Carl Seaton)...to be able to work with Angela Bassett and more, to work with virgin African-American actors. Angela and I collaborate off sound stage also...humanitarian work."

Bassett plays the wife who was tragically killed and Rowell's character is the dutiful sister of her husband who stopped her life to be counsel and house-keeper for her brother and as comforter to his kids. The film also stars Faizon Love, Dante Boens, Bobbe' J. Thompson, Scott Baity, Vince Green, Cynthia McWilliams, Yahaira Tarr, Brian Smith and Sharde Cole. The Stephen James Taylor music score is outstanding and it carries the film seamlessly through to a powerful, tear-jerking end.

"The story...is a testament of faith and the power of family," Victoria said frankly.
What a powerful testimony it was too, certainly worthy of some honors. For more information on 'Of Boys and Men," the urban family drama, log onto
www.WarnerVideo.com
.
Japanese born pianist Keiko Matsui releases 'The Road...' on Shanachie Entertainment

With an unbelievable 21 albums already under her belt, Japanese born pianist Keiko Matsui recently released yet another on Shanachie Entertainment titled "The Road..." Residing in America now, this mother of two is also a composer and producer. Her style is masterfully Japanese influenced, but yet infused with American genres such as Jazz, Pop and Funk.
"I've known him for a long time," Keiko said about legendary saxophonist Kirk Whalum - who is featured on several selections. "We've seen each other at festivals and concerts. I knew he was a wonderful artist and a very spiritual person"
Whalum is featured on "Awakening" and "Affirmation," along with drummer Vinnie Colaiuta. Saxophonist Jackiem Joyner is featured on the title track "The Road..."
"I love music," Matsui said when questioned about her outstanding 22 album history. "Music is my first love, that's why I'm doing it!"
Keiko Matsui is doing it pretty well too. My favorite cuts on "The Road..." CD include the Kirk Whalum featured "Affirmation" which starts off slow and smooth then progresses into a funky Jazz number; 'Secret Pond" a powerful masterpiece - no other name describes it; the title track "The Road..." is so sweet you can almost taste it, and "Nguea Wonja," which made me actually get up and do the Cha-Cha.
For more information on this breath-taking talented pianist, Keiko Matsui, logo onto her website at www.KeikoMatsui.com.
February 11, 2011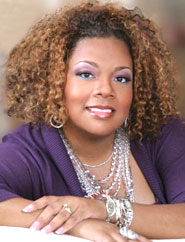 Former Gospel background singer takes center stage with debut CD, 'The Greatest Gift'


Imagine the vocal power of Jennifer Hudson, fused with Rock influenced vocal delivery with a Praise and Worship message, well that's what I hears when I listened to the debut album of Eumika Body-Griffin -'The Greatest Gift" (Make Music Group). I have never heard nothing like it in the Gospel industry.
~
"The initial prompting (for recording the CD) was from my husband," Eumika Griffin said about the project. "He's a trained keyboardist. We wrote our first song while dating 20 years ago...We work well together."

Eumika's husband Kevin "Griff" Griffin is producer and co-executive producer on "The Greatest Gift" project. Griffin, a 2008 Gospel Choice Award winner, began singing at the age of four and with the support of her family, church (Church of God in Christ) and husband she is able to share her powerful gift with us.
"God's hands are on it," Eumika said about her project.

The former background singer to Ann Nesby and LaShun Pace is a native of Minnesota, but currently resides in Atlanta.

My favorite songs on "The Greatest Gift" Eumika Body-Griffin debut CD are "Make Some Noise" for the guitar support of Keith Barnes; "All of Me" for the almost whisper like marching drum sound by Jeremy Haynes; "Worship Medley" because of its tight harmony and almost perfect vocals of Eumika; 'It's OK," for the heart-felt message from Christ, and "I Need You" a Pop flavored song supported by the great voices of Sweden's Veni Vidi Canti Choir - directed by Karin Aase.
Jazz vocalist Kathy Sanborn is back with 'Blues for Breakfast'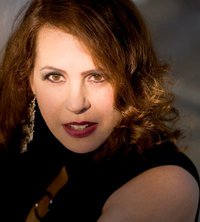 "The songs came flowing ...and I had to get it out somehow," Jazz vocalist/songwriter Kathy Sanborn said about the songs that are part of her newest album "Blues for Breakfast" (Pacific Coast Jazz).
Joining Kathy on the new project are Grammy Award nominee Scott Petito on bass, Chris Carey on drums and Wayne Ricci on trumpet. The passionate Blues singer is also an accomplished pianist who said even though all the songs came to her in a special way, "Butterfly" just came flowing out.
"I am always growing as a composer and producer," Sanborn admits. "I am learning all the time. 'Blues for Breakfast' is a product (of what was learned)."
"Blues for Breakfast" is also a unique fusion of Blues, Jazz and R&B. The project offers 10 delicious selections to carry you through your day. As I did, you will find yourself playing it continuously as you take that morning drive.
Those selections I find playing more than others include "Waterfall" for Kathy's relaxing tone and great piano support; "Painted Blue," the traditional Blues song; " Love's Delight," for its sentiment and "Butterfly."
For more on Kathy Sanborn's "Blues for Breakfast" log onto www.PacificCoastJazz.com or www.KathySanborn.com.
February 18, 2011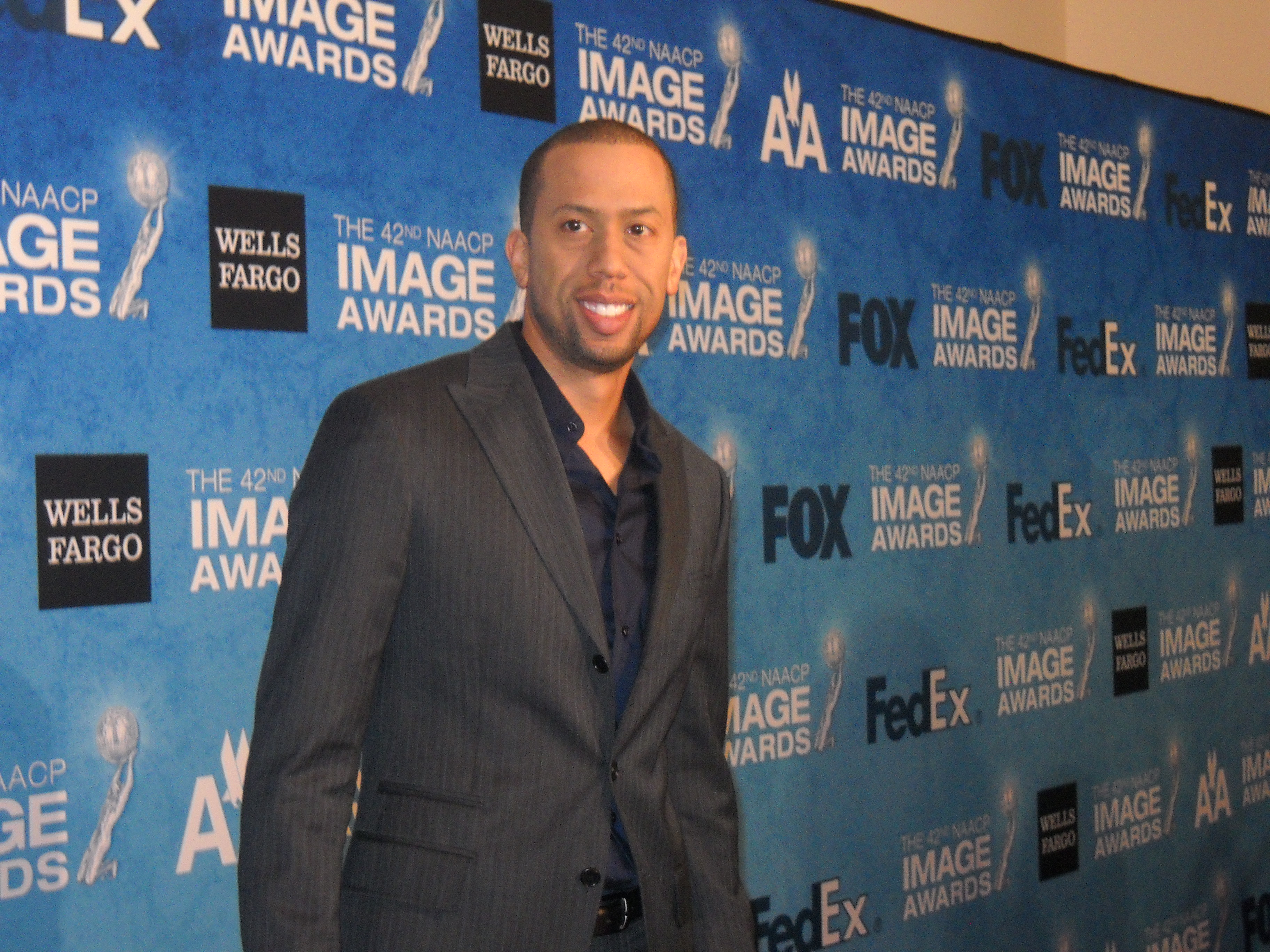 The The 42nd NAACP Image Awards nominees honored at luncheon hosted by Affion Crockett
The nominees of the 42nd NAACP Image Awards were honored at a luncheon recently in Beverly Hills, to the backdrop of some elegant music and plenty champagne flowing. The event, hosted by comedian/actor Affion Crockett, had a blanket of excitement wrapped around us as the nominees came down the red carpet.

"It keeps us relevant," actress Salli Richardson - a nominee for "Outstanding Actress in a Comedy Series" for Syfy's "Eureka" - about the NAACP Image Awards. "We have to support ourselves...unfortunately, we have it. That's what's important to me and the other actors, to be acknowledged by our own community."

That community Richardson speaks on his a population of "colored" people that the NAACP has been an advocate for since 1909. It's the members of the NAACP that get to vote on the winners in each of the categories.
~
Other nominees that were present included LaVan Davis for "Outstanding Actor in a Comedy Series" for "Tyler Perry's House of Payne," who just so happen to be mingling with nominee Marvin Sapp ("Outstanding Gospel Album"/Verity - "Here I Stand"); Tamera and Tia Mowry ("Outstanding Actress in a TV Movie, Mini-Series or Drama"/Lifetime - "Double Wedding"); Julia Pace Mitchell ("Outstanding Actress in a Daytime Drama"/CBS - "The Young and the Restless"); Ashley Argota ("Outstanding Children's Program"/Nickelodeon - "True Jackson, VP"); KeKe Palmer ("Outstanding Performance in a Youth/Children's Program"/Nickelodeon - "True Jackson, VP"); Dee Dee Bridgewater ("Outstanding Jazz Album," EmArcy/Decca/DDB Records - "To Billie With Love..."); Ray Charles Robinson, Jr. ("Outstanding Literary Work - Biography/Auto-Biography"/Crown - "You Don't Know Me..."); Myra J ("Outstanding Writing in a Comedy Series"/TBS - "Tyler Perry's Meet the Browns - Meet the Racist") Millicent Shelton ("Outstanding Directing in a Dramatic Series"/TNT - "Men of a Certain Age - Do With the Flow"); George Tillman, Jr. ("Outstanding Directing in a Motion Picture"/CBS Films - Faster), and Rodney Saulsberry ("Outstanding Actor in a Daytime Drama"/CBS - "The Bold and the Beautiful").

"(The NAACP) is a wonderful organization. It recognizes work that may not be recognized by the overall media," actor Rodney Saulsberry said about the NAACP's Image Awards. "It's going to be on Fox, seen all over the world."

Yes, that's true and I will be front-and-center on March 4, 2011 when the 42nd NAACP Image Awards airs on Fox at 8 p.m.ET/PT - live from the Los Angeles Shrine Auditorium. The NAACP Image Awards is sponsored by UAW/Chrysler, Walgreens, Wells Fargo, FedEx, Hyundai, Southwest Airlines, Anheuser-Busch, AT&T, Bank of America, Ford Motor Company, Pepsi and American-Airlines.
ASCAP's Rhythm & Soul host its 2nd Annual Grammy Brunch for its Nominee Members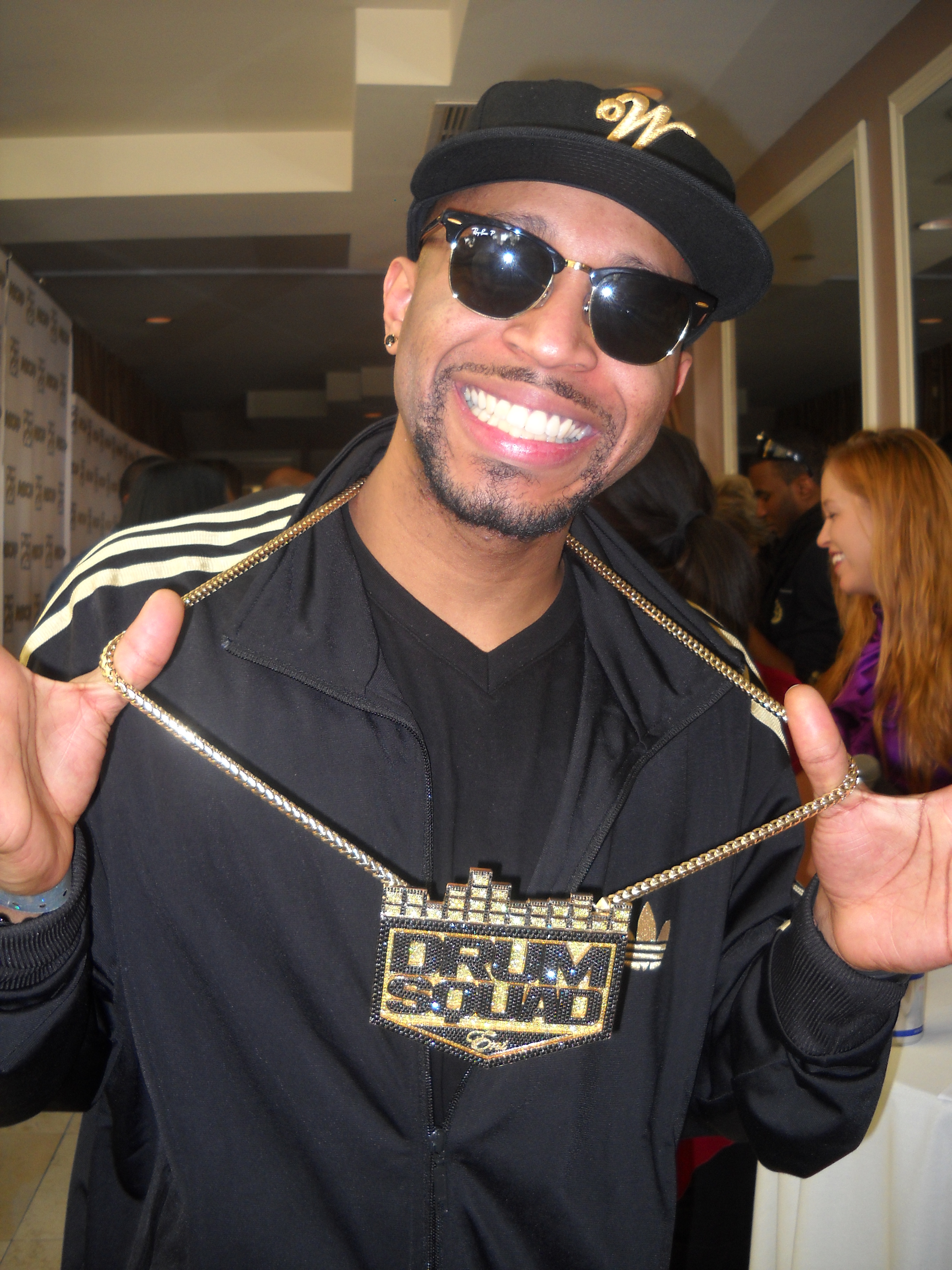 "I'm excited about the nomination," said ASCAP Grammy Award nominated member Carvin Huggins (Karma Productions) about receiving a "Best R&B Song" Grammy nomination for Jaheim's "Finding My Way Back." "It's a blessing to be recognized by your peers."
The peers that voted on the winners are members of the Recording Academy. The brunch seemed to be one big entertainment family get-together with all the ASCAP Grammy Award nominees mingling and enjoying the evening of food, drink and music.
Aside from Huggins, who just recently launched his own label Forever Music, others in attendance included Drumma Boy (Young Jeezy "Loose My Mind"); Jaheim ("Finding My Way Back"/Best R&B Song); Eric Roberson ("Still"/Best Urban/Alternative Performance); Tank, Natasha Bedingfield, Tricky Stewart ("Teenage Dream"/Album of the Year); Melanie Fiona ("Wake Up Everybody"/Best Rap/Song Collaboration); Aaron Sledge ("Aaron Sledge"/Best Gospel Album), and VaShawn Mitchell ("Nobody Greater"/Best Gospel Performance).
"I'm excited," Gospel singer/songwriter VaShawn Mitchell said about his Grammy Nomination. "To be recognized by your peers!"
Sponsored by Blackberry, Suntrust and Red Bull, the 2nd Annual ASCAP Grammy Brunch was the place to be for any artist in the industry, but unfortunately it was just for its members. As I left the Brunch I heard the buzz that L.A. Reid, Sylvia Rhone, Ne-Yo, Jermaine Dupri and Kelly Rowland were on their way as well.
ASCAP members who won the Grammy Award included Bruno Mars and Usher.
The American Society of Composers, Authors and Publishers (ASCAP) is home to the top-notch songwriters and composers in America. For more information on ASCAP or its members log onto it's' website at www.ASCAP.com. (Photo: To/Affion Crockett. Bottom/Drumma Boy. Photo Credit: Eunice Moseley.)
February 28, 2011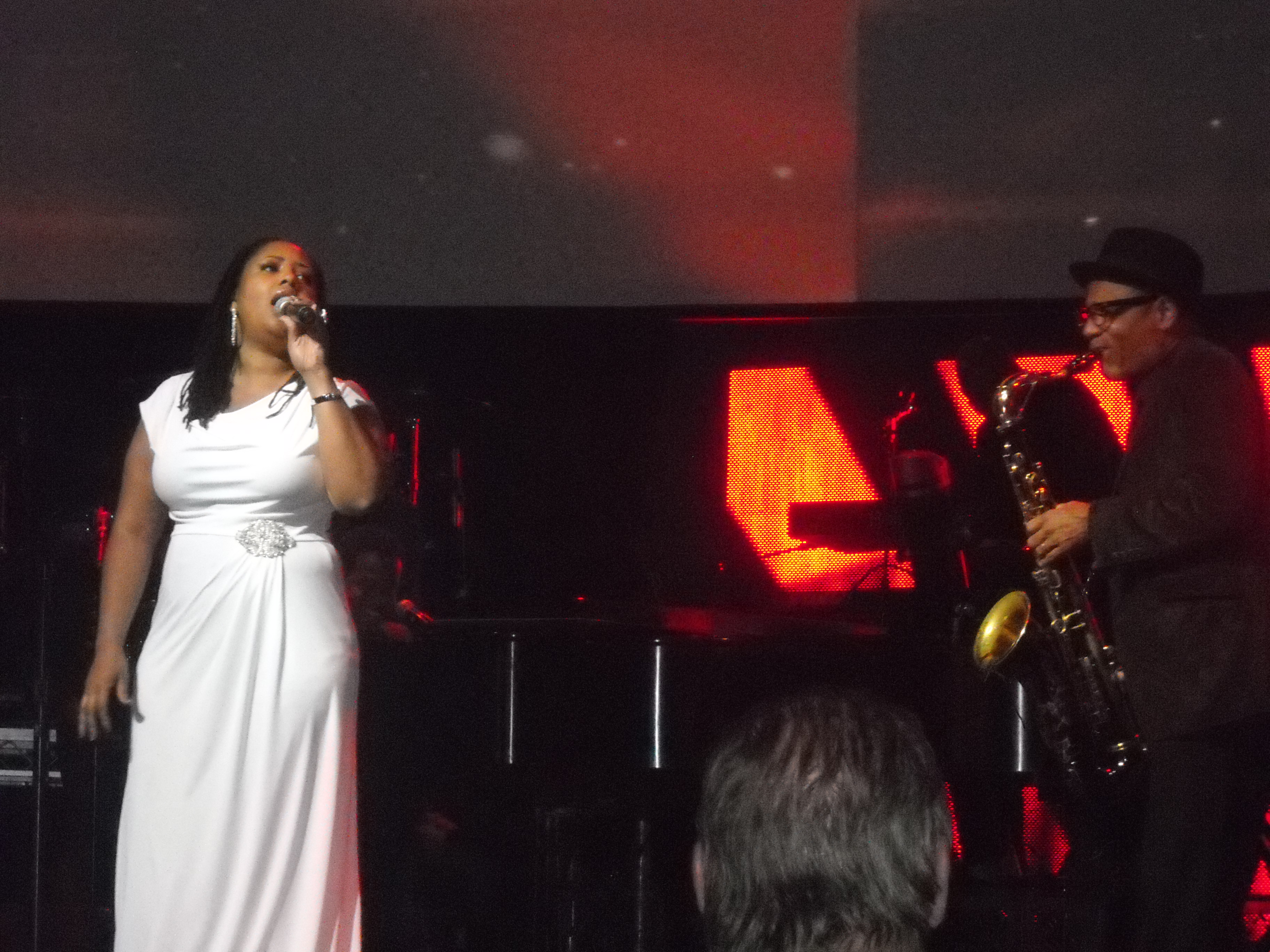 Kirk Whalum hosts 'It Started with a Dream' in honor of Gospel/Christian Grammy nominees
I was invited to attend the "It Started with a Dream" Concert hosted by The Dream Center, Victory University and 12-time Grammy Award nominee, Kirk Whalum. The free show was held at Angelus Temple in Los Angeles to honor the Gospel/Christian 53rd Grammy Award Nominees. Matthew Barnett, co-founder of The Dream Center and senior pastor at Angelus Temple, was co-host.

What a spectacular event it was with performances by Whalum and Lalah Hathaway, Vanessa Bell Armstrong, Lacrea, Jeff and Sheri Easter, Israel Houghton, Gunger, Forever Jones, Vashawn Mitchell, Karen Peck and New River, John Stoddart, and special guest George Duke. Benefiting The Dream Center's Project Hope initiative, "It Started With a Dream" was streamed live at www.DreamCenterLive.com. Project Hope provides a home to victims of human trafficking.

Throughout the concert we were treated to a little of God's Word from Kirk Whalum, who started the show with Lalah Hathaway on one of my favorite songs on his "The Gospel According to Jazz, Chapter III," album - "He's Been Just That Good." Two-time Grammy Award nominated Gospel Country artists Jeff and Sheri Easter performed "Expecting Good Things;" Billboard chart topping Gospel rapper Lacrea performed "Rehab;" Bluegrass Gospel artists Karen Peck and New River performed "Live at Oak Tree - The Series;" Israel Houghton performed "Others;" Rock/Gospel artist Gungor performed "Beautiful Things;" Contemporary Gospel group Forever Jones performed "He Wants It All;" Vashawn Mitchell performed "Nobody Greater;" Vanessa Bell Armstrong performed "The Experience;" John Stoddart performed "Loving in Love With Jesus," and George Duke performed "Because You Loved Me."
Cali Swag District joins Nelly's 'Blizzard Music Tour'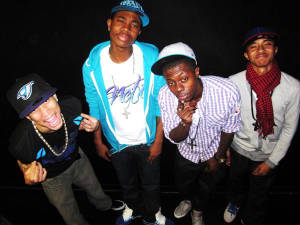 "We want to go rock every show," said group member Smooth about their upcoming appearance on Nelly's "Blizzard Music Tour," slated to start March 1, 2011 in Brooking, South Dakota. The Hip-Hop phenomenon's other members consist of Yung, JayAre and M-Bone. Their debut single "Teach Me How To Dougie" made them platinum selling artists and their debut album, "The KickBack" (EMI Music), is not due out unto this month.
Cali Swag District took a Doug E. Fresh dance and turned, the "Dougie," into a dance craze. In less than a year the music video to the single, "Teach Me How To Dougie," has received over 29 million views.
"Any tour is good as far as selling records," Smooth said about the tour benefits. "We 'need' to get up in different markets."
Smooth admitted to me that they group had to sacrifice a lot to achieve their dream.
"We put all our effort into it," admitted the EMI Music artists about their journey.
The group said some of the sacrifices included putting off partying for school. Member Smooth, who is also a DJ, admits Cali Swag District "lives in the studio."
For information on the dates Cali Swag District will be on the "Blizzard Music Tour" with Nelly, log onto www.BlizzardMusicTour.com or visit them at www.Facebook.com/CaliSwagDistrict.
NBA All-Star Weekend kick-off event, 'Fire on the Runway,' was a stunning show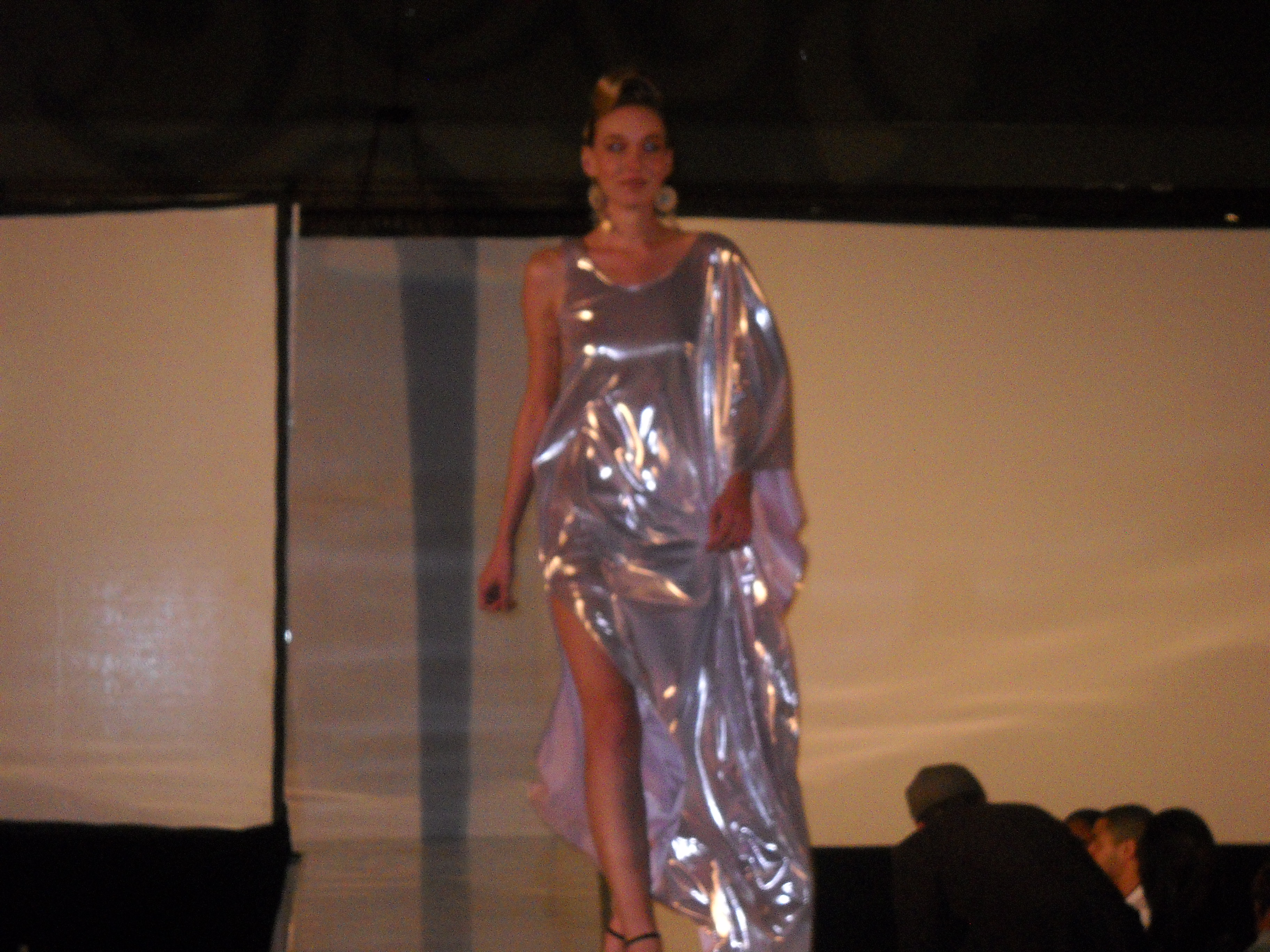 I attended one of many NBA All-Star events held in Los Angeles, this one, called "Fire on the Runway," benefits the Breast Cancer Angeles. The faith-based fashion show was hosted by Women of Virtue.
Before the fashion show guest and media were treated to an abundance of good food, music, mingling and drinks. When the show started, and the placed was filled with spectators which included Duane Martin and Tisha Campbell and Kym E. Whitley, all you could hear was cameras flashing because every one's eyes were on the runway.
Designs presented that night included Angela Dean of DeanZign, Woody Wilson of the Woody Wilson Collection and the St. John collection. "Fire on the Runway," a faith-based fashion show, was presented by True Love Worship Center. (Photo Credit: Eunice Moseley.)
March 4, 2011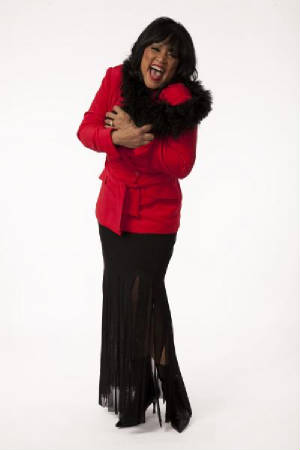 Ruffin's stage play, 'The Ideal Husband,' premieres exclusively on GMC TV Saturday, March 5, 2011
Playwright John Ruffin's Gospel stage play, "The Ideal Husband," makes it to cable as it exclusively premieres on GMC TV Saturday March 5, 2011 at 5 p.m. EST. The theatrical musical production, exclusively for GMC, stars Shanti Lowry, Erica Hubbard (Akeelah & The Bee), singer Shirley Murdock, Darrin Dewitt Henson (Stomp the Yard), actor Clifton Powell (Ray), R&B's Ginuwine and actress/comedian Jackee Harry ("Everybody Hates Chris," "Sister Sister").
~
"I play the mother of the lead (Darrin Henson)," said actress Jackee Harry about her role in "The Ideal Husband." "He's been a naughty boy...that's all I can say, you have to tune in!"
~
In 'The Ideal Husband" Tracey Malone (Lowry) and her husband, an injured NFL player Devin (Henson), are living a happy life until something from Devin's past threatens to rock their world apart. Directed by Ruffin "The Ideal Husband" is the second of a series of Gospel stage plays produced exclusively for broadcast on GMC. The first John Ruffin play was "Love Me or Leave Me."

When asked about any challenges in this particular production Jackee Harry said, "Completing it in a short amount of time, with no audience. That was the biggest challenge, no audience."

Harry said there are no similarities in her character and herself, "I don't take no mess out of nobody. I've been married three times. You work it out, just give me the check!"
"The Ideal Husband" will premiere on GMC TV Saturday March 5th at 5 p.m. EST. For more information on the production, "The Ideal Husband," or the channel, GMC TV, log onto
www.watchGMCTV.com
.
R&B new-comer Trueful's sophomore CD, 'Taste of Class,' is full of number one hits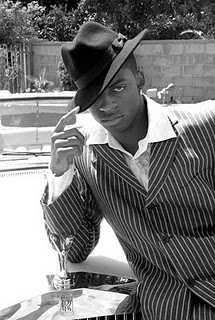 "I wanted to create something different, to come out the box," said singing/songwriting sensation Trueful about his sophomore album, "Taste of Class" on the French Royalty Entertainment imprint. "I want to bring R&B out in a new light, make it fun, and bring it back to music."

Fun and out the box it is what he has done with this CD. The R&B selections on the album have a bit of different flavors such as Jazz, Hip-Hop, Pop, Funk and Swing. Trueful invited some talented producers on this album as well. The team at Apt 6 and rapper/producer AVI The Most ILL are the producers on the CD.
Born in the Los Angeles area, Trueful grow up in a household that was full of music.
"I grew up on Prince, Earth, Wind & Fire, Usher... different people, thanks to my parents and grandmother," the unbelievably talented songwriter pointed out to me. "My grandmother listened to Blues, my Dad Funk and my mother listened to everything!"
Trueful's debut album in 2008 title "Truth Be Told" qualified him for a Grammy Award nomination as "Best New Artist." This album, "Taste of Class," is sure to achieve the same, if not more success, with the infectious first single "Feeling You" - which is accompanied by a music video that has a cameo appearance by comedian/actor Peanutt.
The Las Vegas Music Award winner is sure to turn heads with this project. Even though the CD is full of number one hits, my favorite cuts on the "Taste of Class" album include the first single "Feeling You," for its hot beat and vocals that are reminiscent of Usher; the hot club hit "Beast" and the sweet Pop selection "My Baby" all produced by Apt 6, as well "All Star" for its Swing era feel and the Funky "Drive" selection - both produced by AVI.
Also an actor who has appeared in the Screen Gem film "Easy A" starring Amanda Bines and the film "Death by Association" directed by JayTee (BET's College Hill), Trueful will be special guest performer of multi-platinum R&B group Dru Hill on their "InDRUpendence Day" tour slated to start in June, 2011. For now you can catch Trueful performing in the Los Angeles area with the "French Royalty Dancers" at such venues as the BB King Lounge, The Aqua Lounge, The Oasis and the House of Blues.
Follow Trueful at www.Twitter.com/BeTrueful or at www.Facebook.com/TruefulFrench for more information and updates.
Saxophonist Elan Trotman releases a romantic Contemporary Jazz CD, 'Love and Sax,' on March 8, 2011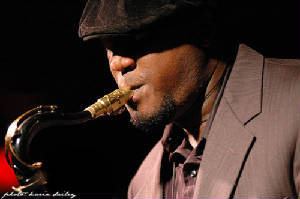 On March 8, 2011 Contemporary saxophonist Elan Trotman releases his sophomore CD "Love and Sax," featuring the vocals of R&B's Tony Terry with Brian Simpson on keyboard, Cindy Bradley on the Flugelhorn, and Jeremiah McConico on guitar.
"The album was well planned out and a follow-up to my previous album in 2009 ("This Time Around"), which was also a Contemporary Jazz album," said Smooth Jazz sax player Alan Trotman about his "Love and Sax" project. "I wanted to try something different...to slow things down...a mellow, laid back mood...very romantic."
Well Trotman sure achieved that, with me being a hopeless romantic, I truly loved this CD. My favorite songs on Elan's "Love and Sax" album include "Cancun De Amore," because I love the classical guitar support; "Last Dance" for its Funky smooth feel; "Rain," because Elan Trotman actually makes his sax sound like rain - breath taking, and "Midnight Serenade," which I think is a masterpiece because of the vocals of Tony Terry and the unbelievable sax playing by Trotman.
"I always try to make my music crossover, to include vocalists," Elan pointed out to me about his projects. "I don't want to do a CD with no vocals."

For more information on Elan Trotman or his "Love and Sax" album, log onto his website at www.ElanTrotman.com.
March 11, 2011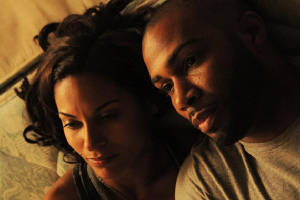 The African-American Film Festival Releasing Movement will release the tear-jerking film I Will Follow to AMC Theaters March 11, 2011
~
I Will Follow is yet another outstanding production of public relations specialist Ava DuVernay.

The film follows Maye, played by Salli Richardson, who choices to risk her marriage to go care for an ailing relative, Amanda - played by Beverly Todd, until her passing. After Amanda's passing Maye now has to get her house in-order, while pacifying the relatives' only daughter, who all but abandoned her while she was sick.
~
"I'm just completely amazed at what she's been able to do with this small film," award winning actress Salli Richardson said about the films' director/producer Ava DuVernay. "I am just impressed with the film, impressed with her vision in how she is distributing it and I am honored that she believed I could do it (the role). She is a very smart lady and I am blessed I agreed to do the movie."
~
In reviewing the film when it appeared at the African-American Film Festival I honestly couldn't take my eyes away from the screen. The anticipation to see what happens next was to strong, even through two or three times it brought me to tears.

"It's about the journey," Salli said about her acting. "It's always about the journey. Ava is making me do the things I use to do. I'm not a party girl, but that's what you have to do to push it. So I just follow Ava."
~
If you want to follow Ava as well, go to AMC Theaters to see I Will Follow and you will be a fan for life as Salli and I are. Log onto
www.AFFRM.com
for more information on the project.
Tangi Miller stars in the romantic comedy 'My Girlfriend's Back,' now on DVD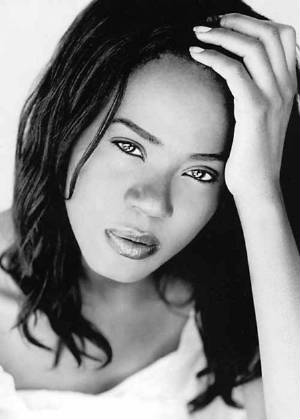 The Barnholtz Entertainment and Lionsgate Entertainment presentation of "My Girlfriend's Back," starring actress Tangi Miller, tells the familiar tale of how we are put in situations where we have to choose love over "status in life." Tangi plays the non pushy former love interest to Malik Yoba who is now in a relationship with a pushy woman who is intent on getting him a position in the high-society life as a partner in the firm where he works - so they can get married.
"It's a middle class African-American life," Tangi Miller points out about the film. "It's about women loving a man in a certain (way)...It's about him being the man he (really) is. There is no middle of the road. He has to struggle with that."
Struggle he did with two attractive and vital women, but as in all things in life "love" prevails, how that love prevails - you need to get the DVD. The film has comedy, drama and Urban flavor to make you feel right at home with the characters. Also starring with Miller and Yoba are CCH Pounder, Chrystee Pharris, Victoria Platt and DeRay Davis.
For more information on "My Girlfriend's Back" log onto www.TangiMiller.com.
March 18, 2011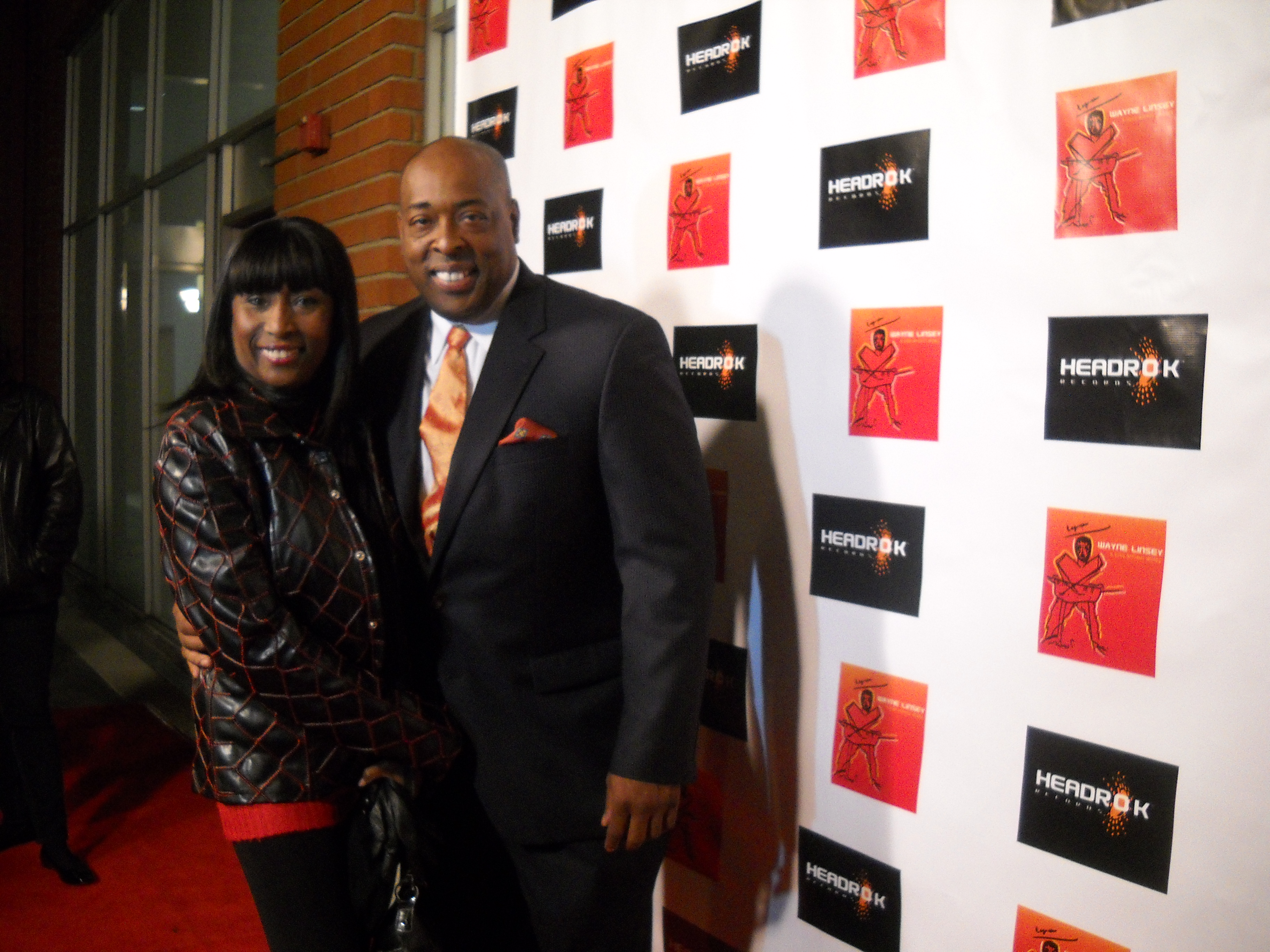 Keyboardist Wayne Linsey gives outstanding live performance at listening party for debut CD, 'A Song Without Words'
~
"Wayne plays everything. He can use every electronic (instrument)," said legendary guitarist Paul Jackson, Jr. about his fellow Jay Leno Band member Wayne Linsey. Paul, the other band members and a line-up of celebrities were in Hollywood recently at the Catalina Jazz Club for Linsey's listening party to promote his debut album, "A Song Without Words." "I've known Linsey for over 30 years. God has anointed Wayne...he is a genius."

Well, that night I actually saw a genius at work for Wayne literally played from another level of consciousness that I've never seen before. You can also hear the genius of Wayne Linsey in, this debut CD, "A Song Without Words." It's so versatile in what it offers you, you get Smooth Jazz, Hard Jazz, Pop and even Hip-Hop influenced selections.

The evening started with a line of Wayne supporters walking the red carpet into the club, which included Keke Sheppard (Apollo Theater), actress Ellia English ("Curb Your Enthusiasm"), actor Obba Babatunde ("Criminal Minds"), Willie Gault (former Chicago Bears), and the Jay Leno bandleader and musical director Rickey Minor.

Wayne's big break came as a member of Frankie Beverly and Maze. He later released an album as a duo called Linsey on Virgin Records titled "Perfect Love." He went on to tour with Whitney Houston, Stevie Wonder, Babyface, Chaka Khan, Aretha Franklin, Jonathan Butler and Miles Davis - who drew the cover of Wayne's CD and is on the "Miles Interlude."

My favorite cuts on the "A Song Without Words" project include the title track, which features the vocals of Bobby Brown and MC B Eaze Himself. Other songs I find myself playing over again include "Sidekick" - love how Linsey as that keyboard singing; "Tribute to Ahman," your typical Smooth Jazz vibe and I also love the angelic background vocals, and "Alana's Song," which features his daughter who sounds so precious and I see she can groove with her dad, and does an awesome job too!
For more on Wayne Linsey or his CD "A Song Without Words" (Headrock Records) log onto
www.WayneLinsey.com
.
Ford sponsors NAACP Symposium and donates to Boris Kodjoe and Nicole Ari Parker's foundation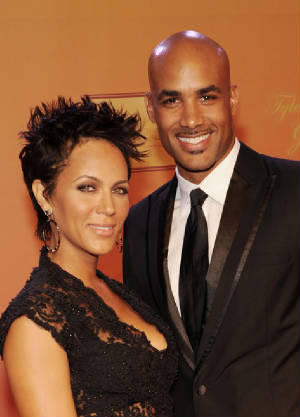 The Ford Motor Company Fund recently sponsored the 7th Annual NAACP Hollywood Bureau Symposium Reception at the Leonard H. Goldenson Theatre to address diversity and its economic impact on television. The Ford Fund also presented a $10,000 check to Sophie's Voice Foundation of actors Boris Kodjoe and wife Nicole Ari Parker.
The Sophie's Voice Foundation was created in honor of their daughter who is diagnosed with spina bifida. Other grants awarded went to Hill Harper's Manifest Your Destiny Foundation and Common's Common Ground Foundation.
This year's symposium titled "Diversity and the Business of Television" addressed the current market trends and its' audience power. Mediated by executive director of the NAACP Hollywood Bureau Vic Bulluck, the panel included Doug Anderson (SVP Research & Thought/The Nielsen Co.); actor Keith David (The Princess and the Frog), Dr. Darnell Hunt (director of UCLA Ralph J. Bunche Center); Brian Lowry (columnist/Variety); Cameron Mitchell (ICM Talent agent), and Millicent Shelton (director).
"Because corporate America is a niche business," said Cameron Mitchell, talent agent at ICM, about the lack of diversity in roles. "For me it's hard (to place diverse talent). It's corporate driven, not artists driven."
For more information on the Ford Motor Company Fund log onto www.Community.Ford.com and for more on the NAACP log onto www.NAACP.org. (Photo: (L to R) Keke Sheppard (Apollo) and Wayne Linsey. Photo Credit: Eunice Moseley)
March 25, 2011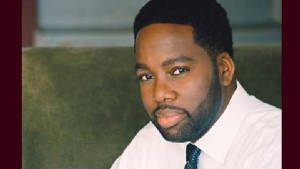 David E. Talbert's explosive stage-play, 'What My Husband Doesn't Know,' arrives in Los Angeles April 2-3, 2011 at the Pantages Theater'
~
"I forgot how much I love theatre," Award winning playwright David E. Talbert said about living life on the road with new stage play "What My Husband Doesn't Know." "I took off a few years and worked in film and television. I started received all these emails wanting another play."

Well David has given them that plus more with this production, because this play combines his 20 years as a playwright with his experience in Hollywood. His Hollywood credits include directing on the comedy film First Sunday, "SNL: Alumnus" and "30 Rock," and producing (and writing) NBC's "Jamie Foxx: Unpredictable." "What My Husband Doesn't Know" has an outstanding cast which stars Grammy Award winning singer Michelle Williams ("Chicago"), Morris Chestnut "V"), Brian White ("Stomp the Yard") and Ann Nesby ("I Know I Been Changed").

It's a provocative tale of love, lust, lies, betrayal and temptation amidst a groundbreaking use of theatrical with filmmaking influences such as voice over and flashbacks.

"I have wanted to do kind of a mixture of mystery, comedy and drama wrapped in one for years," Talbert explained about the play. "I said this is the one I'm going to do this with."

When asked if he saw a difference in this play's success and the success of his past plays David confused there was a difference.

"There's a big difference," he said. "Yes, because of the mixture (of theatrical and film) and I'm older, more experiences that you can put into your work. "...Nick of Tyme" I wrote in 2000, waited ...years (to produce it). I wrote this stage play as a grown man."

Talbert's "...Nick of Tyme" garnered him a New York Literary Award for "Best Playwright" and for "Fabric of a Man" (2005) he won an NAACP Image Award. Aside from a filmmaker David added author to his resume with his Essence Best Selling novel "Baggage Claim" and "Love Don't Live Here No More," which he co-wrote with Snoop Dogg.

With 12 critically acclaimed plays under his belt you can almost guarantee more than your money's worth going to see "What My Husband Doesn't Know." I know I will be there when it arrives in Los Angeles.
For more information on the "What My Husband Doesn't Know" or playwright David E. Talbert log onto
www.DavidETalbert.com
.
Comedian Joe Clair host TV One's 'Comedy All-Stars,' with classic moments of Robin Harris, Martin Lawrence, Mark Curry and Damon Wayans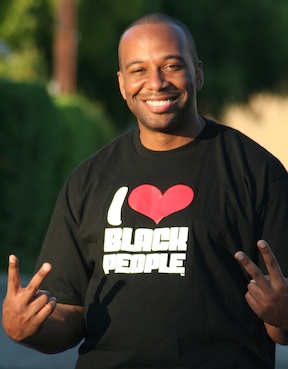 For four weeks TV One presents "Comedy All-Stars" hosted by comedian Joe Clair ("BET's Rap City," "Def Comedy Jams," "Comic View"). The 30 minute program airs on Fridays at 9 p.m. starting March 11, 2011 and ending April 1st (with repeats). Joe will provide his perspective each week on the classic moments of these legendary comedians.
"Watch these specials and learn," Joe Clair said about the TV One series "Comedy All-Stars." "Learn what it really is ...to work and have a real craft. Those guys grew up with having tons of comedy shows at their finger tips."
Joining Joe to talk about "those guys" is Tommy Davidson, Eddie Griffin and George Wallace.
"When they approached me I jump at the chance," Clair said about his new hosting "gig." "We talk about comedy and explain it. We say what was going on at that stage-of-comedy."
Joe recently hosted "The Best of...Stand Up" on TV One's Black History Month special "Way Black When." TV One is currently serving 52.1 million households.
For more information on TV One or the "Comedy All-Stars" series log onto www.TVOneOnline.com. For more on Joe log onto www.JoeClair.com.
April 1, 2011
Actress/Model LisaRaye McCoy is back for season two of TV One's top rated reality show, 'LisaRaye: The Real McCoy'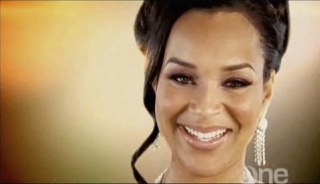 ~
TV One, serving over 52 million households, premiers the second season of its top rated reality series, 'LisaRaye: The Real McCoy," on Thursday, April 7, 2011 at 9 p.m. ET. Season two, which starts with two back-to-back episodes, will include appearances by Sheryl Lee Ralph, Tatyana Ali, Bobby Brown, Elise Neal, Nelly, Twista, Bishop T.D. Jakes, DeRay Davis, Chef G. Garvin and Jacque Reid. Side-by-side with LisaRaye will be her beautiful daughter KaiMorae, a budding young model.

"I was going through a divorce first season," LisaRaye said about her reality show last year. "This year is difference. I am working this year on B2B - my motto 'back to business.'"

This NAACP Image Award nominee is a native Chicagoan who started in the entertainment business as a model. She went on to appear in music videos such as "Incomplete" with Sisqo and "Toss It Up" with Tupac. McCoy went on to star in New Line Cinema's The Players Club starring Bernie Mac, Jamie Foxx and Ice Cube - who wrote and directed the film. As an actress she also starred in Beauty Shop and "Love Chronicles." LisaRaye went on to television becoming a household name as ex-wife Neesee James in the Will and Jada Smith creation "All of Us," starring Duane Martin.

"LisaRaye: The Real McCoy" will have a second season that has the "lady in white" examining her spirituality; getting her career back in motion; launching a jeans line; managing her daughter' career and searching for that "special" one.

When asked what she learned about her spirituality in the second season LisaRaye stated, "Just to get out my own way. We think we're listening to God, we just listening to us. Now I know how to relinquish control. I've always been in control. I had to be a fighter...I forgot how to take a back seat. I want Him in control, His will. I am learning to listen and be still."

Well, thank goodness her career is not still, because the former first lady will be starring in the Queen Latifah created comedy/drama "Single Ladies" as Keisha - with Stacey Dash and Kassandra Clementi. Not only that, LisaRaye has launched a line of jeans for the hour-glass (bottom heavy) shaped woman, as well as branding her B2B movement that not only uplifts her business, but everyone else's business that gets involved.

"I grew into my adulthood on the show," KaiMorae said about her experience on the first season of "LisaRaye: The Real McCoy." "I'm learning about my body...but I enjoyed it and I'm looking forward to the second season."

You will get to see all this and more during the nine episode season starting Thursday, April 7th at 9 p.m. ET with two back-to-back episodes.
Jamie Foxx hosts private fundraiser for actress Karyn Parson's Sweet Blackberry Foundation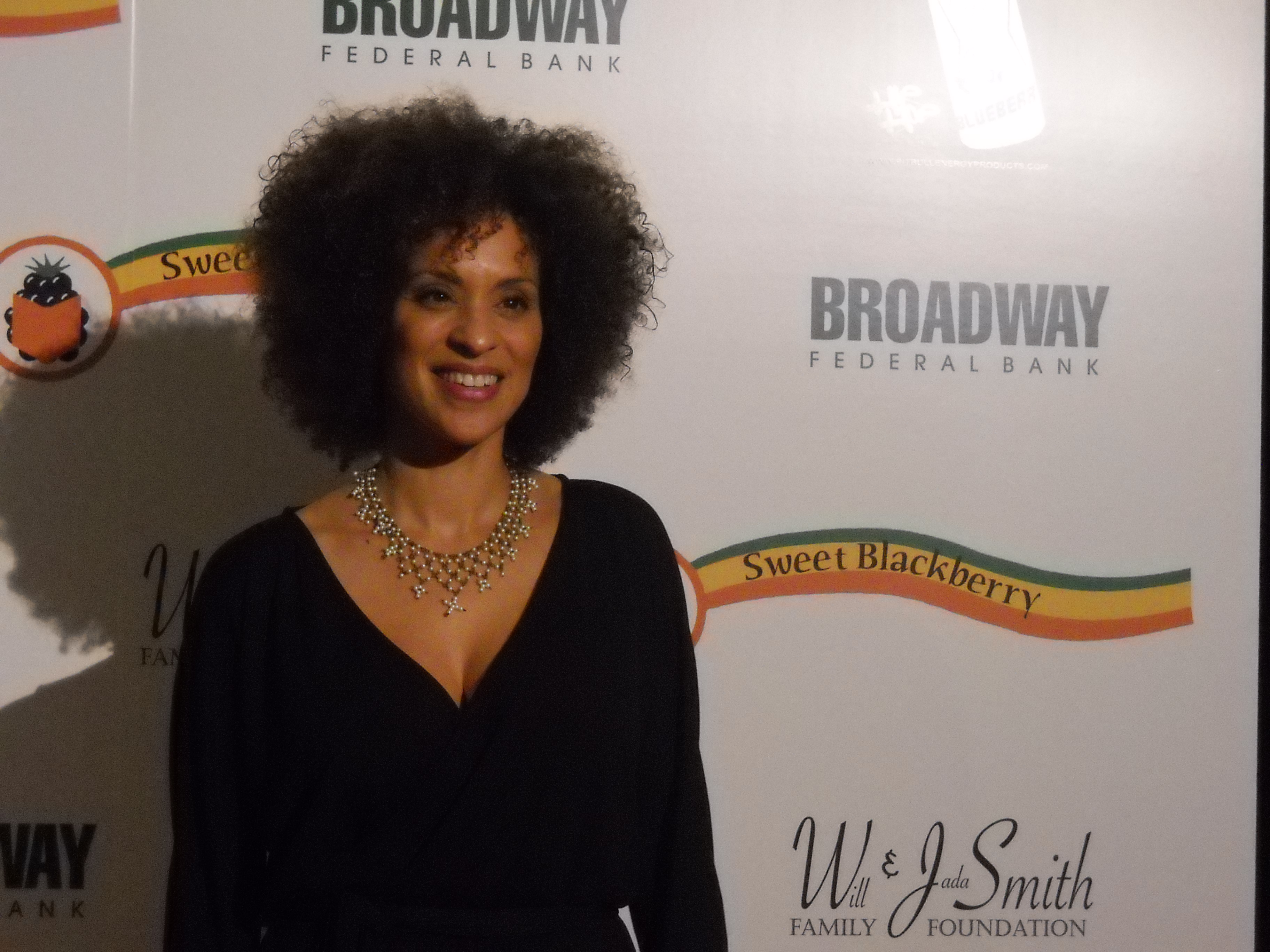 Sponsored by the Will and Jada Smith Family Foundation, Pitbull Energy Drunk and the Broadway Federal Bank, a private fundraiser was hosted at the residence of Jamie Foxx for actress Karyn Parson ("Fresh Prince of Bel Air"). The fundraiser was to fund her non-profit organization Sweet Blackberry.
"I started it for a story about Henry "Box" Brown," Karyn Parson said about her non-profit. "It's a fascinating story...when I started the company I just wanted to get the story out. I had programs I wanted to develop...and I started to see it was more of a 501 C3 model. It started to reveal to me what it wanted to be."
Anyone that learns about the goal of the organization will want to support it, not only to support Karyn, but to support her passion to spread true uplifting stories about African-Americans to children. In fact, I couldn't help myself after learning about the organization, but buy the stories myself before leaving.
Aside from the amazing story "The Journey of Henry Box Brown," who mailed himself to freedom, the Sweet Blackberry Foundation also released the story "Garrett's Gift" -about the man who invented the traffic light.
The stories come on CD narrated by living legends Alfre Woodard ("The Journey of Henry Box Brown") and Queen Latifah ("Garrett's Gift").
"It's a lot of work," Parson admitted about the process of obtaining funding. "But it's a lot easier when you care about it. Nobody is trying to get rich here...It's very much needed. People are recognizing the value of the stories we are doing."
One person who sees the value in Sweet Blackberry is actress Tatyana Ali ("Love That Girl"), who was there in support of the fundraiser.
"We were cast members...she's my very dearest friend. I'm on the board of the foundation. She has this incredible foundation bringing little known African-American stories to children all across the country. They're American stories...we're raising money to produce the stories," Tatyana said.
The Sweet Blackberry Foundation reports that "there are 16 million U.S. households with children under five years old and many - particularly those growing up in situations of poverty, racial and ethnic minorities, or youth at-risk of gang involvement - have no experience or little exposure to systemic, proactive and targeted positive media that is rooted in education and culture."
To learn more about Karyn Parson's Sweet Blackberry Foundation log onto www.SweetBlackberry.org.
April 8, 2011
IMAX Born to be Wild 3D, narrated by Morgan Freeman, is a breath-taking journey into the plight of orphaned elephants and orangutans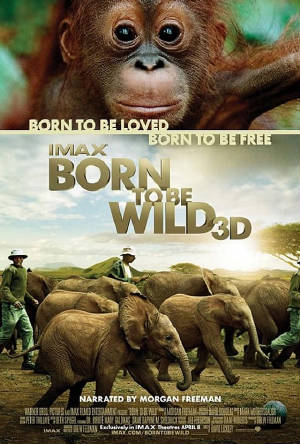 ~
Academy Award winning actor Morgan Freeman's voice narrates the IMAX Entertainment/Warner Bros Film, IMAX Born to be Wild 3D. The film, too be released Friday, April 8, 2011 at IMAX Theaters, is about the unbelievable journey of two women in their pursuit to save orphaned elephants in Kenya and orangutans in Borneo's rainforest.

The voice of Morgan Freeman takes us through the film as world-renowned primatologist Dr. Birute Mary Galdikas and elephant authority Dame Daphne M. Sheldrick adds personal insight into the plight of orphaned elephants and orangutans.

Nothing is as soothing as the voice of Freeman especially when the screen seems as though huge "baby" elephants are coming at you.

"I saw the film before the narrative," Morgan said about the use of any visuals while recording the voice-overs. "You get calls to do narratives, lots of them, and once in a while a project comes long that you are hooked and you go with it."

IMAX Born to be Wild 3D was directed by David Lickley and was written and produced by Drew Fellman. The music throughout the film was just as breath-taking as the film itself. The documentary takes you high in the trees of the rainforest to follow the orangutans and in between the legs of hordes of elephants to follow orphaned baby elephants.

"Transporting 30,000 pounds of gear during rain storms and all kinds of weather (was the challenge)," said producer Fellman about shooting the film in such remote places.

The film has lots of tear-jerking moments too, such as the unexplainable moment when a group of adult, former-orphans, came to welcome a small group of younger orphans who were brought to the half-way house compound - where they will stay for a couple years before being released into the wild.

No one tells the adult elephants when the orphaned ones will be coming, they just all know. They all come at the same time too, from all different directions, an unbelievable sight. At least 20-30 grown elephants coming to welcome "strange" young orphaned elephants, with hugs with their loving trunks and body parts and if this wasn't enough they adults all stay for a month before going back into the wild.

"Elephants are human animals in terms of emotions," elephant expert Daphne said about the species. "They are family oriented and just like us."

There was also a moment when a now fully grown former orphaned orangutan returned for a visit to the compound. That moment brought - for me - a brief "hold you're breath-in" moment because you are not sure what will happen, especially since orangutans get to be over three-times the strength of a man.
IMAX Born to be Wild 3D hits IMAX theaters across the country Friday, April 8, 2011. For more on the film or locations to IMAX theaters near you log onto
www.IMAX.com
.
David E. Talbert's 'What My Husband Doesn't Know' is full of comedy, drama, suspense and hot romantic scenes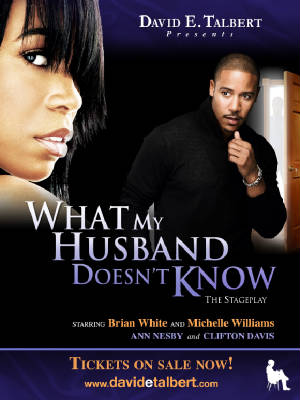 In my recent interview with the five-time NAACP Image Award winning playwright David E. Talbert recently he talked about how he forgot how much he missed being on the road with his stage-plays. Well, after attending his latest production, 'What My Husband Doesn't Know' at the Pantages Theater in Los Angeles, I was reminded how much I enjoy David E. Talbert productions. The play was full of comedy, drama, suspense, mystery and hot romantic scenes.
"What My Husband Doesn't Know" stars Michelle Williams, Brian White, Clifton Davis, Ann Nesby, Tiffany Haddish, Vince Vincent, Chloe Spencer and Esau McGraw. David's first stay-play since taking two years off to work in Hollywood, "What My Husband Doesn't Know," shows that Hollywood has influenced the playwright. That Hollywood influence is evident in the stage backdrop; his choice of actors; the music, his choice of customs, and most certainly in the script which reads like a combination of a drama, comedy and murder mystery television series. There were times that I forgot it was a live show because the acting and imagery was so on-point.
The audience is also treated to four musical selections by Ms. Williams and the powerful vocals of Ann Nesby. "What My Husband Doesn't Know" arrives next to The Beacon Theater in New York on April 7 - 10; the Coronado Performing Arts Center in Rockford, ILL on April 12th; The Arie Crown Theater in Chicago, Ill on April 14-16th; the Palace Theater in Louisville, KY on April 17th; the Willett Hall in Ports Monte, VA on April 28-30th; Raleigh Memorial Auditorium in NC on May 1st, and the Dallas Convention Center in Texas on May 3-8, 2011.
For more information about David E. Talbert's stage-play, "What My Husband Doesn't Know," log onto www.DavidETalbert.com.
April 15, 2011
Mint Condition bringing bands back with a banging new project, '7'

~
When you become recognizable for your sound you have made it. Well St. Paul, MN natives, Mint Condition, have made it. There is nothing like the sound of the five member band properly named Mind Condition. Vocally led by the unmistakable voice of Stokley Williams (also drums), Mint Condition - Rickey Kinchen (bass), Homer O'Dell (guitar), Larry Waddell (keyboard)l and Jeffrey Allen (sax and keyboard)- are promoting "7"(Cage Bird/Shanachie Records), a banging new album that is sure to bring bands but by popular demand - specially the way they work it.

"We hookup, we write, we rehearse. We just create and really don't think of it," the guys said when asked their style of songwriting. "It's hard," they said about keeping a group together, "We get in bickering fits here and there...you are going to clash, we're all unique. But we try to keep our eye on the big picture...the music we know we have."

Mint Condition is celebrating 20 years of providing good music together. It started for them at Central High School's performing arts program where they formed the band. While playing at a gig producers Jimmy Jam and Terry Lewis caught the act and immediately signed them to their Perspective Records imprint.

Mint Condition released three albums, while at Perspective, "Meant to be Mint," "From the Mint Factory" and "Definition of a Band." From those projects came the "classic" hits we all enjoy today - "Breakin' My Heart (Pretty Brown Eyes)," "So Fine," "What Kind Of Man Would I Be," and "You Don't Have To Hurt No More."

The guys went on to sign with Elecktra Records releasing "Life's Aquarium," "Living the Luxury Brown," "E-Life." With their seventh album, "7," released I can almost guarantee that it will produce another classic hit - or two.

Though the entire album will find you playing it from beginning to end, my favorite cuts on the project include "Walk On" for its Pop feel; "Caught My Eye" for its traditional Mint Condition sound; "Not My Daddy" featuring Kelly Price, a nice R&B number; "Mind Slicker" a very Urban cut; "Ease the Pain" for its a funky feel, and "Unsung," which is so beautiful in so many ways - with sweet vocal support from Tonia Hughes-Kendrick.
Mint Condition will be at the Essence Music Festival and making other appearances to promote the "7" release. For updated information log onto
www.MintConditionMusic.com
.
The unbelievable vocals of Gaye Arbuckle on 'Holy' take Contemporary Gospel to a new level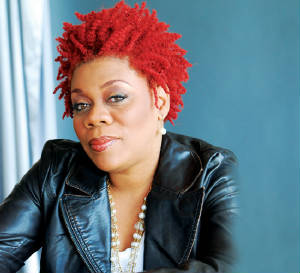 Born in Texas, Contemporary Gospel artist Gaye Arbuckle began singing at the tender age of six. Since then she has spend her life perfecting her music and this album, "Holy," gets very close. Maybe it's her degree from Prairie View A&M University or her experience as musical director at Baptist Student Union or as minister of music at Concord Church that has given her that versatile vocal strength. Then maybe it could be her passion for spreading God's word.
"Singing came naturally since I was six," Gaye said about her life. "I would actual go to the piano to make sure I was in the right key."
When explaining her fresh Contemporary delivery of the Gospel she said with a smile, "Though secular music wasn't allowed in the house I did listen to Barbra Streisand."
Gaye Arbuckle's sound can go from Traditional Gospel to Pop and from R&B and Christian style music. In it all you can tell she is on fire for God's word. Fiery just like her trademark red natural hair. Arbuckle has performed as opening act for such artists as Yolanda Adams, Kirk Franklin, Vickie Winans, Bebe and Cece Winans, Fred Hammond, Dorinda Clark-Cole, Karen Clark-Sheard, and Kelly Price.
The two-time Texas Gospel Music Excellence Award winner has released two other projects "Thinking About It," in 2002 and "Miracles and Blessings" in 2007. Her new project "Holy" offers 10 masterly crafted songs that not only show her vocal abilities but offer the "message" in many genres of musical ways.
"This one is more scripture based," Gayle pointed out about the difference in this album and her previous. "People remember scripture when it's with music."
My favorites on the "Holy" CD are "Madaase" for its African "motherland" feel; "Totally Committed" because of her unbelievable use of vocals; "Jesus Is My Rock" because she is "jamming" for the Lord, and "Waiting Right Here" a Heavenly sweet song supported by a wonderful harmonic voices in the background.
For more information of Gaye Arbuckle or her CD "Holy" log onto www.GayeArbuckle.com.
April 22, 2011
Freddie Jackson headlines the Men of Soul Tour with Hewitt, Osborne and Bryson

~
"We are all excited. We're having a great, great time," Freddie Jackson said about the "Men of Soul" Tour which he headlines along with Howard Hewitt, Jeffrey Osborne and Peabo Bryson. "All with number one hit records!"
~
Jackson, who is currently promoting his latest album "For You" (Orpheus/EOne Music), hits include "Jam Tonight," "Do Me Again," "You Are My Lady" and "Rock Me Tonight," which went platinum. Hewitt, formerly of the group Shalamar, hits include "Second Time Around," "A Night To Remember," "Dancing In The Sheets," and "This Is For The Lover In You" - with the group and "Stay" and "Say Amen" as a soloist. "Say Amen" became his signature song. Osborne hits include 'Back In Love Again" and "Concentrate On You," with his former band L.T.D., and "On The Wings Of Love," and "Stay With Me Tonight," as a soloist. Jeffrey Osborn also wrote the lyrics to Whitney Houston's "All At Once." Bryson's hits include "Feel The Fire," "Reaching For The Sky," "I'm So Into You," "If Ever You're In My Arms Again" and "Can You Stop The Rain." He won two Grammy Awards, one for "Beauty And The Beast," featuring Celine Dion and "A Whole New World," featuring Regina Belle.

"We talked about this a year or so ago," Freddie said about the concept for the "Men of Soul" Tour. "We tested it out...it felt real good...loving it!"

Jackson said that the tour has already been asked to come to Europe and Africa. The "Men of Soul" Tour will arrive next June 24, 2011 at The Nokia Theater Los Angeles and June 26th in Monterey, California. On May 8th Freddie Jackson performs in Washington, DC to honor Grammy Award winning producer/songwriter Barry Eastmond (Anita Baker) at the Library of Congress.

"We all get together at the end and come on stage and connect," he informed me.

Freddie said the overwhelming response to the tour is because adults want to go out and hear good music, hold hands, etc... I agree, it seems a lot of the R&B groups, bands and artists with hits from 10-20 years ago are experiencing an emergence of popularity that is very refreshing to me. I see it changing the scope of modern music into something we all have not heard before. I personally can not wait to hear the balance in the old school and new school sounds.
For more information on the "Men of Soul" Tour featuring Freddie Jackson, Howard Hewitt, Jeffrey Osborne and Peabo Bryson log onto
www.MenofSoulTour.com
.
Magnolia Pictures' release Rejoice and Shout will have you doing just that, hits theaters June 17, 2011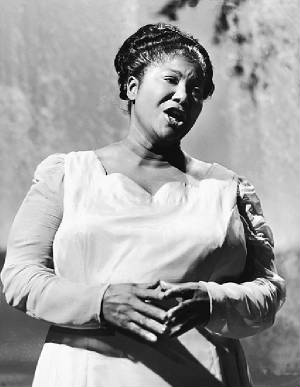 Don McGlynn's emotionally inspiring documentary on the history of Gospel music is a Magnolia Pictures release, produced by Deep Rivers Production and executive produced by Mark Cuban and Todd Wagner. It features commentary by Andrae Crouch, Mavis Staples, Ira Tucker and Ira Tucker, Jr., Marie Knight, Bill Carpenter, Willa Ward and Smokey Robinson.
The documentary had me rejoicing, shouting and crying - especially when they covered the incredible career of Mahalia Jackson, considered the greatest Gospel singer in the world.
"Mahalia Jackson crossed all barriers," Smokie Robinson said of the Gospel legend. "Mahalia sold 2 million records in 1947 at a time when 200,000 was considered a success," said Gospel historian Bill Carpenter.
Smokie spoke on today's Gospel music, explaining that in today's time Gospel music is different from the past, but it is still Gospel music.
"If you hear Hip-Hop with Gospel lyrics and you don't like it, too bad because that's how they sing it, if the presence of the Lord is in the music, than its Gospel music."
The documentary takes you to the beginning during slavery in the cotton fields where Spirituals began. Then it progresses to the church and its acceptance of the different genres of Gospel music.
"If we go back to 1900s...Black Baptist developed a polish sophisticated style of worship," Carpenter said.
Rejoice and Shout will explain how Gospel music went from conservative to what it is today. The documentary film will open in New York on June 10, 2011 and then Los Angeles - along with the top ten markets - on June 17th. The documentary covers 200 years of music history of African-American Gospel.
For more information on Rejoice and Shout log onto www.MagPictures.com.
April 29, 2011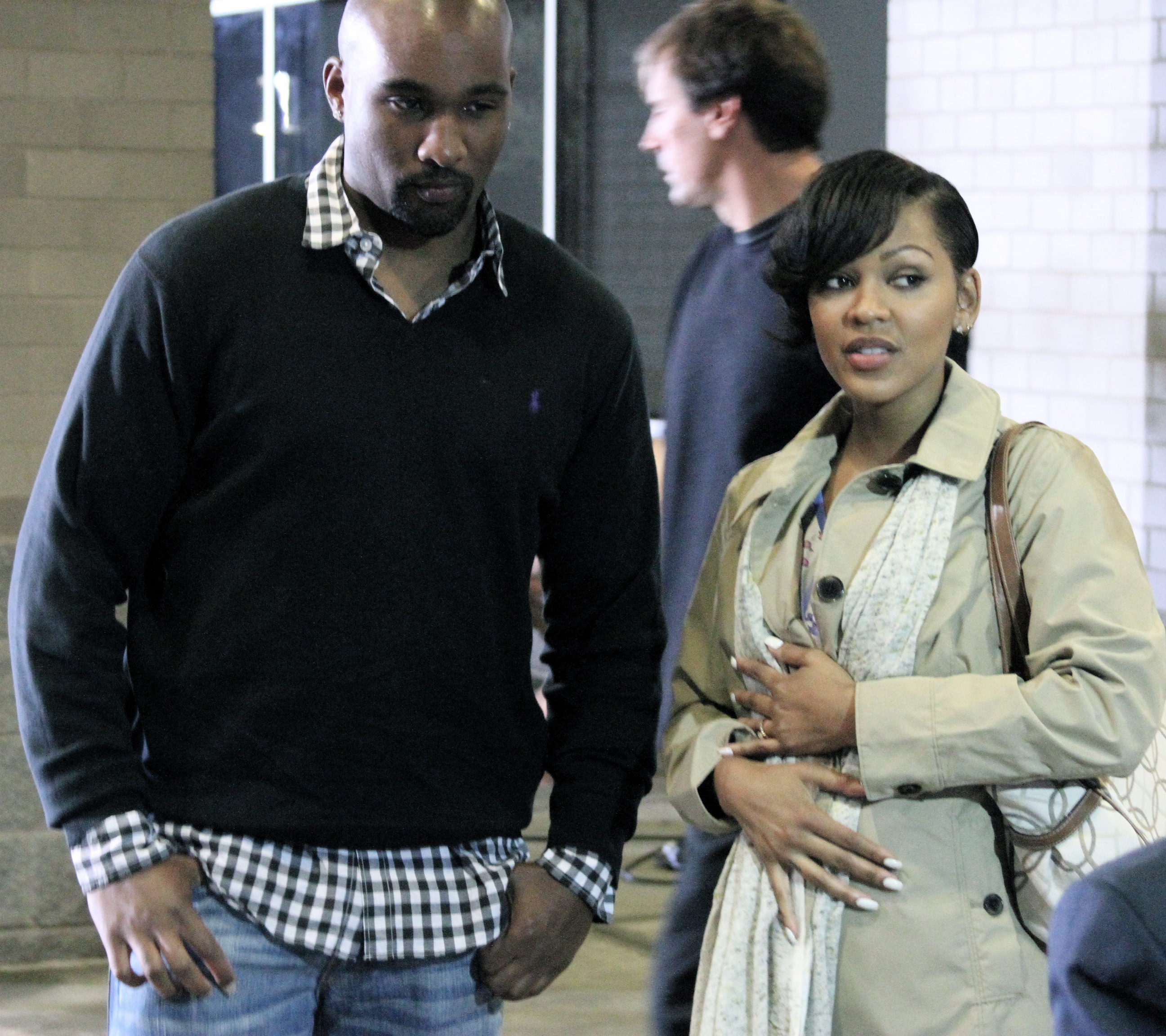 Film/TV producer Datari Turner's taking over Hollywood with major projects in 2011, one brings him to Baltimore

~
If you don't know the name remember it, Datari Turner, this film and television producer is quietly taking over Hollywood working his way to becoming one of its best. This former Ford model turned actor has made a successful transition into a film/television writer and producer. One of four major projects Turner has for 2011 release brought him to my hometown of Baltimore. His Stony Island drama, Learning Uncle Vincent (L.U.V.) - starring Meagan Good, Dennis Haysbert, Turner, Charles Dutton and Common - is about the real-life story of the man behind the concept for the television series "The Wire." In the film this man bonds with a shy 13 year-old.

"We're wrapping," Datari Turner said when I spoke with him about his time shooting in Baltimore. "The story is similar to Carlito's Way meets Training Day. It's inspired by a true story...This is his story."

Turner is telling many stories to entertain us lately, such as the Dan Garcia/Turner Production/Most Wanted Film, Video Girl, starring Meagan Good, Ruby Dee, Paul Victor, Datari and LisaRaye - his first film. The movie will be released to limited theaters April 29, 2011 and in December his Turner Productions comedy film Dysfunctional Friends - starring Stacey Dash, Hosea Chanchez, Wesley Jonathan, Terrell Owens and Tatyana Ali - will be released as well.

In television his credits include BET's "The Ultimate Hustler," an Urban reality show similar to "The Apprentice" and "I Married a Baller," about the lives of famous athletes' wives. His newest television hit is the TV One reality show "LisaRaye: The Real McCoy," which recently started its second season.

"It was time," Datari pointed out when asked about his string of successes. "I paid my dues, its time for me to have a hit. LisaRaye is from a real place like Baltimore, in Chicago. Her father was a notorious business man...With that and the glamour. It's their highest rated series."

They say when you are on a roll you can't stop, well same here with Datari because he has projects to be released well into 2012. First project next year will be the Mandalay Vision comedy film Happy Holidays, starring Kate Beckinsale and Sigourney Weaver, about a mother and daughter reuniting during the holidays after a family death. He has other projects in different stages of development. So Datari Turner is certainly one to watch.
Check out www.VideoGirl-TheMovie.com for more information on his first film Video Girl and
www.LisaRaye.TVOne.com
for more on the "LisaRaye" show.
Contemporary Gospel artist Madelyn Berry puts a new Pop/Urban twist to the genre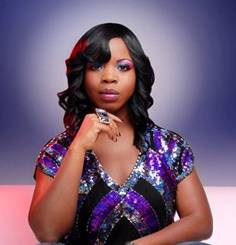 Watch out Mary Mary Madelyn Berry's in town sporting a hot Pop/Urban Contemporary Gospel sound. She is going to share that sound on her newest album, "Madelyn." A background singer for the likes of Richard Smallwood and Darwin Hobbs, Berry offers twelve inspirational songs on the CD.
"God inspired me to do this album," Madelyn confessed. "Every song is my testimony. When I first went to my husband (also the producer on the CD)...we had producers sending us difference tracks. We wanted to touch as many people as possible, not in church but outside of church."
Berry first started singing at the age of 11 at the urging of her mother. But she said that at some point she realized that her voice was "something special."
"Never give up if God gave you His word and promise. Hard work (and tears) but do not give up because of the promise," Madelyn stressed. "People can't do it alone...speak things into the atmosphere."
On "Madelyn" (Berry Tight Music) she takes it practically there as she covers a wide range of genres of music laid over by her Gospel and inspiring lyrics. My favorite cuts on the album include "I Believe In You" for its sweet inspirational lyrics and I also love the piano support; "Still Standing" a great Pop/Gospel sound; "Why I Love Him" because of its Urban flavor I think is reminiscent of Mary Mary, and the "Why I Love Him Remix" a hotter version of the first, but still a Praise and Worship song.
For more information on this Contemporary powerhouse vocalist, Madelyn Berry, log on to www.MadelynBerry.org.
May 6, 2011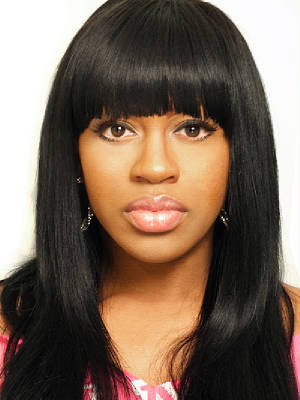 The Color Purple's guest star, Urban R&B's Lil' Mo, garners sell-out audiences
~
"For the two weeks we sold-out 14 of the 16 shows," R&B's Lil' Mo said about the off-Broadway Phoenix Entertainment production of Alice Walker's The Color Purple. "I know one of the pluses was the addition of me."

I know personally, it was the addition of her that gave me the strength to travel from Baltimore to Washington, DC where the production was held at The National Theatre. DC is also where Lil' Mo works as a radio jock on 95.5FM WPGC ("The Lil' Mo Show").

Married to Gospel artist Phillip Bryant (Tyscot Records), Lil' Mo's performance - though brief as the "church soloist" - was worthy of the top billing the production company gave her and worthy of the long trip I had to make.

"With that type (project) they didn't want Mo to sound too R&B, so I took it to the early 1900s...real 'churchie'," said the Urban superstar, whose real name is Cynthia Loving. "It got hard not to add my flavor. I wanted to go all the way!"

"I had to learn everyone's songs, dances and moves," she informed me when asked about being in a musical such as this.

Well Loving held her vocals right on point to fit early 1900s, but yet I could still hear Lil' Mo, which made it all the more entertaining. The songwriter did, as she said, "come with the swag" at the end.

"A lot of people don't know how to experience life...Broadway...cultivating yourself," Mo pointed out about attending events such as musicals and plays.

The Color Purple was created by Alliance Theatre for Broadway based on the Alice Walker novel and the Steven Spielberg directed movie. Phoenix Entertainment (Michael McFadden, artistic producer and Stephen B. Kane, executive producer) took the musical on the road with the help of The Road Company. Dayna Dantzler does an outstanding portrayal of Celie; Pam Trotter as Sofia; Taprena Augustine was doubling over with sex appeal as Shug Avery; Tracie Allen as Nettie; Allison Semmes does an outstanding vocal portrayal of Squeak, and Edward C. Smith, is the man you're going to hate, as he does an excellent job in the role of Mister.

Lil' Mo started in entertainment when her family settled in Baltimore, Maryland. She started to write songs for, perform for and collaborate with the likes of Jay-Z on "Parking Lot Pimping," R&B's NEXT on "Wifey," JaRule on "Put It On Me" and "I Cry," and Fabolous on "Can't Let You Go" and "Superwoman Part II" - her most noticeable hit. Her "5 Minutes" song appears on the soundtrack of "Why Do Fools Fall In Love," co-written by Kelly Price.

Loving's first record deal was at Elektra Records and there she released "Based On A True Story" and "Meet The Girl Next Door," and then independently she released "Paint and Paper."
To find out more on The Color Purple's - co-created by award-winning songwriter Brenda Russell - or its next production date log onto
www.ColorPurple.com
. For more on Lil' Mo, who is about to release another CD project, log onto
www.wpgc.radio.com
.
One Village Entertainment's gothic thriller, The Inheritance, takes family secrets to a whole new level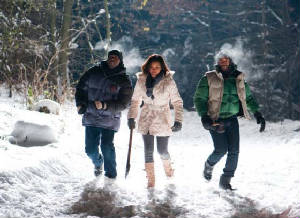 Image Entertainment presents the One Village Entertainment gothic thriller The Inheritance on DVD and Blu-ray. The horror film takes family secrets to a whole new level with its story-line written by the film's director award-winning filmmaker Robert O' Hara. The movie boast a stellar cast that includes two-time Emmy Award winner Keith David (Lottery Ticket, "The Cape"), Golden Brooks ("Girlfriends"), Darrin Dewitt Henson ("Stomp the Yard") and DB Woodside ("24").

The Inheritance follows five cousins who gather for a family "meeting." What happens after that will keep you on the edge of your seats. You know how you hear in the theater people holler at the screen "don't open the door," well this one will have you doing the same - cause I know I was, "don't, don't, don't!"

The film is already an award-winner with American Film Festival and Pan African Film Festival honors in tow. With a stellar cast as this and the suspense in the storyline to keep you wanting to know "who's getting killed off next," this film is surely to garner more honors.

The Inheritance also stars Rochelle Aytes (Tyler Perry's Madea's Family Reunion), Adriane Lenox (The Blind Side), Lanre Idewu ("Everybody Hates Chris") and Shawn Michael Howard (Cable Guy). The plot takes you all the way back to slavery to put things in perspective for the disturbing events that happen today.

"We did this with a franchise in mind," said producer Effie T. Brown at the films premiere. "It's about a family...at the end, we want the audience to see more (about the family) and see the story grow."
For more on the Image Entertainment release, The Inheritance, log onto www.image-entertainment.com.
May 13, 2011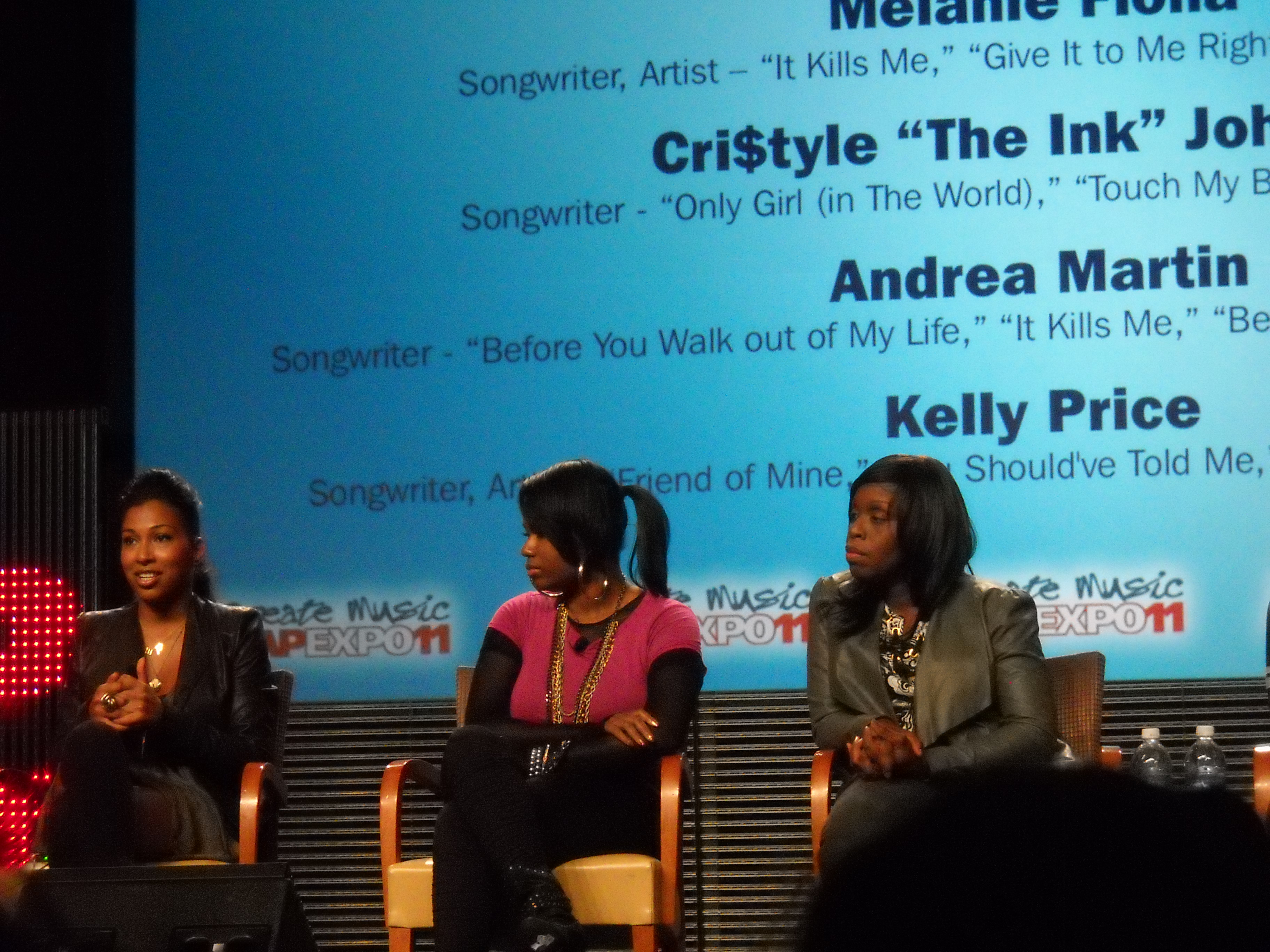 ASCAP's three-day 'I Create Music' Expo fostered songwriter's dreams

~
Covering the 6th annual ASCAP "I Create Music" Expo was like being a fly on the wall during the songwriting process for some of the best in the business. The expo attracted the elite in the business of songwriting to come listen to the "masters" talk about their process and experiences. The ASCAP "I Create Music" Expo was held for three days in Los Angeles and offered vendors with every conceivable piece of songwriting/producing equipment and a list of panels with the greatest songwriters and producer in the business today.

"I had an interest in making beats and wondered how it's done," said producer Boi-1da during the "Deconstruction of Drake" panel discussion. "I spent $100 on a beat making program."

Today Boi-1da's beat making skills earned him credits that include projects for Eminem, The Diplomats, G-Unit and of course on Drake's "Best I Ever Had," "Forever" and 'Over." Along with Boi-1da (Matthew Samuels) was producer 40. Born Noah Shebib, 40's beat making credits include Nelly Furtado, Alicia Keys, Lil' Wayne, Trey Songs, Jamie Foxx, Sade', Jay-Z and on Drake's "Fall For Your Type" and "Thank Me Later."

ASCAP's 'I Create Music" Expo also had panels that include songwriters Kelly Price, Andrea Martin, Melanie Fiona and Cry$tyle Johnson on the "Women Behind the Scene" panel; Fergie was on the "We Create Music" panel; No I.D., Needlz, Keith Harris and Drumma Boy was on the "Producing Hits in Pop and R&B" panel; the "Master Session" with Pharrell and Jon Platt, and another "Master's Session" with Jermaine Dupri and Johnta Austin.

"We can't make records like that," Jermaine Dupri said on his panel when discussing how he receives request to duplicate hit songs he wrote previously.

"I can't steal nobody's style," JD pointed out too, concerning writing songs like someone else's hit.

Vendors include publications that target the songwriter; digital distributers of music companies; labels looking for songwriters and producers; songwriting hardware and software manufacturers and distributers; recording studios; sound engineering equipment manufacturers and dealers; instruments of almost every kind; manufacturers and sellers of tour buses, and so very much more.
ASCAP is the leading performance rights organization in the United States, representing over 8.5 million copyrighted works for more than 400,000 songwriters, composers and music publishers. For more information on ASCAP or the many events it hosts for its members log onto
www.ASCAP.com
.
Patrick Bradley makes his keyboard sing on new album, 'Under The Sun'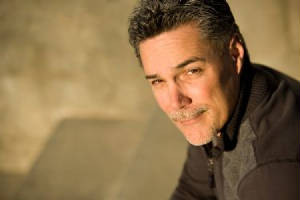 If its one thing I love it's when a musician can make their instrument "sing." Jazz Fusion keyboardist Patrick Bradley does just that on his sophomore project titled "Under The Sun." Joining Bradley on the album are Dave Koz and Eric Marienthal on sax; Rick Braun on trumpet and flugelhorn; Dwight Sills and Michael Thompson on guitar; Alex Al and Nate Phillips on bass; Tony Moore and Dave Weekl on drums, Irene B. with vocal support.
"I actually started really young at 8 years-old," Patrick Bradley said about his early beginnings as a keyboardist. "I started on my own. My friend had a keyboard and I was drawn to it so my parents brought me one for Christmas. I was self taught until college."
"Under The Sun" was spiritually inspired from the death of Patrick's mother. That inspiration is probably why I hear his keyboards literally crying on one of my favorite cuts on the CD, "Tears From The Sky." Other songs I find myself playing over and over again include "Slipstream," because of the excellent horn support, "Into The Sunset," and "A Message," which is a hot funky number.
Also a Southern California regional president of a major food store chain, Bradley gives this advice to up-and-coming musicians, "Don't ever give up. I've never given up...learn to read music...and find someone to mentor and train you."
For more information on Jazz keyboardist Patrick Bradley's latest CD "Under The Sun" log into www.PatrickBradley.net.
Minnesota actor Steve Wash, Jr. lands role on Tyler Perry's Big Family Reunion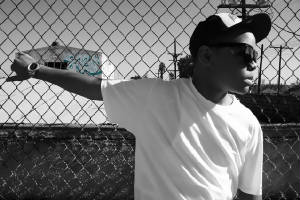 'I was actually at my family reunion when they called," Native Minnesotan actor Steve Wash, Jr. said when asked how he heard the good news about landing a role in Tyler Perry's newest film Big Family Reunion. "I had a table read...straight to table read. I saw Bow Wow and Tyler Perry. This lady said I did fantastic job. Then they flew me out to Atlanta."
Sounds easy, but this young actor has been in the business since the age of five. It was at five years-old that the producer of The Wayne Brady Show saw him and his parents in line in Los Angeles waiting to be in the audience. The producer was so taken by all the personality in the five year old, that not only did they get the front row but Steve walked away with a correspondence job for The Wayne Brady Show - at the tender age of five. That job lasted for two years. During that time he was signed with the William Morris agency and appeared on such shows as "The Parkers."
Today Wash, Jr. has appeared on "Scrubs" and in the movie Gridiron. He also will star in the new AT&T national commercial. Steve, whose family relocated to Los Angeles back with he was five, is also a rapper known as Lil' Stevie. In fact, he pointed out that his four sisters and brother are also musical talented as well.
"I get my inspiration from my (eldest) sister," Steve Wash, Jr. said when he mentioned that his siblings can all either rap, sing or write songs.
"Be the entertainer 24/7," Steve said when asked about giving advice to other young actors. "Stay the entertainer."
For more on actor Steve Wash, Jr. log onto his website at www.SteveWash.com.
May 20, 2011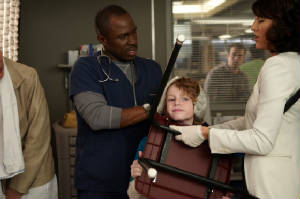 Actor Gbenga Akinnagbe is taking control in Showtime's 'Nurse Jackie'
~
Washington, DC born and Maryland raised actor Gbenga Akinnagbe (Lottery Ticket, "The Wire," "The Good Wife") lands reoccurring role on Showtime's "Nurse Jackie" as a temp who is bold enough to challenge the nurse's bullying ways. His character was introduced May 2, 2011 and will be a regular until the season's end, in June.

"It's pretty exciting changing things up," Gbenga said about joining the cast of the Showtime series. "He's the only other nurse than Jackie."

Akinnagbe complimented the writers and the good chemistry as the reason his one time character returns until the end of the season.

"My mom was a nurse," Gbenga pointed out when asked about any experience he was able to bring into him character. "And I've done medical shows before."

Akinnagbe decided on acting full time after the death of his father. He first took to the stage starring in "Romeo and Juliet," "Cyrano de Bergerac," "Hambone," "All in the Timing," and "Sophocles' Trilogy of Oedipus." Relocating to New York he landed a role in a small production called "The Wire" on HBO, which became a hit that today have more viewers than ever before .

Gbenga Akinnagbe's talents earned him a role in The Taking of Pelham 123 with John Travolta and The Edge of Darkness with Mel Gibson. He has made guest appearances on "Law and Order: SVU," "Cold Case," "Numb3rs,"and "Conviction."

"Nurse Jackie" is played by Edie Falco. Jackie Peyton is an ER nurse who has to skillfully navigate through a crumbling healthcare system, while doing whatever she can to provide her patients with the best care possible.
For more information on Showtime's "Nurse Jackie" log onto www.sho.com and for more about Gbenga Akinnagbe follow him on Twitter at
www.twitter.com/bgengaakinnagbe
.
Actress/Comedienne Carlease Burke appears in Disney's Prom and UK's hit series 'Shameless'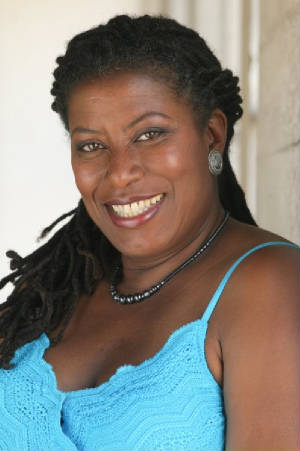 "Moving from New York to Los Angeles was when I said I am really going to do it," said actress/comedienne Carlease Burke about the beginning of her over 25 year-old career as an actress. "(At the time) you could have as many agents as you needed. You didn't have to sign exclusive. Here in Los Angeles you have to be exclusive."

Her first agent asked her to read when they where also just beginning as well. They both joined forces and in no time Carlease had a role on "Young and the Restless." She had theater experience too in "Romeo and Juliet," which earned her an NAACP Image Award nomination for Best Supporting Actress, and in August Wilson's "Gem of the Ocean."

"I was starting out as well. I was just doing what people told me to do," Burke chuckles.

Good for Carlease that she did. She went on to star in commercials for GEICO (A Bird in Hand); Pfizer, Macy's, Verizon and Pizza Hut. Burke guest starred in "Hot in Cleveland," "Raising Hope," "Hawthorne," "Flash Forward," "Heroes," "Southland," "NCIS," "Grey's Anatomy," "Bones," "Desperate Housewives," "Malcolm in the Middle," "Without a Trace," "Monk," and "How I Met Your Mother." The Pre-Law graduate also appeared in Hallmark's "Sweet Nothing in My Ear."

Carlease appears in In Her Shoes opposite Cameron Diaz; The Terminal with Tom Hanks; The Back-up Plan with Jennifer Lopez; guest stars in UK's hit series "Shameless;" the Family film Hop and Disney Pictures' Prom, which was recently released to theaters.

"As actors we give so much power over to agents to make our decision," Carlease said when asked to give advice to up-and-coming actors. "But we need to work with the agent as a partnership."
Broadway's Tony Award winning 'Memphis,' an epic experience on the big screen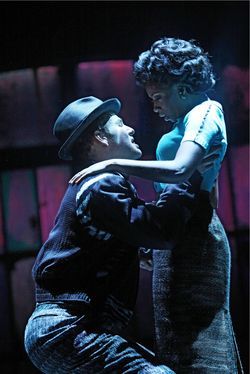 NCM Fathom and Broadway Worldwide presented a special four-day nationwide screening of the 2010 Tony Award winning Broadway musical "Memphis" (HD). The musical was almost epic on the big screen.
"Memphis," the movie presentation, was captured during a live performance at Broadway's renowned Shubert Theatre in New York City. The musical takes place in an underground club and local radio station where white DJ Huey Calhoun (played by Chad Kimball) takes "black" music mainstream. During his love affair with black music, Calhoun falls in love with a black singer Felicia (Montego Glover).
"Memphis" successfully takes you mentally back to the era where the original book took place. You were reminded of a time/mind-set mostly forgotten and of the music that shaped what we listen to today. The acting, songs (David Bryan), customs (Paul Tazewell), music (Christopher Jahnke) and the fabulous dance routines (Sergio Trujillo) are proof to me that the Tony Award was well earned.
The limited presentation was hosted specifically for those in attendance to experience the musical. What an experience that was, for me, it was truly a classic one.
For more information on "Memphis," which continues to play to a sold out audiences, log onto www.MemphisTheMusical.com.
May 27, 2011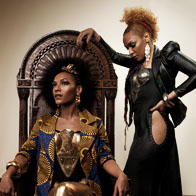 Les Nubians start a 'Nu Revolution' with their newest album release

~
Born in Paris and raised in France, sisters Helene and Celia Faussart are known as Les Nubians. The Grammy Award nominated duo is the biggest French-singing group that have succeeded in America. Recently, on the Shanachie imprint, Les Nubians released their forth album titled "Nu Revolution."

"The first ...song at the end, the second had a little bit more and this, a bit more because... we're more at ease," Celia said about the use of English on the CD.

What makes the French speaking Les Nubians successful in America is their music and vocal style that transcends the language barrier. "Nu Revolution" has that multi-cultural Afro-European World Music sound fused with spoken word, blended with Hip-Hop, Urban R&B and Neo-Soul.

Featured artists include Manu Dibango, Blitz the Ambassador, Eric Roberson, John Banza and Freshly Ground.

"We were singing at home a lot with some friends on a personal level," the duo explained about their humble beginnings. "A friend in a Reggae band said people need to hear your voices. We did it because we enjoy it."

The ladies went on to say that they performed three songs that night and the next day a local newspaper wrote about them in a positive-light. That write-up, along with their friends' words of encouragement, was all the sisters needed. Not too long afterwards they signed to Virgin Records, France.

In 1998 they released "Princesses Nubiennes," their debut album. Their second album, "One Step Forward," garnered them the Grammy nominated song ""Je Veux D'la Musique." In 1999 they received a Soul Train Lady of Soul Award for "Best New Artist, Group or Duo" and two NAACP Image Awards nominations in 2000. In 2005 Les Nubians executive produced and released, "Echos, Chapter One," on their own label - Nubiatik (a joint venture with Triloka Records).

If you want to be taken to France while dancing to the rhythms of African, the beats of Hip-Hop and getting philosophically deep on their spoken word skills, then Les Nubians' "Nu Revolution" is for you. My favorite cuts on the CD include "Vogue Navire" for its smooth vibe all the way through and "Les Gens" featuring Blitz the Ambassador because Blitz reminds me of Busta Buss, one of my favorite artists, and also for it's perfect blend of Funky and Urban styles.

"Be original...respect the audience," the sisters said when asked to give advice to artists trying to be established. "Know...It's a lot of work."
For more information on Les Nubians or their "Nu Revolution" CD release log onto
www.LesNubians.org
.
Season finale' of TV One's 'LisaRaye: The Real McCoy,' funny, tear-provoking and shocking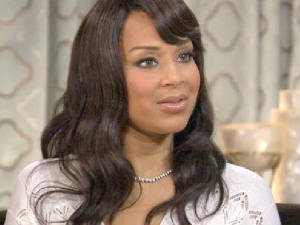 I must admit my busy schedule didn't allow me to see too many episodes of the second season of TV One's "LisaRaye: The Real McCoy" reality series, but having an advance viewing of the hour long finale' made me realize, again, why the show was picked up. I laughed so hard I am sure the neighbors heard me. The hour long finale' airs Thursday May 26, 2011 at 9:00 p.m.
LisaRayes' in your face personality mixed with her big heart took me from one emotion to another. She had me "ooowwwing" and "aaawwwing" when her baby, KaiMorae, turned 21 and wanted to take her crew to Las Vegas. Then I laughed and laughed while she scolded her daughter and her dog for a "messy" issue, dog was so cute!
Don't get me started on LisaRaye taking everyone on a camping trip - the lady in white - see, I bet you're laughing too! The trip was so funny until she scared everyone near to death. All in all it was the shocker at the end that will have me penning down on my calendar to tune into TV One on Thursdays at 9 p.m.
The "LisaRaye: The Real McCoy" reality show is produced for TV One by Evolution Media and is executive produced by LisaRaye, creator Datari Turner, Kathleen French, Gregory Stewart and Douglas Ross.
LisaRaye is an NAACP Image Award nominee who was the main lady in Sisqo's "Incomplete" and Tupac's "Toss It Up" music videos before starring in the New Line Cinema film The Players Club with Bernie Mac, Jamie Foxx and Ice Cube - who was writer/director. She also starred in Beauty Shop and "Love Chronicles." LisaRaye is best known for her role as Neesee James in Will and Jada Smith's "All of Us" with Duane Martin.
If you missed the finale' log onto www.TVOneOnLine.com for possible re-airing dates/times and fine more on LisaRaye at www.LisaRaye.TvOneOnline.com.
June 3, 2011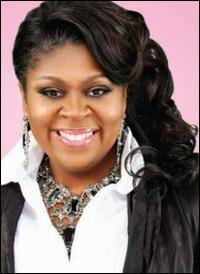 Pastor Kim Burrell is back with lots of 'Love' on her new album on Shanachie
~
The impeccable Contemporary Gospel vocalist Kim Burrell is back with a new project, "The Love Album," on the Shanachie imprint. "The Love Album" offers a melting-pot of Contemporary Praise & Worship and Gospel songs that are sure to cross-over into other genres, such as Jazz and R&B.

"I was raised in the church...your mind is committed to God," said Kim Burrell, who is Pastor of her own church located in Houston, The Love and Liberty Church. "A record label wanted me to sign, so I committed to that."

Burrell went on to explain that she was still able to spread God's Gospel, but through recorded song. Her commitment to God was as a member of her father's church - Church of God in Christ (COGIC) - where she sang since age one. She told me of a life-changing experience where she met a young guy who showed her an obituary and she thought it was his twin, but it was him 6 months ago. He had planned to end his life and had completed preparations for his own funeral. He told her that he heard her sing and it changed 'his' life. It was then she realized her ministry "is" her music - so she committed to that.

Labeled a Jazz Gospel singer/songwriter, Kim also has that Urban flavor that has garnered a list of celebrity fans that include Whitney Houston, Mariah Carey, Chaka Khan and Beyonce'. Her Urban Gospel style has influenced many artists and is very evident in the vocal styles of Jazmine Sullivan.

"The Love Album" is full of different types of music supported by lyrics that sing of God's love for us and Kim's love for God. There is Jazz, Urban/R&B and Soul Contemporary Gospel selections on the album. The messages of the songs are so powerful, it made me ask her where her church was - maybe I will stop by if I'm ever in Houston, Texas.

Professionally Burrell started singing for James Cleveland's GMWA Youth Mass Choir and then went on to appear on Ricky Dillard's "Worked it Out" album. She signed to a local label Pearl Records in 1995 and released "Try Me Again." In 1998 she signed to Tommy Boy Gospel and released "Everlasting Life" which reached #12 on Billboard's Gospel Chart. "Everlasting Life" also earned her a Stellar Award.

In 2000 she recorded her performance at the COGIC Convention in Memphis and it was released in 2001 as a live recording on Tommy Boy Gospel - it garnered her a Grammy Award nomination. By 2002 Kim was signed to Elektra Records to make a guest appearance on Missy Elliott's "Higher Ground."
In 2009 Kim signed to Shanachie and released "No Ways Tired." The incomparable singer has collaborated with Kirk Franklin, Hezekiah Walker, Shirley Caesar, Harry Connick, Jr., R. Kelly, Stevie Wonder, Tye Tribbett & GA, Richard Smallwood, Marvin Winan's and Byron Cage.

"It's been a great response," Kim said about the new release. "It gives me a whole 'nother level of commitment. I am praying the church realize...Gospel's in different forms...to understand. I'm praying that a balance will happen in the church world."

Burrell said this project is to let people know that God is love. Though the whole album is outstanding from beginning to end, my favorite cuts on the CD are "Let's Make It To Love" because of its Urban feel; "Sweeter" a jazzy number; "Open Up The Door" because it starts with a slight Country flavor because of the guitar support, then ends as a powerful Urban/R&B cut; "Is This The Way Love Goes" is a typical Jazz song with outstanding piano support, with Kim's vocals reminiscent of Ella Fitzgerald.
Paige Bryan wins over crowd at recent Club Nokia performance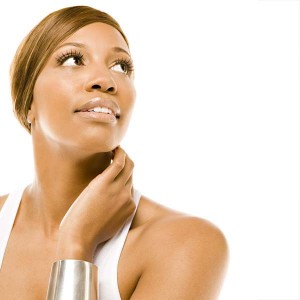 I admit, like most, I came to Club Nokia in Los Angeles to see Sinbad - though I was to review the opening act, Paige Bryan. I tell you by the time Paige finished her set, we all where giving her a standing ovation. She didn't let on, like I knew, that she was Sinbad's daughter. She announced it at the end of her set, which resulted in another overwhelming applause.
I remember interviewing a younger Paige Bryan when she was part of a Christian Rock/Urban group, Press Play. Her Urban/R&B sound enhanced greatly the Rock group, which I thought had a fresh Contemporary Christian Music sound.
Now that she is going solo, and older, her sound is much more mature. She sang of triumph over love lost and the joy of love found. Her songwriting, even when she was with the group, is unbelievable. I love the way she gives you visual images with her words as she sings her story. Even though it was a bit too much "love lost" songs for me, her delivery, band and backup singers still had me (and the crowd) egging her on, "you go girl!"
The songs performed by Paige Bryan are on her debut solo project "Imperfect Me" produced by Chaka Blackmon (Christina Aguilera). She has also starred in a docu-series, "Sinbad: It's Just Family," that aired for six weeks on WE tv - along with her father Sinbad, mother/manager Meredith Adkins and brother Royce Atkins.
This talented lady has opened for Sean Kingston, Erykah Badu and Macy Gray. For more on Paige log onto www.JustPaige.com or follower her at www.twitter.com/ItsJustPaige.
June 10, 2011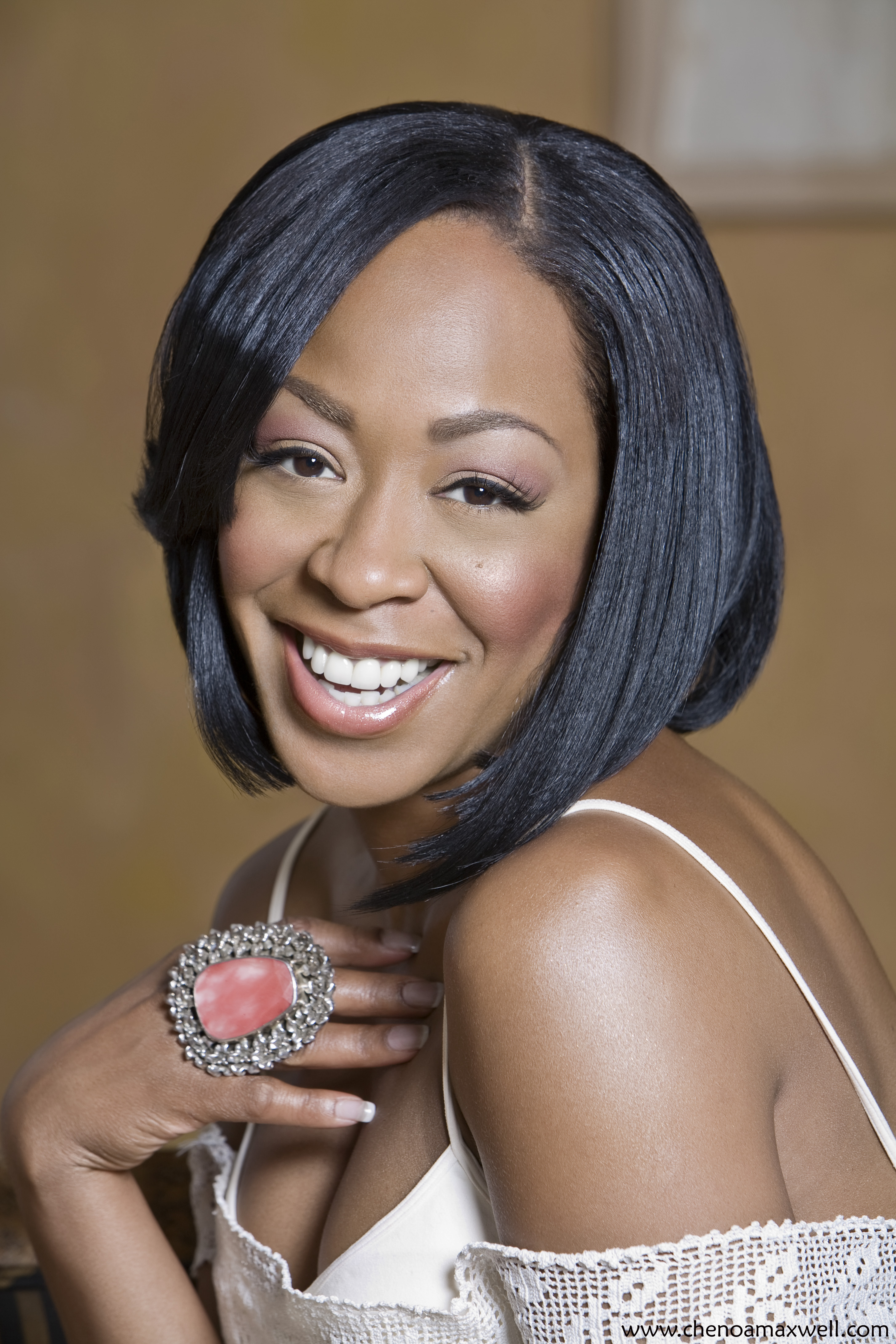 Tichina Arnold lands co-starring role on TV Land's 'Happily Divorced' with Fran Drescher
~
"I auditioned like everybody else," said comedic actress Tichina Arnold about landing a co-starring role as Judi - with Fran Drescher - the only black cast member in the TV Land sit-com "Happily Divorced." "I heard from her team... they liked me."

"Happily Divorced" follows Los Angeles florist Fran, whose 18-year marriage ends when her husband announces he's gay and can't afford to move out. The TV Land sit-com, inspired by Drescher's real life story, also stars John Michael Higgins as Fran's gay realtor husband; Rita Moreno as Fran's mother Dori; Robert Walden as her father Glen, and Valente Rodriguez as Cesar, her flower delivery guy.

"It was a relaxed set. Everyone was so cool and pleasing to work with," Tichina said about her experience tapping the show. "It's a good feeling to see that." When asked about working with Fran Arnold said, "Fran mastered everything. She knows your lines and her lines. Fran is so down to earth...really, really smart."

"Happily Divorced" is written by Drescher and Peter Marc Johnson ("The Nanny") and it airs for ten weeks starting June 15, 2011 at 10:30 p.m./9:30 p.m. (Central) on TV Land.

Tichina, who is a two-time NAACP Image Award winning actress, said the only difference in being on the set of an all white cast than her normal setting of an all black cast ("Martin," "Everybody Hates Chris") is the humor.

"I like all types of humor," Arnold pointed out. "The jokes are different...and her show is about her and a gay husband a far fetch from 'Martin.' This show has so many textures."

Tichina has many textures too having appeared in television on "Ryan's Hope," "All My Children," "The Cosby Show," "Law & Order," "The Norm Show," "One on One," "Brothers," and "Raising Hope." Her voice is heard in the animated series "American Dad" and "The Boondocks."

In film Arnold has starred in The Lena Baker Story, Transformers 2, Dance Flick with the Wayans Brothers, Big Mamma's House with Martin Lawrence, Civil Brand, Dancing in September, The Little Shop of Horrors and Wild Hogs.
The essence of Jazz is what guitarist John Carey offers on 'New Beginnings'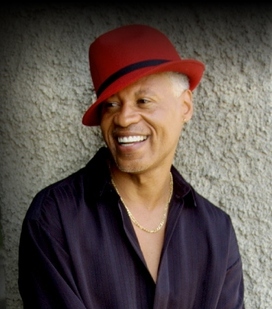 A seasoned guitarist John Carey is once again stepping out with another album, "New Beginnings," on his own label GICO Music.
"I've been on this road for 25-30 years opening for so many people...a great journey," John said about his career as a guitarist.
On the "New Beginnings" you will hear that journey in the form of a wide range of styles layered with that Jazz essence. John offers his skills as a Latin guitarist on one of my favorites on the album "The Rain in Spain" and as an R&B guitarist on another favorite "Step." Carey even gives a bit of Rock guitar playing to make his guitar sing on yet another favorite cut "A Song for Gina."
"I decided to throw in all my experiences," John said when asked about the diversity in the sounds of his guitar on this CD. "I've recorded several albums that were projects for (other) companies - just work - this particular one...I am the most proud of."
Proud he should be this album offers the best in Jazz guitar playing, not to mention the beautiful vocal support of his label-mate Gina.
"We are #1 on BET in the UK," John informed me about the success of the album's release so far. "And a DJ from Spain contacted for permission to play a song."
For more information on John Carey or to hear a bit from the album log onto www.GICOMusic.fourfour.com.
June 17, 2020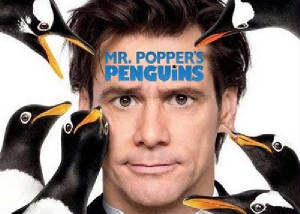 Jim Carrey brings summertime laughter in the 20th Century Fox film Mr. Popper's Penguins
~
The man of a thousand funny faces Jim Carrey brings summertime in with loads of laughter in the 20th Century Fox Film Mr. Popper's Penguins. Carrey leads the cast that also includes Angela Lansbury and Carla Guigino. Mr. Popper's Penguins reaches theaters June 17, 2011.

Jim plays a divorcee father of two, Tommy Popper, a highly successful real estate developer in Manhattan whose life suddenly changes when he inherits six penguins from his world-traveling father. His kids fall in love with the Arctic animals and Popper tries to maintain life with the penguins while closing a business deal just to connect with his kids.

Carla Guigino plays Mr. Popper's ex-wife Amanda and Angela Lansbury plays Mrs. Van Gundy the client Mr. Popper seeks to make a business deal with while joggling six penguins. Lansbury, who has been performing more in Broadway musicals, said taking the part in Mr. Popper's Penguins was an "unexpected adventure in my life. It coincided with my career (break from Broadway)... It's been 6 years since my last movie."

Mr. Popper's Penguins is based on a novel published in 1938 which producer John Davis fell in love with. Davis enlisted Mark Waters to director the family oriented movie.

Jim Carrey said he really enjoyed working with the penguins, though some scenes used CG (electronic) penguins most of the time, he inform me that real penguins were used. When I asked what would the cast (director and producer also) do if they inherited six penguins Jim Carrey was the first to speak out saying, "I'd eat them," but of course laughter rang out and mine was the loudest because I wasn't expecting that reply!

"I'd make a sequel," producer John Davis quickly added seriously.

Director Mark Waters followed up with a smile, "I'd sign them up... for merchandising rights!"

I think John and Mark are thinking big and Jim may have been a little hungry, but what is for sure is that Mr. Popper's Penguins will bring big summertime laughter, big family fun and big emphasis on the theme of the movie, discovering the importance of family.

Carrey talked of his own family when discussing where his talent came from, such as his funny faces. "My face has a life of its own," Jim laughed. Also a painter, Carrey credits his father for having a major influence on his comedic talents he boasted that his father is even funnier than he is.

Mr., Popper's Penguins starring Jim Carrey is sure to be a summertime favorite movie to see with the entire family. Rated PG, Mr. Popper's Penguins hits theaters June 17th.
~
High-powered broadcasting network executive Wonya Lucas takes the helm at TV One as president and CEO on August 8, 2011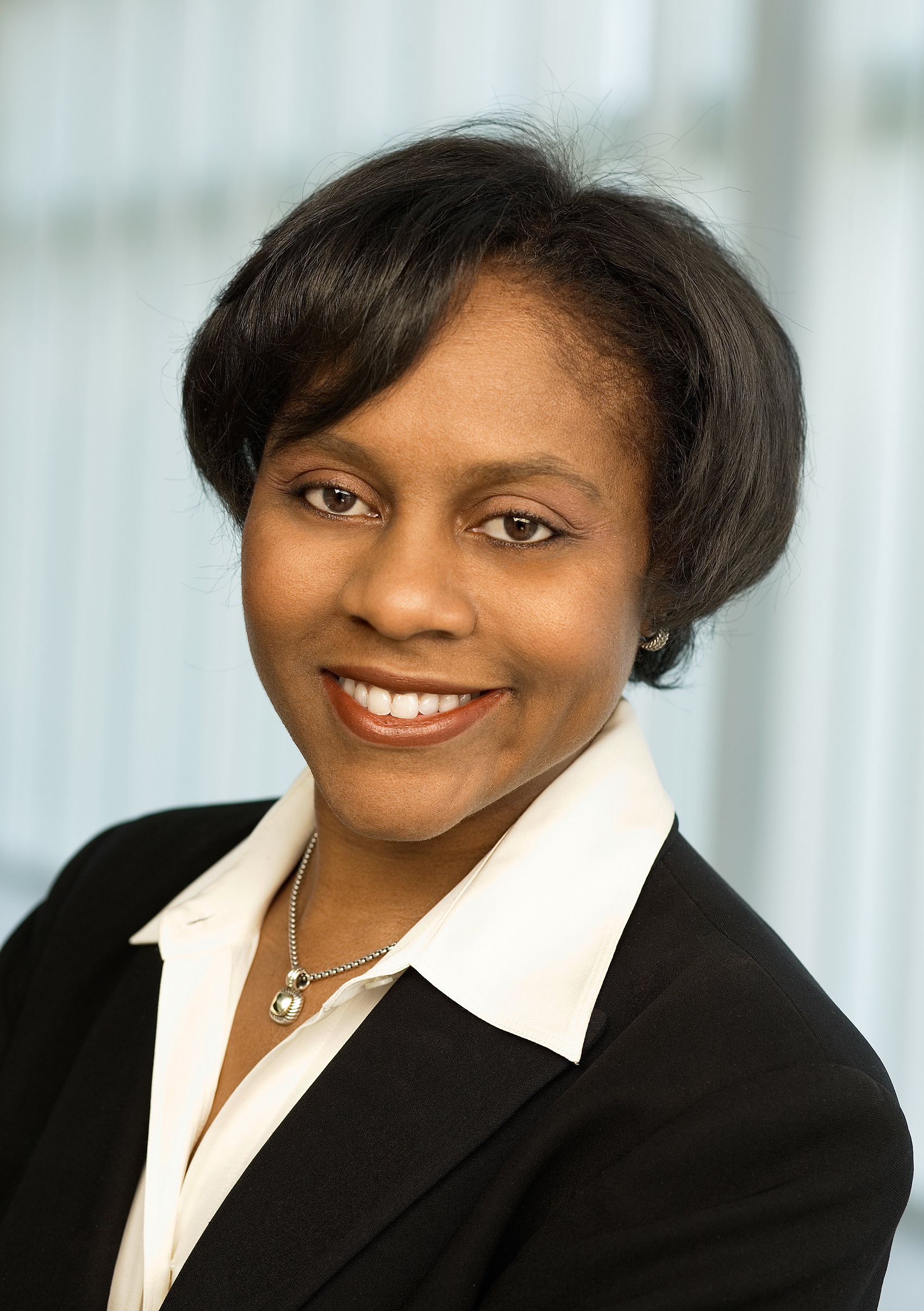 "First and foremost I am a branding strategist," said Wonya Lucas the new president and CEO of the TV One network as of August 8, 2011. "I will bring that quickly," was the reply when asked about her extensive background as a strategist at the Turner Broadcasting Network and The Weather, Discovery and Science Channels.

On July 31, 2011 current president and CEO Johnathan Rodgers will retire from the seven year-old network that is currently serving 53 million households. Lucas, who was named in 2010 one of 75 most powerful women in business by Black Enterprise Magazine, is high qualified to replace him and I could tell she was very eager to get started.

"Know your audience," Wonya said when asked want the first step would be. "What happens is people try to lump African-Americans together. How do we differentiate our audience...speak to them in their voice. Blacks are more complex."

Being a PR strategist myself I was so into and in agreement with what she was saying and I have no doubt she will get TV One in a position to be "the" largest broadcasting service of African-Americans going into the 21 Century. Just Wonya focusing on finding out what the "audience" wants lets me know she is on the right track. Filling a need in the market is the first step to ultimate becoming successful at any business.

Wonya Lucas served as Executive VP and Chief Operating Officer at Discovery and the Science Channels where her job was strategic operations and research and marketing; she worked also at The Weather Channel as VP of Corporate Strategies and Development for their network, website and radio station; Lucas worked at Turner Broadcasting as Senior VP of Strategic Marketing for CNN Domestic Networks, as well as TNT, TBS and TCM, and she served as Brand Manager at Coca-Cola and Clorox.

"No matter what your brand...it's pretty much consistent," Wonya pointed out when asked to give advice to companies on branding strategies. "Know your audience and delivery the promise."
Screenwriter and director La Monte Edwards joins the Los Angeles "Uplifting Minds II" entertainment conference's panel Sunday, June 19, 2011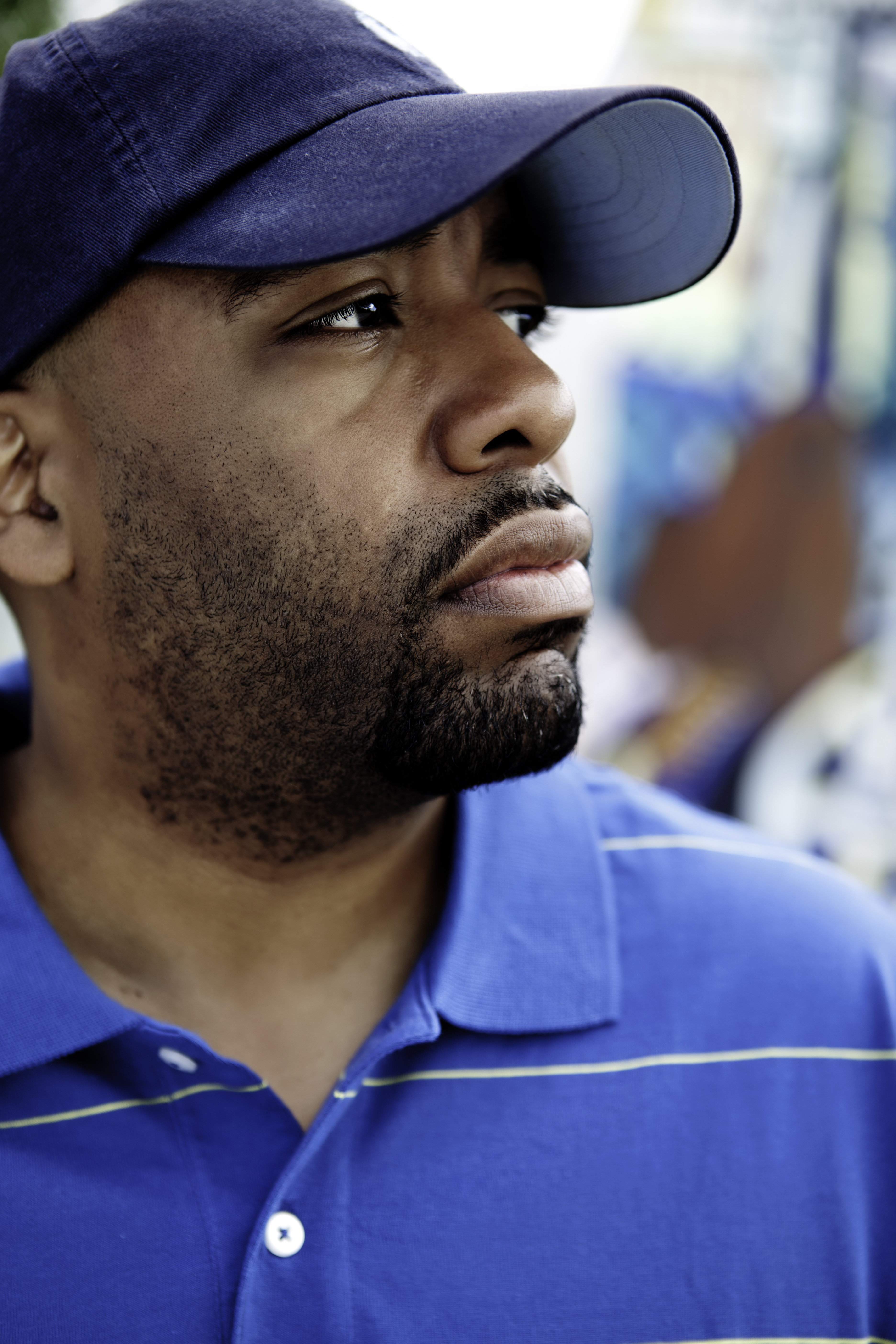 Screenwriter and director La Monte Edwards, known for his commercial production work on "MTV Party to Go," "DJ Mix" and "Trek Bicycles," will join the Sunday, June 19, 2011 "Uplifting Minds II" entertainment conference's judging panel for its national talent competition showcase. The conference is to be held at the Los Angeles Convention Center (West Hall-511) from 1 - 7 p.m. - the talent showcase competition is from 5 - 7pm. - admission is free.
"La Monte is looking forward to this!" said Edwards' publicist Amy Sisoyev (Bridge & Tunnel Communications) about his appearance at the event.
La Monte is a graduated from New York University in Film and has worked with the video commissioner on projects for Naughty By Nature, Coolio and De La Soul. Edwards started his own production company where he worked for Jive and MCA Records directing, editing and producing music videos for artists such as Average White Band, 740 Boyz, Sugar Bear and Heather B. Edwards' latest project he wrote/directed, "King of Paper Chasin,'" which is set to premiere on The Movie Channel (TMC) on July 1, 2011 at 8:00P p.m.
The 'Uplifting Minds II" entertainment conference is sponsored by all who are participating, as well as www.EURweb.com, Gico Music, and KDAY 93.5fm. The 12 year-old ULMII conference's national talent competition showcase will be hosted by Stellar Award nominee Doresa Harvey (Heaven 600) with KDAY's DJ Surreal on the turntable.
For more information on the "Uplifting Minds II" entertainment conference, log onto www.UpliftingMinds2.com.
June 24, 2011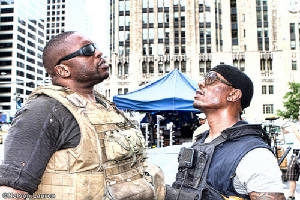 Baltimore's Lester Speight lands major role in Transformer: Dark of Moon, hits theaters June 29, 2011
~
"I am in 45 minutes of the film," actor Lester Speight informed me about his major role in the upcoming Paramount presented Michael Bay director and Steven Spielberg produced film, Transformer: Dark of the Moon. "I play Hardcore Eddie a member of Tyrese (characters') Special 'Ops' Team. I carry the biggest gun!"

Transformer: Dark of the Moon hits theaters June 29, 2011 and will be available in 2D, 3D and IMAX. The film's returning stars are Shia LaBeouf, Josh Duhamel, John Turturro and Tyrese Gibson. Peter Cullen returns as the voice of Optimus Prime and Hugo Weaving returns as the voice of Megatron.

Speight is also returning as Augusta Cole aka Cole Train in the Gears of War 3 Microsoft XBox 360 video game to hit the market in September. This is his third appearance on the Gears of War game as Cole Train. This is also the last game in the series and it will offer a four-player feature. Actor/Rapper Ice-T also appears in the game as Griffin. Lester won a G4 Award in 2006 and a G-Phoria Award in 2007 for "Best Voiceover" for his role in the first Gear of War game series.

"I read the script...started laying the vocals," Speight said when asked how he managed to land such a great character role in the Gears of War game. "The composer of the game liked me as Terry Tate the linebacker (in the Super Bowl commercial)."

That commercial, according to The Hollywood Reporter, was the most watched part of the Super Bowl by TiVo viewers. Lester, who had a reoccurring role in the ABC series "My Wife and Kids" as Calvin Scott, still reprises is role of Terry Tate as well - this time it found him tacking a blind-sided Sarah Palin.
Renaissance man Nick Cannon returns as host of NBC's 'America's Got Talent'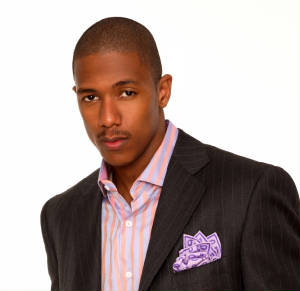 Nick Cannon, a modern day Renaissance man, continues his reign as the host (and face) of NBC's "America's Got Talent." The talent competition is produced by FremantleMedia North America and Simon Cowell's SYSCO Television ("American Idol"). The family show airs on Tuesdays at 8:00 p.m. and Wednesdays at 9:00 p.m.
The winner receives 1 million dollars (to be paid in a span of 40 years) and a headlining performance in Vegas. Judges for "America's Got Talent" include Howie Mandel ("Deal or No Deal"), Sharon Osbourne and Piers Morgan.
Cannon, also head of TeenNick Network (Nickelodeon), is also a radio jock of New York's #1 morning show on 92.3 NOW fm; he oversees the management of several very talented young acts (Aaron Fresh, Colette Carr, The School Gyrls, Rydaznrtist); he has a stand-up comedy routine, as well as, a new multi-media company, NCredible Entertainment (includes N'Credible Records).
When I asked the new father of two how, with all he is doing, can he manage to be motivated to take time out to host NBC's "America's Got Talent," where did the passion come from, Nick said, "As a fellow performer I know the intensity...this is their shot at stardom, the stakes are so high. I encourage them and tell them it's not the end of the world."
He went on to also say that he is motivated by the fact that he has two mouths to feed at home now with his lovely wife, the legendary Mariah Carey. They recently gave birth to two precious children - a boy named Moroccan and a girl named Monroe. Cannon also mention being motivated by the cost of college for two.
Nick Cannon though still young was a protégé' child performing by the age of 8 as a comedian and rapper, then by 15 he left his hometown of San Diego for Hollywood. In Hollywood Nick landed many jobs performing stand-up at The Improv, The Laugh Factory and the Comedy Store. During that time he shared the stage with Chris Tucker, Dave Chappelle and Chris Rock before landing his first television job as a stand-up comedian to warm up the crowd for the Nickelodeon hit show "All That."
I remember my last interview with Nick he told me when he entered the network for "All That," at the time he told the staff that one day he was going to own it. Well he is now head of Nickelodeon's TeenNick Network, so talk about speaking things into existence!
The producers at Nickelodeon recognized Cannon's talents and he became a regular writer on the show becoming the youngest staff writer - at 17 years-old - in television history. That led to his own show, "The Nick Cannon Show," which earned him a Kids Choice Award.
As an actor Nick as worked along side Will Smith in "Men in Black II," starred in the feature films Drumline; Underclassman, Shall We Dance, and Roll Bounce. Cannon has also worked as a voice over actor as the character Louis in Garfield The Movie.
This man of many talents also started his own label early on in his career and released a self-titled rap album where he collaborated with Kanye West, The Neptunes, Diddy, Mary J Blige, Will Smith, R. Kelly and E-40.
For more information on Nick Cannon log onto his website at www.NickCannon.com or for more on NBC's "America's Got Talent" log onto www.nbc.com/americas-got-talent.
Aldis Hodge signs on for another season on TNT's 'Leverage,' to premiere June 26, 2011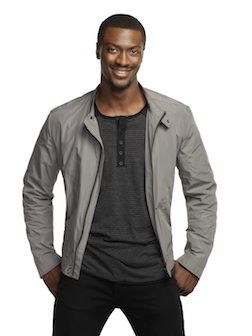 One of a gang of thieves, 'grifters' and con-artists, actor Aldis Hodge renews his role as Alec Hardison. Alec is the very funny, very Urban gang member that is the gadget and technology wizard on the TNT series "Leverage." The series finds them in a snow entrenched storyline, airing Sunday, June 26, 2011 at 9:00 p.m. ET/PT.
"To be able to be constantly practicing," Aldis pointed out when asked about the benefit (aside from the money) in being signed on for another 10 week season on "Leverage." "I am fortunate to play different people (in his role). All that is consistently horning my craft, some shows you have one character and you can get a little stale and lazy."
Hodge started acting at the tender age of three as a print model for an ad in Essence Magazine. By 9 he was cast in the Tony Award winning Broadway musical Showboat. During this time he also appeared in the movies Die Hard with a Vengance and Bed of Roses.
Aldis went on to appeared on television in "Castle," "Supernatural," "Girlfriends," "American Dreams," "City of Angeles," "Bones," "CSI," "ER," "Cold Case," "Charmed," "Boston Public," "The Forgotten," and "Private Practice."
For more information on Aldis Hodge log onto his website at www.Aldis-Hodge.com and for more on TNT's "Leverage" log onto www.TNT.tv.
July 1, 2011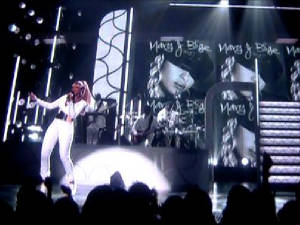 BET Awards '11 attracts 7.7 million viewers, makes it the #1 awards show in cable this year

~
Once again I was honored with access to cover the BET Awards this year, held at the Shrine Auditorium in Los Angeles, as well as an invite to cover BET's CEO/President Debra Lee's Pre-BET Awards Invitation Only Dinner. This years' event highlights - for me - included the opening performance by Mary J Blige looking radiant in all white; the voice of MC Lyte as again the official BET Awards announcer; Kevin Hart and Nick Cannon's "The Real Husbands of Hollywood" skits; the multi-wins and multi-outstanding performances by Chris Brown, and all the action and fun I had backstage in the Media Room.

Invited celebrities and industry heads that walked the "yellow" carpet at the Debra Lee Pre-BET dinner seemed to be enjoying the well-deserved pampering by BET. The dinner was held at a beautifully decorated facility in Culver City - home of the Sony Pictures Studio Lot.

The BET Awards has surely become the Oscar/Grammy Award black version, though many of our black celebrities were missing, those in attendance made sure to shout out to those who weren't there in many ways, reminding me how black entertainers have become one family - everyone looking out for each other.

BET Awards '11 had Los Angeles on lock-down from the airport (LAX) to the Shrine Auditorium. Their use of bright and different colors, such as adding yellow and green carpets events, radiated into one happy, festive and enjoyable event. It also set-the-tone for what both events would turn out to be, an extravaganza for black entertainment.

Comedian/actor Kevin Hart was the host of BET Awards '11 and Nick Cannon kept things rolling for the red carpet arrivals. BET's 106 and Parks' Terrance J and Rosci had the red carpet area hopping with performances from Lloyd, Diggy, Mindless Behavior, and Nelly. The awards performances, aside from Chris Brown and Mary J, included Kelly Rowland, Trey Songz, Rick Ross, Alicia Keys, DJ Khaled, Lil' Wayne, Jill Scott (loved the red outfit) and Beyonce' via satellite (love the Afros on her dancers).

This year BET Awards, which attracted 7.7 million viewers, presented Steve Harvey with the Humanitarian Award and Patti LaBelle with the Lifetime Achievement Award. Chris Brown led in BET wins, followed by Rihanna.
For a complete list of BET Award '11 winners, and times and dates for re-airing log onto
www.bet.com/BETAwards
.
Screenwriter and Director La Monte Edwards' film King of Paper Chasin' airs on The Movie Channel July 1, 2011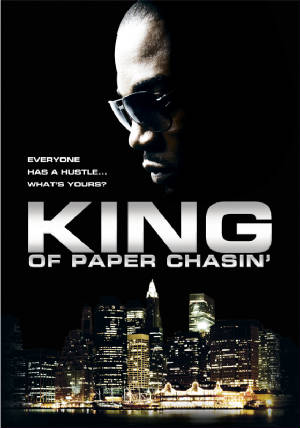 Screenwriter and Director La Monte Edwards, known for his work on music videos for such artists as Naughty By Nature, Coolio, De La Soul, Jive and MCA Records, Average White Band and Heather B, has his first feature film - King of Paper Chasin' - airing on The Movie Channel (TMC) July 1, 2011 at 8:00 p.m. The film is already on DVD at RedBox.
"It basically came from rapper DL Clark," said La Monte about where the concept for the movie came from. "I was doing a music video for Dwayne and he had an idea for a movie based on his life. I (immediately) wrote the script."
As the say, "the rest is history." King of Paper Chasin' is about a guy who realizes that in America you can do whatever you want to and make money, as long as you hustle. The film is an Urban crime/drama that follows the character as he gets involved in anything that will bring him paper (money). The films stars DL (who is also producer); Lauren Hooper ("Dreamgirls," "Ragtime," "Hair," "Westside Story"); Jason Rivera, Piarry Oriol, Joseph Michael Somma ("Ed," "Third Watch," "Rescue Me"); J. Steven Williams, Al Thompson ("Law & Order," "Law & Order: Special Victims Unit"), and Dennis La White.
"I took his idea and created the characters," Edwards said about the film - which takes place in New York. "Before the TMC deal we got a distribution deal with E One Entertainment, they put it on DVD a few months ago. They (also) brokered the deal with The Movie Channel (TMC)."
La Monte, who says he is already working on another script, is a graduate of New York University in film. For more on King of Paper Chasin' log onto www.TheMovieChannel.com or www.LaMonteEdwards.com.
E3 Expo attracts gamers from all over the world hungry for new technology and video games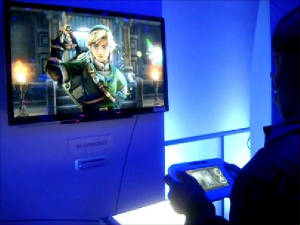 Recently the Los Angeles Convention Center was the home to the biggest electronic entertainment event in America (maybe the world), when the E3 Expo was held recently. Thousands of "gamers" came to be the first to play with (and buy) the new technology and video games, but it was the E3 Expo celebrities (some with voices and characters in the games) that had the press (like me) excited.
"I'm a gamer," said Billboard winning singer/songwriter SisQo when questioned by the press why he was there. "I have them all!"
Grammy Award winning T-Pain was there as well at the Nintendo booth with SisQo. Actor Ice-T and Lester Speight, who both have characters in the Gears of War game, were at the Microsoft booth to greet fans and promote the new version 3.
Exhibitors such as gaming systems Nintendo, Xbox and Play Station was there along with a very long list of software companies such as Konami which held a press conference to announce new games as well as new technology called Transfarring that allows their Xbox and Play Station games to be used on Nintendo systems; Majesco which expanded its #1 selling Zumba Fitness video to Wii; Bethesda (The Elder Scrolls V and Prey 2), Nexon (The Dragon Nest), Paramount, Gazillion, Jagex (Transformers), and so many more - spent in the millions on their booths. Some exhibit booths looked like actual stores and office buildings.
"Zumba brings it (dance fitness game) into the interactive world," said Lisa Roth the producer of the Zumba Dance Fitness Game. "Dance has been a genre in gaming and the new Wii technology has allowed us to reach (more people). There are 30 tracks exclusive to the game. We work with our own producers and those (that are popular) that do have licensed music."
Software companies seem to be using more and more "popular" or high-profile people in their games as characters and voice-over actors. I have no doubt it was that strategy that was the reason for the droves of celebrities, media and the thousands of people lined up to see such characters are there in the flesh.
For my coverage of the E3 Expo in video clips and pictures log onto my www.Youtube.com/FreelanceAssociates page.
July 8, 2011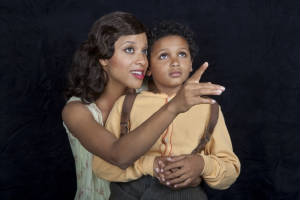 Debbie Allen directed 'Twist - An American Musical,' at The Pasadena Playhouse until July 17, 2011, offers a gumbo of talent
~
"Its gumbo...it's the best gumbo you'll ever taste," said Golden Globe/Emmy Award winning Debbie Allen ("Cat on a Hot Tin Roof," "West Side Story") about The Pasadena Playhouse production of "Twist - An American Musical," which she directs and choreographs. "I don't want to blow it for you I want you to come see it for yourself. We have honored the essence of the story and the character (Oliver Twist) of a young orphan boy. It's a story of protest of the laws against the poor."

The musical play "Twist" is now playing at The Pasadena Playhouse in California until July 17, 2011. Set in New Orleans, "Twist" is based on the Charles Dickens classic "Oliver Twist" novel's treatment version by Tony Award nominee William F. Brown and Tina Tippit. It stars American Idol finalist Tamyra Gray("Rent") as Della (known as Nancy in the novel); Alaman Diadhiou as Oliver Twist (and Coco Monroe as Twist in some scenes); Tony Award winner Cleavant Derricks ("Dreamgirls") as Crazah Chesterfield; Cliff Bemis as "Mr. Prudhomme; Joshua Bolden as Pistol; Pat McRoberts as Lucius Thatcher; Kyle Garvin as Skillet; Ava Gaudet as Angela; Jared Grimes as Roosevelt; Matthew Johnson as Boston; Chase Maxwell as Yancy; Carla Renata as Naomi/Mrs. Beaudreux, and Paul Aguirre as Potlatch.

"After reading...many years ago...I wrote out of pure love. Came back with six songs and four songs are still in the show," said Tena Clark, Grammy Award winning lyricist, about her work with the music and lyrics of the songs used in the musical "Twist." She went on to add when questioned about using recording artists in musical plays, "(Though) This is a modern score...I have to get singers to get out their world...you're in a scene... it's about the character you are...it's about staying in the moment."

The talent in the musical play "Twist" is worthy of a run on Broadway, in fact everyone who saw it, says the same, "see you on Broadway!" I concur, plus with Debbie Allen directing you are only in for a "gumbo" fun.
For more information on The Pasadena Playhouse production of "Twist - Am American Musical," log onto
www.PasadenaPlayhouse.org
or
www.TwistTheMusical.com
.
Warner Bros' New Line Cinema film Horrible Bosses is hilarious from beginning to end, hits theaters July 8, 2011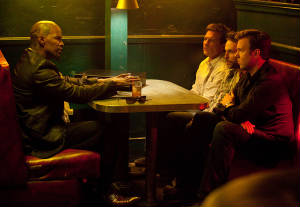 Horrible Bosses, the New Line Cinema presentation of the Rat Entertainment produced film distributed by Warner Bros. Pictures, is hilarious from beginning to end with its plot to murder the horrible bosses of three "honest" workers. In theaters July 8, 2011, Horrible Bosses stars Jason Bateman (Couples Retreat) as Nick, Charlie Day (Gone the Distance) as Dale and Jason Sudeikis (Hall Pass) as Kurt - the stressed out employees.

The film's cast gets better with the masterful performances of Jennifer Aniston (He's Just Not Into You) as Dr. Julia Harris, Colin Farrell (Crazy Heart) as Pelllit, Jr. and two-time Oscar Award winner Kevin Spacey as Harken - the "horrible bosses." The man of many talents Oscar Award winning Jamie Foxx co-stars as Jones is the murder "consultant," a position close to my heart, which he does an excellent job at too - while trying to keep a straight face. Horrible Bosses had me literally "laughing-out-loud" through the whole movie.

Horrible Bosses follows Nick, a management candidate working 12 hour days while putting up with his self-absorbed boss (Spacey); Dale, a struggling innocent "registered child offender" trying to fight-off the sexual advances of his boss (Aniston), and Kurt, one in line to take over a company, now run by the son of the deceased boss, who bent on sucking the company dry (Farrell), while they plot the demise of the bosses. In comes help, a hustling ex-con, offering a plan for a consultant fee. As you know all plans have their obstacles and pitfalls.

A great summer movie that is sure to easy some stress when you go back to work, Horrible Bosses also co-stars Donald Sutherland (The Mechanic) and Julie Bowen ("Modern Family").
The 2011 Gracie Awards Gala brings to light the amazing achievements of women in media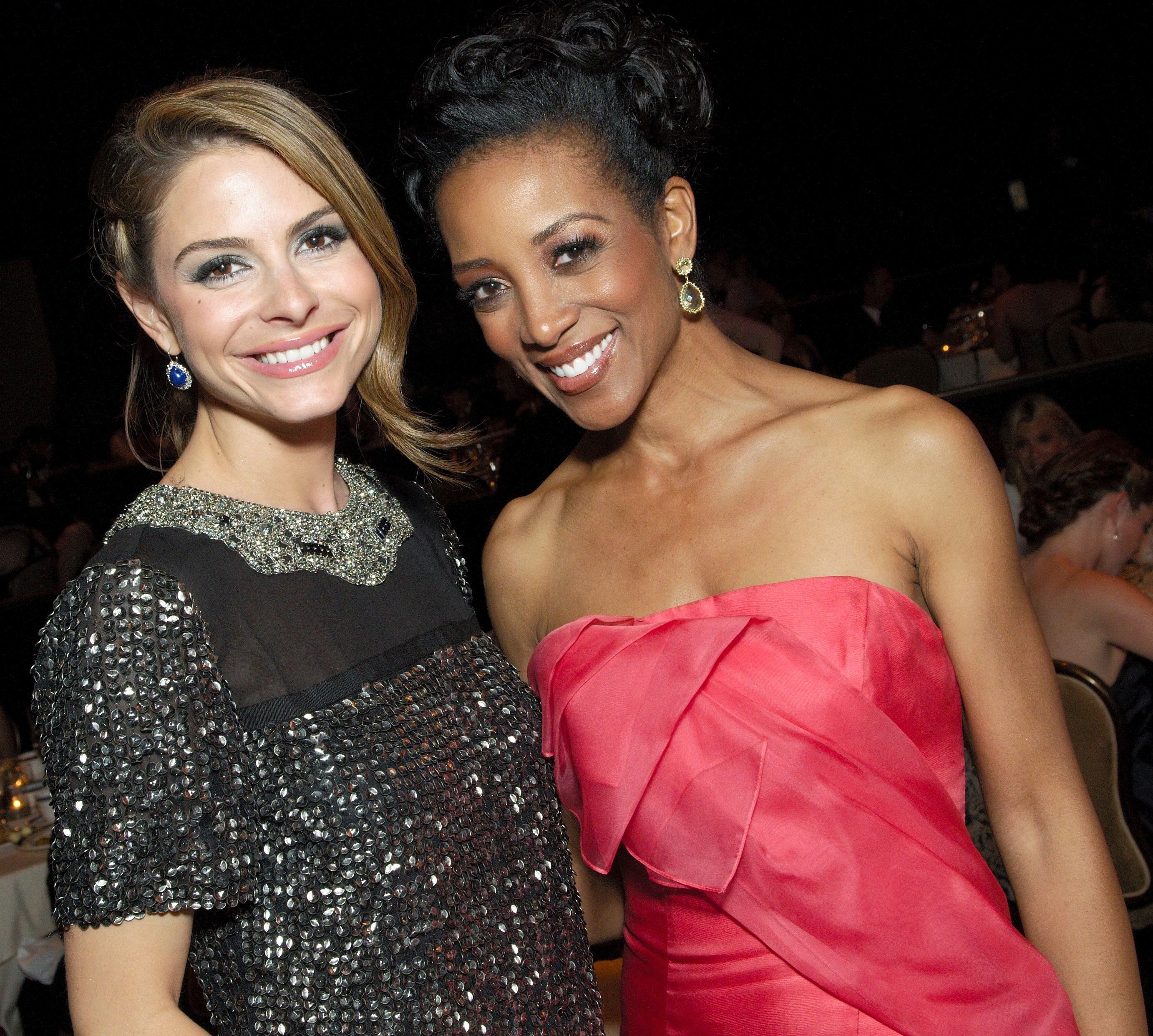 The Alliance for Women in Media (AWM), led by its president Erin Fuller, presented its 36th Annual Gracie Awards Gala to honor women in media at the Beverly Hills Hotel recently. The gala consisted of a crowd of the "who's who" in media. Hosted by Patricia Heaton ("The Middle"), The Gracie Awards Gala honored Shaun Robinson with the Dove Real Beauty Award and Linda Ellerbee with the Gracies Tribute Award.
"It feels good," Linda Ellerbee said about her Gracies honor. "I've done a whole number of things on a number of shows and I'm still here!"
Shaun Robinson, who also received an honor, added that, "Seeing all these dynamic women should be inspiration."
Entertainment for that evening was Pop/R&B singer Kimberly Locke ("American Idol") and Pop singer Ashlyne Huff, who is currently on tour with New Kids on the Block and Backstreet Boys. Some of the presenters included Morgan Fairchild, Mayim Bialik ("Big Bang Theory"), Brenda Strong ("Desperate Housewives"), and Tim Daly ("Private Practice").
Brenda Strong, on her way into the gala, when asked to say a word wanted women in media to know that they shouldn't "be afraid to use your voice."
I caught AWM president Erin Fuller while going in and she talked about the organization, "We want to promote women media owners."
Included on the long list of awardees were Chelsea Handler for E!'s "Chelsea Lately;" Jen Arnold & Bill Klein for TLC's "The Little Couple;" Alfre Woodard for "TNT's "Delta Blues;" Betty White for TV Lands' "Hot in Cleveland;" Katie Couric for "CBS Evening News with Katie Couric;" Martha Stewart for Omnimedia's "Martha Stewart Living;" Rosie Perez for LMC's "In Plain Sight;" Yvette Nicole Brown for NBC's "Community," and Joan Lunden for Retirement Living TV's "Taking Care with Joan Lunden" - just to name a few.
When asked to give women in media advice Gracie Award winner Joan Lunden said, "Find something you love. Find something you are good at...There are so many opportunities...than when I started out."
The Alliance for Women in Media is the largest-established professional association dedicated to advancing women in media and entertainment. Celebrating its 60th anniversary with its annual Gracies Awards Gala, it continues to educate, advocate and act as a resource for its members - and the industry at large. For more information on the Gracies Awards Gala log onto its website at www.TheGracies.org. (Photo Credit: Leory Hamilton)
July 15, 2011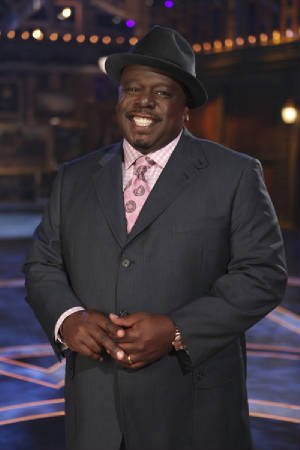 Cedric the Entertainer keeps the energy up on NBC's new game show, 'It's Worth What?' - premieres July 19, 2011
By
Eunice Moseley
~
"You want the live experience to transfer to the people that are watching it on TV," said comedian/actor Cedric the Entertainer (Madagascar) about his role as co-executive producer of the new NBC game show "It's Worth What?" - which premieres Tuesday, July 19, 2011. "You have to actually give them that experience because you can't say, 'Oh you had to be there.'"

You will certainly want to be there as "It's Worth What" takes two contestants through the guessing game of pricing two "rare" items. The winner receives 1 million dollars. Cedric is also the host of the show and he uses his stand-up comedic talents to keep the energy up on the NBC game show.
Cedric talked about how they had to revamp some things on the show in order for someone sitting at home to get excited.

"It is definitely a different kind of job because when you're hosting a show...you have the importance of making sure people are understanding the rules of the game...at the same time you want to keep the show's energy up. You have to kind of keep them up and encouraged and don't get down in the dumps."
Well with the four-time NAACP Image Award winners' talent to "feel the room" I anticipate him keeping the energy up very high on the show. "It's Worth What" is produced by Merv Griffin Entertainment. Visit
www.NBC.com/shows
for more information.
Freddie Jackson, a virtuoso with his vocals on the Men of Soul Tour, arrives in Washington, DC July 15, 2011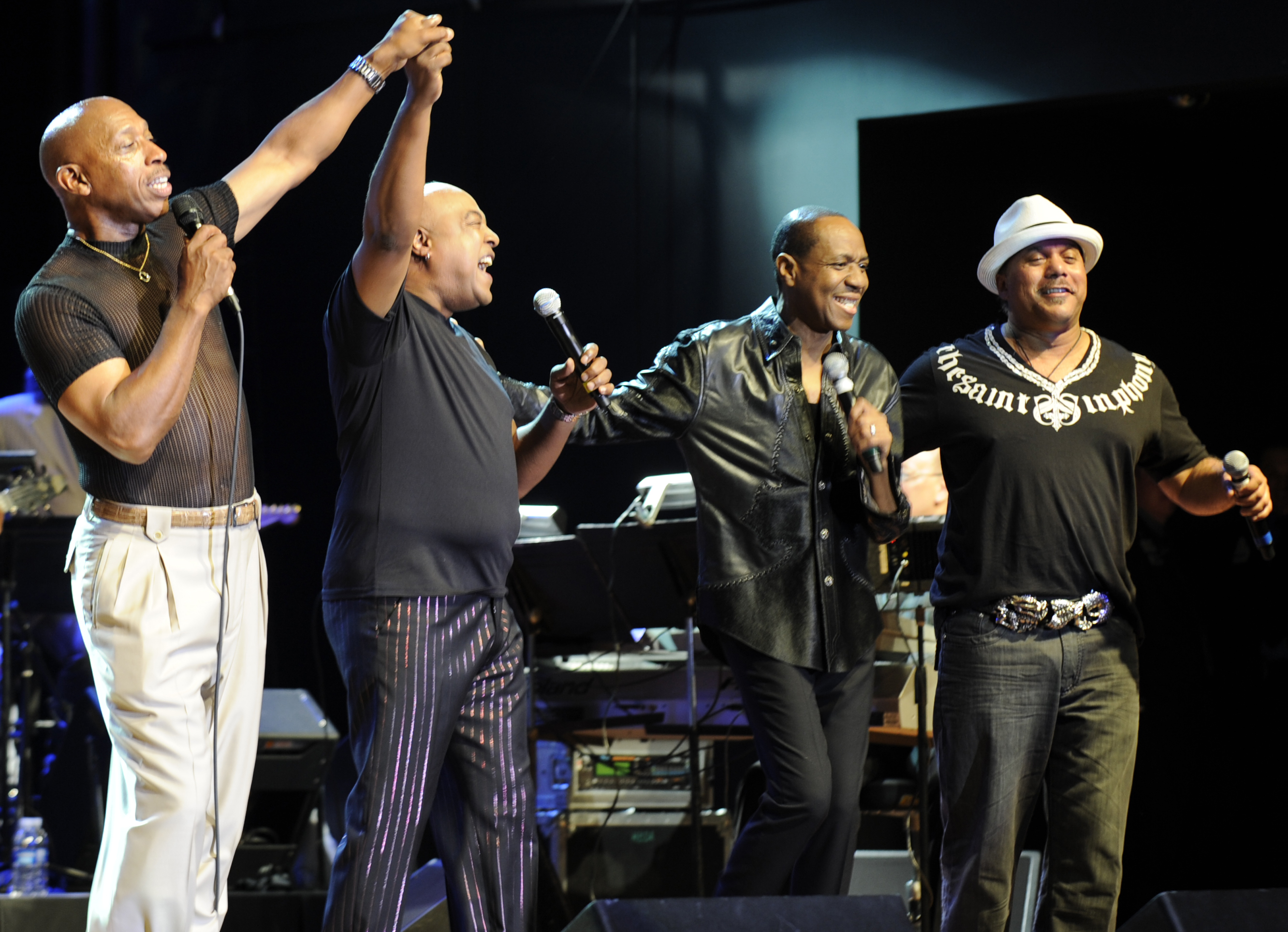 Honestly I think Freddy Jackson's voice is better than last time I heard him sing live years ago. I went to review his performance recently during the Men of Soul Tour when it reached the Nokio Theater in Los Angeles. The tour also features Jeffrey Osborne, Peabo Bryson and Howard Hewitt. The tour arrives in Washington, DC at Constitution Hall Friday, July 15, 2011, then on to Conyers, California at the Georgia International House (with En Vogue) on September 3rd and to Clarkston, MI at the DTE Energy Music Theater on August 13th.
Rushing between events I was truly amazed, first off, that I arrived on time and then was taken totally by surprise at the masterful way Freddy delivered a few of his many number one hits.
"How can I fit them all into 40 minutes," Freddy cried out to the audience who cheered him on. Freddie had the whole audience "literally" on their feet turning the concert into a giant party. He sang everything from "Jam Tonight," "Rock Me Tonight (For Old Times Sake)" to 'You Are My Lady."
His whole set was a picture of "perfection," no doubt to match his voice. The Men of Soul Tour is truly a "class act" well worth attending. For more information on the tour featuring Freddy Jackson log onto www.MenOfSoulTour.com.
Pure Flix Entertainment's film Encounter is as biblical as it is real-to-life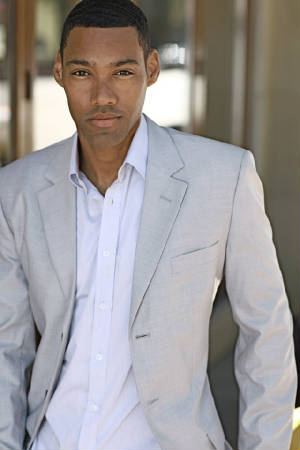 A story about five strangers stranded in a deserted roadside diner run by someone who claims to be Jesus was all I needed to hear to agree to review this Pure Flix Entertainment film named Encounter. Encounter, directed by David A.R. White, was recently released on DVD unrated. The Christ-like proprietor for the non-existing diner (Bruce Marchiano) changes the lives of "most" of the five strangers that include an arrogant businessman (Steve Borden); a lonely woman (Jaci Velasquez); a runaway teenager; and an estranged couple (Danah Davis and Jamie Nieto).
Almost epic in its storyline and visuals, Encounter, is recommended for ages 12 and older. I grew up on biblical films like The Ten Commandments and complained about the lack of such film when raising my kids, so it was not only refreshing to see a storyline based on scripture. But the acting whilst delivering the Gospel was totally overwhelming.
"I would have said something long time ago," said Olympic winning track-runner turned actor Jamie Nieto about his meek character that, up until they meet with "Jesus," allowed his wife to dictate how they lived their lives. "The director said this man is broken, he wants to kill her but he loves her."
So Jamie - in showing that sentiment - uses a lot of effectively body language to speak of the husband's broken down spirit. If the character never said a word, his body language said it all. Bruce, as Jesus, did very well with his body language as well...his very calm speaking manner is soft and slow, as are his movements and gestures. In fact everyone's acting came across masterfully that - even though the film made me cry - I have watched the film three times already.
For more on the DVD release Encounter log onto www.PureFlixEntertainment.com.
Keyboardist Patrick Cooper's fingers are popping on new album, 'The Way It Used To Be'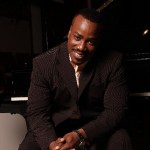 Jazz keyboardist Patrick Cooper releases sophomore album, "The Way It Used To Be," (Depth In Sound) with the first single "Struttin'" leading the way. Featured on the CD with Cooper are David Dyson, Tommy Tordsson and Corey Baker on Bass; Dwayne Thomas, Jay Williams and Mark Stewart on Drums; Stanley Cooper, Alvin White and Robert LaGrand on guitar; Phillip Martin and Bryan Mills on sax, and Nehemiah Booker is helping Patrick with vocals.
Coopers' fingers go from popping the piano keys to rolling them so masterfully. Reminiscent of Jazz great George Duke's skills on the keys, Patrick offers you his heart and soul on this one.
"The music that was played in our house was Ramsey Lewis, George Duke, Crusaders, EWF, The Brother's Johnson...It just excited me," Patrick said about where his love for music came from. "Every one of the songs were made of a spiritual nature."
That would explain the vibe "The Way It Used To Be" gives off. My favorite cuts include the title track - a sweet love offering; the first single "Struttin,'" a funky song where Coopers fingers are rolling masterfully along - love the saxophone support as well, and "Next 2U" because on this one Coopers let his fingers "pop" on the keys, he also offers his talent at scatting.
Learn more about Patrick Copper and his latest album "The Way It Used To Be" by logging onto www.PCoopJazz.com.
July 22, 2011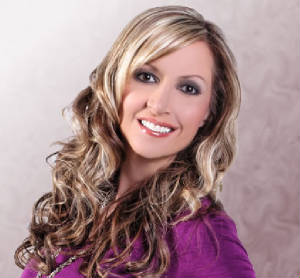 Martha Munizzi takes Gospel to every genre with new album, 'Make It Loud'
By
Eunice Moseley
~
Dove and Stellar Award winner Martha Munizzi takes Gospel to every genre of music with her new album, "Make It Loud." Recorded live in her home town of Orlando, Florida, "Make It Loud" is certainly a bold attempt to spread the Gospel, literally, to the world. Labeled the best selling independent artist in the history of Gospel by selling 500,000 units, Martha has an incredible voice.

"It was time for another album. I started EPIC (Experience A Passionate Intimate Connection with God) Worship & Praise, a night of big worship and praise," Martha Munizzi said about how the album concept came to be. "(It) Had amazing moments...and group of worship leaders...nine singers and five leaders."

The result of the event is a powerful Praise & Worship project. You will find Folk, Pop, Rock, Urban R&B and of course Traditional and Contemporary Gospel tracks on the album.

"It's more eclectic...something on it for everyone, even Folk with me, (Michael) Gungor and a guitar," said Martha about what the album offers.

"Make It Loud" is a 12 track Praise and Worship CD. My favorites cuts include 'Set Me Free" for its simplicity and sweet Folk feel, "My God Is A Big God" for its Urban R&B flavor and big band support, and the title track "Make It Lord," featuring Pablo Villatoro, a Pop/R&B song that turns into Rock - I also love the electric guitar support on this one.

Aside from Gungor and Pablo, also featured on the "Make It Loud" album are William McDowell, Jeff Smith, Jonathan Stockstill, Daniel Eric Groves, Danielle Munizzi and Lori Morrison.
Warner Bros.' Harry Potter and the Deathly Hallows Part 2, an epic conclusion to a battle between good and evil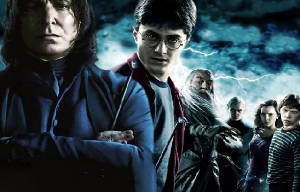 I was invited to a pre-screening of Warner Bros' finale' to the Harry Potter movie series, Harry Potter and the Deathly Hallows Part 2. Since it was the first time seeing a Harry Potter movie I was really excited. I wasn't disappointed, the movie was an epic conclusion to the series - which to me seemed like a battle between good and evil, and as in life, good always prevails.
Daniel Radcliffe carries the movie as Harry Potter with his friends in tow Rupert Grint as Ron Weasley and Emma Watson as Hermione Granger (who finally make their feelings known to each other). Harry Potter and the Deathly Hallows Part 2 is about "the" final war between good and evil wizards, where Harry is required to give the ultimate sacrifice - his life - in order for good to prevail.
Directed by David Yates, the blockbuster film - which also revealed the love story that brought about Harry Potter's birth - broke box office records with the biggest international weekend for a film with $307 million. Harry Potter and the Deathly Hallow Part 2, rated PG-13, is the first Harry Potter film to be released in both 3D and 2D.
West Coast Rapper AVI The Most ILL released "The Earthling Project" a CD/DVD of masterful tracks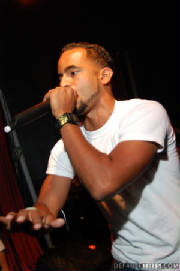 If ever a Hip-Hop album was 'meant' to be platinum "The Earthling Project" by Rapper/producer AVI The Most ILL is. Aside from his unbelievable flow- that he takes everywhere and his unbelievable singing voice, this protégé' child turn adult phenomenon is the most skilled track master I have run across in the last 10. His label Dumpy Records recently released his CD/DVD release "The Earthling Project" along with the first single "World Wide" and its accompanying music video at a CD Release Party held at the Los Angeles Convention Center.
The DVD is a BIO on the life of the rapper/producer that is so real I could honestly see it as a reality show for the Hip-Hop nation - a familiar story of most Hip-Hop artists. The album is a 14 track masterpiece that has AVI The Most ILL also doing spoken word.
"People only respond to music," Rapper/producer AVI The Most ILL said about what brought about the mainstream project. "We need to get it together as human beings. We want...people...to change perspectives, to see the whole picture. It's more like come with me on this journey."

Journey is certainly the description of what "The Earthling Project" offers as AVI raps to a track that sounds like a symphony, sings (very well) a Sam Cooke cover and shows his Spoken Word skills.
"That's how I work best," pointed out AVI when I talked about how some tracks sound like he was free-styling. "There are a lot of different sides of AVI. One is the happy dude and some times the guy out of control at the club. Life can't be the same all the time."
With that philosophy you will find his album is not the same on every track. He goes on to make his point, "Open your ears and stop thinking one way. Listen to what you don't like."
Featured on the album are producer/rapper Jon Wayne, producer Josh G, singer Jumakae, and producer Spok Beatz. My favorite cuts on the album include the first single "World Wide" a universally pleasing track that speaks of world peace; "Carlo Rossi" because the track sounds like a symphony - while AVI free-styles; "What Happen to the Music" for its deep and very true meaning; "One of These Dayz" because AVI's flow is so awesome; "Change is Gonna Come" his cover of the Sam Cooke song that finds the rapper showing his vocal skills, along with featured vocalist Jumakae, and "Spoken Word Ish" because he shows his surprising skills as a spoken word artist.
Find out more on AVI and "The Earthling Project" by logging into his website a www.AVITheMostILL.com.
ASCAP Rhythm & Soul Awards, honoring Sean Combs and Mary Mary, brought out the best of the best in songwriters and producers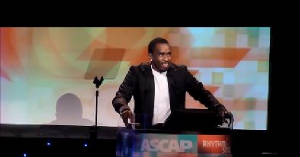 "Tonight I can honestly say...I had to have 100% faith in God," Sean "Diddy" Combs said about his success while practically in tears when accepting the ASCAP "Founders Award" from Dr. Dre at the 24th Annual ASCAP R&S Awards recently. "This room right here runs the world."
"Hustle is what you need to do to be successful," Dr. Dre pointed out before introducing Diddy. "Diddy is a hustler."
The event also honored Gospel's Mary Mary with the ASCAP "Golden Note Award;" Ludacris, Boi-1da and "40" tied for "Songwriters of the Year;" EMI Publishing received the "Publisher of the Year;" "Un-Thinkable (I'm Ready)" written by Krucial, Alicia Keys and "40" for "Top R&B/Hip-Hop Song;" "Nothin' On You" written by Philip Lawrence, Ari Levine and Bruno Mars for "Top Rap Song," and "They That Wail" written by Ericka Warren for "Top Gospel Song."
Songwriter singer Andrea Martin, Mary Mary, Miguel and Pusha T performed at the red carpeted event held at the Beverly Hilton Hotel. Many came to support those honored, such as Ne-Yo, Jimmy Lovine, La La Vasquez and husband Carmelo Anthony, Drake, Sylvia Rhone, LeToya Luckett, Diddy Dirty Money, Foxy Brown and TV producer Suzanne de Passe and Mike Epps.
ASCAP, the largest US performing rights organization represents a repertory of over 8.5 million musical works from 410,000 songwriters, composers and music publishers.
July 29, 2011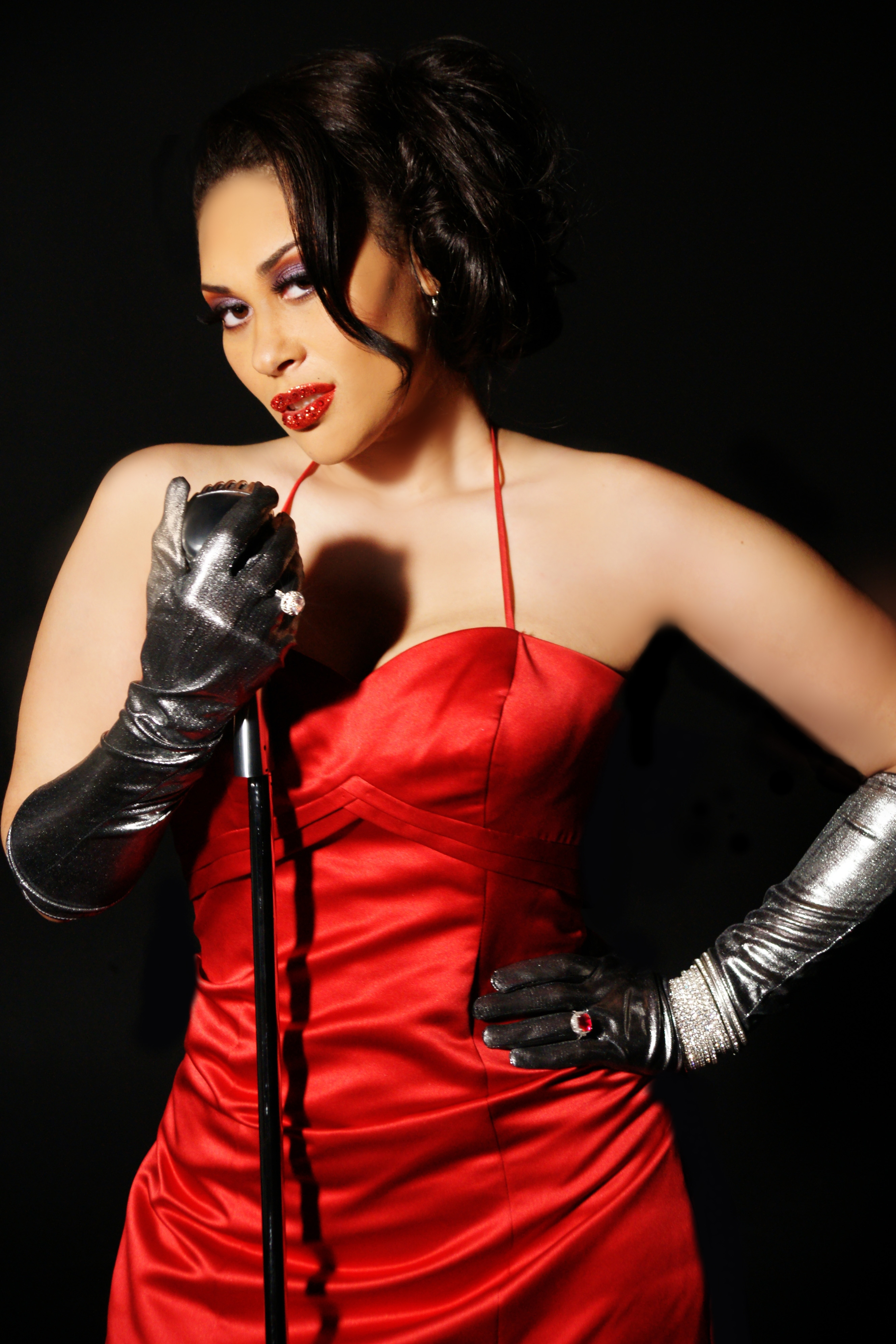 Keke Wyatt offers 'Unbelievable' vocals on new album that features Kelly Price, Tweet and Ruben Studdard
By
Eunice Moseley
~
"Friends...ain't nothing like it," said R&B singing sensation Keke Wyatt about Kelly Price, Tweet and Ruben Studdard appearing on her new album, "Unbelievable" (Shanachie). "(The album) Focuses on real life...reflects what I am now, who I was and what's going on with me...I'm more happier."

With a background in Gospel music Wyatt shows some 'unbelievable' vocal range on this project. She came into the music spotlight as a featured singer on "My First Love, a cover song of Avante - who was on MCA Records at the time.

The album "Unbelievable" offers 11 tracks, which include several Gospel/Inspirational offerings such as "His Eye Is On The Sparrow" and "Tears In Heaven."

"My lawyer said, 'Keke my mother said you better sing that ("Saturday Love," with Ruben) - she loves Ruben'," Keke laughed while reflecting on the conversation.

Wyatt said her favorite selection on the "Unbelievable" album is the cover-song "Love Under New Management" because she is - now that she has remarried - under new management. The mother of five (four from a previous marriage) has not lost a beat, as evident on this project. She has production support from Shep Crawford (Kelly Price), JR Hutson (Jill Scott), Steve Morales and Jesus Bobe (Lyfe Jennings), Ryan Pate and Oliver Gabriel (Satellite Music Group) and Dante "Inferno" Jackson.

"My first album sold a million," Keke informed me. "So we'll see what God says (about this one)."

Well if I had a vote, this one would be double-platinum. My favorite cuts off the "Unbelievable" album include "Mirror" featuring Kelly Price and Tweet - especially the lovely violin support; "Miss Your Plane," "Love Under New Management" because Keke hits some impressive high notes; "Enough," a powerful anthem of triumph; "Saturday Love" featuring Ruben Studdard; "Tears in Heaven," which is so sweet I actually teared-up, and "His Eye Is On The Sparrow" because she does it a capella - a masterful perfection, if ever I heard one.
Jazz Keyboardist Marcus Johnson's 'MJ Music Camp at NCCF' offers one week master classes for talented youth, August 1-7, 2011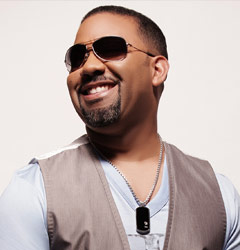 Smooth Jazz keyboardist Marcus Johnson (Three Keys Music), who often combines Jazz with R&B and Soul, will host one week of master classes at his "MJ Music Camp at NCCF," from August 1- 7, 2011. The classes will be held at the new National Center for Children and Families (NCCF) located in Washington, DC. Upon completion students will have recorded a song and have professional publicity photographs to walk away with.
"(NCCF) They just opened this year," said the talent musician, who is also a lawyer (Georgetown University). "I love working with kids, teaching them about the music business. I don't want to teach music, but the music business."
If anyone knows the music business it's Johnson, who formed - successfully - his own production and publishing company, Marimelj Entertainment Group, and his own label Three Keys Music. Marcus has released an outstanding 11 albums independently and just recently released his 12th project, "This Is How I Rock," which offers Pop/Rock with a Jazz spin.
"I was having a conversation with a friend - that works at BET Network - who had a music camp going on," said Marcus Johnson about how the idea for his master camp came to be. "He said, 'You need to do a camp.' So I opened up my rolodex."
Marcus said in four weeks the camp was established, thanks to a friend who organized it all and the National Center for Children and Families in Washington, DC who is housing the camp. NCCF had already named one of its rooms after the great Jazz pianist and it is in that room that the camp will be held.
Marcus once gave a seminar at my entertainment conference, "Uplifting Minds II," and I can attest to the fact that the man is a vessel of information about the music business.
For more information on Johnson's upcoming performances and more on the "MJ Music Camp at NCCF" log onto www.ThreeKeys.com.

International Jazz singer Rene' Marie shows love for her country on her newest album, 'Voice Of My Beautiful Country'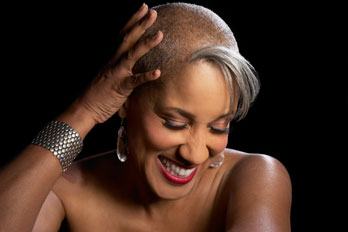 "It started 4 or 5 years ago, I was in Russia," Jazz singer Rene' Marie said about how she started singing. "My eldest talked me into it."
Rene' said while in Russia they heard singers singing American songs and her son said, "Mom you can do this. She's singing all the songs you sing at home...and she can't sing"
As a result Rene' Marie released "Renaissance" in 1997, "How Can I Keep From Singing" in 2000 (MaxJazz), "Vertigo" in 2001 (MaxJazz), "Live at the Jazz Standard" in 2002 (MaxJazz) and "Serene Renegade" in 2005 (MaxJazz). Her 2001 release received an award for "Best International Jazz Vocal CD" by the Academie Du Jazz in Paris, France - beating out Cassandra Wilson and Joni Mitchell. This year, just recently, she released "Voice Of My Beautiful Country" (Motema Music).
"The whole idea is how to make patriotic songs that reflect the culture and background of America," she pointed out to me.
Reflecting on American history is exactly what is offered, especially on selections such as "John Henry," "Angelitos Negros (Voice Of My Beautiful Country Suit)," "America The Beautiful," and "My Country 'Tis of Thee." With vocals reminiscent - to me - of Nancy Wilson, Rene' Marie successfully combines Jazz with Soul, Blues and Gospel.
Though I love the twist she puts on the patriotic songs, my favorite cuts on the "Voice Of My Beautiful Country" include "O Shenandoah (Imagination Medley)" for her soft sweet approach to the song and "Drift Away" because I love the piano support by Kevin Bales.
For more information on Rene' Marie log onto www.ReneMarie.com or www.Motema.com.
August 5, 2011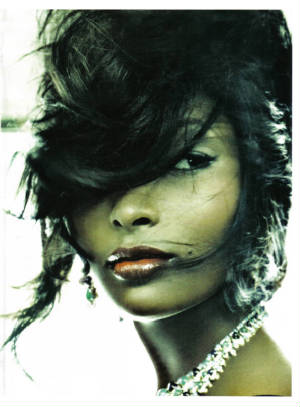 TV One premiers new season of 'The Ultimate Merger' with fashion model Toccara in a two-hour special
By
Eunice Moseley
~
"I decided to do 'The Ultimate Merger' because it's a great opportunity," said Tocarra ("America's Top Model," "Celebrity Fit Club"), reality star and fashion model, about her appearance on TV One's new season of the 'dating competition' reality show, 'The Ultimate Merger." "People think it's easy to find a man. (It's hard) Especially with you travel. It's time for me to settle down and move it on."

"The Ultimate Merger," which has Tocarra dating 14 handsome men - eliminating them as she goes along - to end with one special guy, premieres Thursday, August 4, 2011 at 9:00 p.m.EST with a two-hour special. Thereafter the reality show will air for a ½ hour on Thursdays at 9:00 p.m.EST.

The reality show is produced by Trump Productions, LLC and JUMA Entertainment and gets pretty heated when 14 men try to win over the heart of the voluptuous television personality.

"When I first saw the guys I was so overwhelmed," Tocarra told me when asked about all that testosterone in the room when she first walked in. "I went to the pool (probably to get some air) and then saw guys in trunks!"

"From the moment the camera's started rolling," said TV One EVP of Programming and Production when asked if she thought she made the right choice this season with Tocarra. "It was fantastic the way she captured the attention of the men - we knew."

Tocarra came to fame on Tyra Banks' reality show 'America's Top Model" and then on VH1's "Celebrity Fit Club." The fashion model, who also appeared as spokesperson for Ashley Stewart, also made reoccurring appearances on Ice Cube's series "Are We There Yet?"
The smooth soulful sounds of Gina Carey has a 'Melodic' affect on new album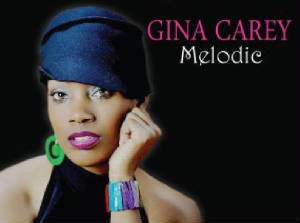 I've review previous works of singer/songwriter Gina Carey, but this newest album "Melodic" (GICO Music) is more, if possible, impressive than the last. This lady can sing it all: Gospel, R&B, Jazz and Soul. On the new project Gina won't disappoint any genre lover as it shows her vocal power reminiscent of the Gospel genre; her erythematic style shows her R&B influence; her scatting to show the Jazz flavor, and you will be blown away with her soulful abilities.
"It's a God given ability," said the Soul singer/songwriter about wide range of vocal and songwriting abilities. "I started performing at age 8 or 9 at school. The kids started gathering around me. The teacher took me to the principle who took me to board meetings (as entertainment)."
From there Gina said she started to travel throughout the Unified School District performing at events. In 1996 Carey decided to go professional and do some background singing. Eventually Gina recorded and released four albums - three Contemporary Gospel projects and one main-stream Neo-Soul album. Her latest CD, "Melodic," is an Urban Soul inspirited album.
"It took two months. My husband was the main inspiration," the songbird said about the new album. "I'd lost my stream...my husband (John Carey) had the fire."
Well, it shows he had the fire on the "Melodic" project because the production - by him - is no less than award winning. My favorite cuts on the album include "A Change," featuring John Carey on vocals, is a great inspirational song of hope - I also love the guitar support he contributes as well; "Share My Life" for its Urban R&B flavor; "Loving You (A Song For John)," an Urban/Smooth Jazz number, where Gina shows her skills at scatting, and "Unbelievable" for its nice Smooth Jazz feel.
For more information on the award winning singer/songwriter, Gina Carey, or her "Melodic" album release log onto www.GICOMusic.fourfour.com.
Husband/wife duo Kindred the Family Soul takes it to the streets on new CD, 'Love Has No Recession'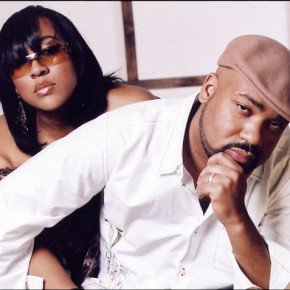 The married couple first received their big break - as a group - when Jill Scott helped them get a recording deal with her label - at the time - Hidden Beach Recordings. Three albums were released from that imprint which garnered the duo national recognition for their projects. Their newest album is released on Shanachie, "Love Has No Recession," and features Snoop Dogg, the "godfather of go-go" Chuck Brown, Raheem DeVaughn, Bilal and poet Ursula Rucker.
"Inspiration...music is what we do and love...it comes natural to us," said Kindred the Family Soul to me when asked what brought about the project. "We're living in an interesting time. We're experiencing difficult times in the country."
Kindred said they hope the new album, "Love Has No Recession" (Shanachie/Purpose Music Group), will spread love and hope, and uplift the spirits of the nation.
"We were labeled Neo-Soul cause of the community we come from," Kindred the Family Soul said when discussing the wide range of musical styles on the album. "We want to continue to be true and relevant. We feel like we aren't limited. We want to get down-and-dirty, funky..."
Well they succeeded because it's really hard to classified what genre music "Love Has No Recession" offers, specially when you have featured vocalist that are so varied. There is legendary Snoop Dogg with his Hip-Hop flavor; Chuck Brown with his 'go-go" style; R&B crooner Raheem DeVaughn, the soulful styles of Bilal, and Ursula Rucker with the spoken word.
My favorites on the "Love Has No Recession" project include "Above Water P1" with poet Ursula Rucker; "Magic Happen" because it is such an emotional song; the single "You Got Love" cause I love what Snoop Dogg adds to the cut; "Authentically You" featuring Lady Alma Horton for its old-school feel, and "2 Words," a sweet lover's plea, for its hot harmony.
For more on Kindred the Family Soul log onto www.Shanachie.com.
August 12, 2011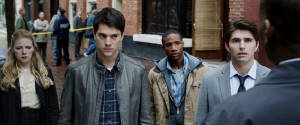 Final Destination 5, so gory its funny - arrives in theaters August 12, 2011
By
Eunice Moseley
~
"Making you laugh is intentional," said Craig Perry director of the Warner Bros' presentation of Final Destination 5, which arrives in theaters August 12, 2011.

Final Destination 5 is the second film of the Final Destination franchise shot in 3D, which added to its "shocking," but expected, string of deaths. I've seen previous Final Destination films but this is my first 3D version, as a result the only word the film provoked for me was "gore." The gory deaths were so violent, for some reason, it had the audience laughing - including me. It may have been the 3D bringing the gore right in your face until how they die becomes ridiculously funny.

Nicholas D'Agosto ("Heroes") leads the cast as Sam who has the "premonition" of the doom to come on a bus trip to a corporate retreat. The group he saves - for the moment - are Emma Bell ("Gossip Girl"), Sam's girlfriend Molly; Miles Fisher ("Mad Men"), his friend Peter; Arlen Escarpeta ("Friday the 13th") as Nathan , a company manager; company staff members P. J. Byrne ("Horrible Bosses ") as Isaac and Jacqueline M. Wood ("The Bold and the Beautiful"), as Olivia; Courtney B. Vance ("Flash Forward") stars as FBI Agent Block, the one investigating the accident, and Final Destination franchise icon Tony Todd (Transformers: Revenge of the Fallen) as coroner Bludworth.

"People remember me from Law and Order," Courtney B. Vance said when questioned why his roles are always someone in authority. He continued on when asked about the 3D filming experience, "3D is a longer process. Fortunately Steve (Quale) did 3D before...I was shocked at how massive the camera was."

Steve Quale, the producer of Final Destination 5, said he wanted a nice escalation to the death scenes at times the suspense was more than I could handle. Eric Heisserer, the screenwriter, said he was challenged on how far to push the death scenes because it was the fifth installment.

"I can't walk down the street with out thinking of ways to kill people," Heisserer laughed.

Final Destination 5 will surely scare you and fascinate you at the same time because of the many ways the cast meet their demise, but it will also make you laugh at how bizarre the deaths are. The Rated-R Warner Bros.' 3D/2D presentation arrives in theaters August 12, 2011 (www.FinalDestinationMovie.WarnerBros.com).
NBCUniversal unveils 2012 season line-up and several television production deals (Part I of II)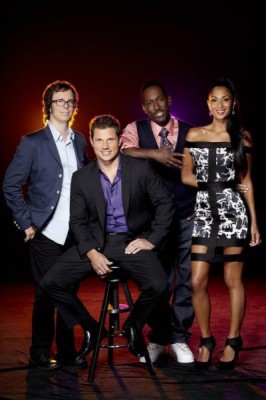 Robert Greenblatt, chairman of NBC Entertainment, recently unveiled the 2012 season of its' NBCUniversal shows. Greenblatt hosted the two day media junket in Los Angeles that introduced new/renewed shows, as well as television production deals.
"We're no longer owned by GE...we're now owned by Comcast," Robert said to the hundreds of media outlets present. "Comcast is into investment and patience. There will be staff changes...We are waiting for people to become available to build the best team."
Universal Media Studios (NBCUniversal's production company) will be entering into animation and celebrity game nights. It has a two-year agreement with Emmy Award winning producer/writer Greg Daniels ("The Office") to provide live-action, animated and reality shows to the network. Headed by Bela Bajaria (Executive Vice President), Universal Media Studios also entered into a development deal with Gary Sanchez Production Television (a Will Ferrell and Adam McKay company) to produce comedy shows.
Shows that were renewed include "The Voice," "Late Night with Jimmy Fallon" and "Community." New shows include the night-time soap opera "The Playboy Club" which cast members include Naturi Naughton and Jenifer Lewis; comedic/drama "Free Agents" with Kathryn Hahn and Hank Azaria; comedy "Whitney," which is shot in front of a live audience; comedic/drama "Up All Night" with Christina Appleagate, Will Arnett and Maya Rudolph; suspense/drama "Grimm" starring Russell Hornsby and Silas Weir Mitchell; mystery/drama "Prime Suspect" with Maria Bello and Aidan Quinn; Sunday Night Football, Super Bowl XLVI, a new musical/drama "Smash," which stars Tony Award nominee Christian Borle and Emmy Award winner Debra Messing, and the one-hour Michael Buble' television variety special, produced by Ben Silverman and Lorne Michaels.
For more information on the 2012 NBCUniversal season long onto www.nbc.com.
Brian McKnight takes two-disk album on the road with the 'Just Me Tour'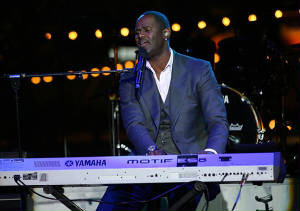 "What I write about is passionate...about love. You find it...loose it," said multi-platinum selling Brian McKnight about his style of writing. "If not love...then what?"
McKnight recently released his 14th album titled "Just Me" (eOne Music) and is currently on tour with brother Claude McKnight (Take 6) and sons BJ and Niko. McKnight offers a two-disk album with 30 live tracks of his hits and 10 new songs written/produced by C.A.T.S. (a Brian McKnight, Brian, Jr. and Niko company).
"They been around it (music) their whole lives," Brian said about his sons' interest and talents in music. "They're frustrated...I tell them I use to play behind someone else too. They want to do their own thing."
Well his sons have the best mentor/teacher they could ever ask for. On "Just Me" not only do McKnight offer a new side to himself musically, but to hear him live singing his masterpieces was truly a treat.
"I'm back to what I love best being on stage doing what I love most," Brian confessed when questioned about his radio/reality show and stage-play experiences verses being on tour.
My favorite cuts on the "Just Me" release include "Temptation," featuring Brian McKnight, Jr., an old-school homage to the legendary Temptations; "One Mo Time" a sweet love song where Brian hits some impressive high notes; his cover of "Careless Whisper," for his very sultry delivery, and the title track "Just Me," a heart-felt lovers' plea and I love the piano support too.
For more on Brian McKnight's "Just Me" tour, which has dates until the end of September, log onto www.BMcKnight.com.
August 19, 2011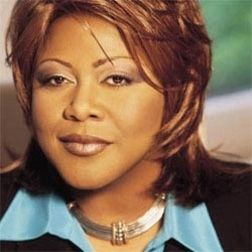 Shirley Murdock's single 'Dream' debuts as #1 most added on BDS/Billboard, arrives to digital retail August 30, 2011
By
Eunice Moseley
~
"When I got the news that it was most added Gospel single (on BDS/Billboard) I was speechless, thankful and encouraged," said Tyscot Music Gospel artist Shirley Murdock about her first single, "Dream," off of her upcoming CD/DVD "Live: The Journey." "The song was birth 10 years ago."
~
Murdock explained that its release was "under His purpose" and was released in His time. Of course we all know 'His' is God and His time is the right time. Just look at the evidence, the song was born 10 years ago and yet debuted 10 years latter as #1 most added Gospel song to radio play-lists according to BDS/Billboard. The powerful song puts into perspective the purpose of dreams and its use by God.

~
"Dreams came to (King) David as a child, but it wasn't his time...," Shirley said about the use of dreams in the Bible. "Psalms 105 talks about David, how God's Word came to him in a dream."
~
"Dream" was written by Shirley and her husband for a T.D Jakes event's theme song as "The Dream That Would Not Die." Murdock said that the song did not die because it was released again on her upcoming CD/DVD "Live: The Journey" - due out October 18, 2011 -as "Dream."

"Remember God can not lie and dreams can not die," Shirley stressed to me when discussing my own belief that dreams are God's way of talking to us. "Dream big...dreams are free, don't cost you anything. God is a spirit...a spiritual light. God is the dream giver."
~
On the title of the album Murdock said that, "everyone is in a journey when we take our first breath." For more on Shirley Murdock, the single "Dreams," or more on the new CD/DVD "Live: The Journey" log onto
www.tyscot.com
.
Jazz/Soul singer Nicole Henry to release 'Embraceable,' featuring Kirk Whalum August 23, 2011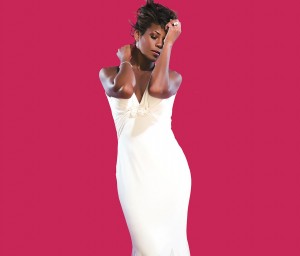 Jazz/Soul singer Nicole Henry's latest album "Embraceable" (ArtistShare) hits retail stores August 23, 2011. Henry, who will be performing August 22nd at Dizzy's Lincoln Center, is known world-wide for her elegant and classy Jazz Standard style, which garnered multi awards such as the "Best New Jazz Artist" by the HMV awards in Japan for her debut "The Nearness of You," her follow-up album "Teach Me Tonight" went #1 in Japan and she received another HMV honor for "Best Jazz Vocal Album," and her third album, "The Very Thought Of You," reached #7 on Billboard Jazz Album Chart.
"I've always been singing," Nicole said about her musical career. "But it wasn't until after college I really saw that with singing I can do what I like and make people feel good. People I didn't know would come up to me...I didn't know I affected people in that way."
On "Embraceable" Henry takes her Jazz/Soul vocals and delivers the tracks in an almost classical R&B way. A native of Philadelphia and current resident of Miami, Nicole features award winning saxophonist Kirk Whalum and Gospel/R&B singer John Stoddart on the new project.
Nicole said that Patti LaBelle, who her aunt sang backup for, was a big influence on her. Her sound - to me - is reminiscent of a Jazz influenced Alicia Keys.
"I wanted to broaden my audience," she said about leaning towards a more R&B sound on this album, instead of her normal Jazz Standard route. "I have a Pop and R&B background. We wanted to bridge together with Jazz and Soul and this is what we came up with."
My favorite cuts on "Embraceable," produced by Matt Pierson, include "A Day In The Life Of A Fool," "A Little Time Alone," a powerful testimony of a woman's needs - love the horn support too, which almost made me cry; the cover "Just A Little Love," "Anything For You," a sweet love song what had me again on the verge of tears, and "Save Me From Myself," another powerful and passionate, yet soft selection.
For more information on Nicole Henry of her newest album "Embraceable" log onto www.NicoleHenry.com.
NBCUniversal announce new season lineup on MSNBC, Oxygen, USA, Bravo and Telemundo (Part II of II)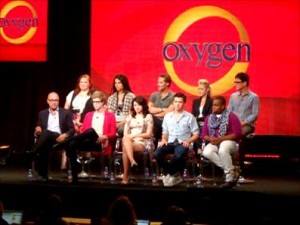 On the second day of the NBCUniversal press junket the new lineup of shows on MSNBC, Oxygen, Bravo, USA, mun2 and Telemundo Networks were the subject of discussion. Bravo announced that they committed to a two-year development deal with Patti Stranger (executive producer of "The Millionaire Matchmaker") to develop and star in a new series for the network.
Returning to the USA Network is comedy/dramas "Psych" starring Dule' Hill and James Roday and "Suites" starring Gabriel Macht and Patrick J. Adams, and its new drama series "Necessary Roughness" starring Mehcad Brooks and Marc Blucas. On its news channel MSNBC returning news shows include "The Rachel Maddow Show," "The Last Word" with Lawrence O'Donnell and "Hardball" with Chris Matthews.
"There are no talking points," Phil Griffin, president of MSNBC, said about the news shows. "We're up 27% in ads, the rating has been impressive...and Chris (Matthews) beat CNN and Fox for two weeks in 2010."
Oxygen unveiled that its reality special "The Glee Project" is now a weekly series. The reality show is a competition of young talent and the winner is casted in the musical/comedy/drama "Glee" on Fox. Twelve contestants are now down to five: Lindsay Pearce, Damian McGinty, Alex Newell, Hannah McLalwain and Sanuek Larsen. Mentors on the reality show include choreographer Zach Woodlee, vocal producer Nikki Anders and "Glee" casting director Robert J. Ulrich - who will ultimately choose who will be casted.
Bravo announced their new reality shows' "Most Eligible Dallas" where five single, very attractive, professionals date in search of "the" special one; its new culinary competition series "Around The World In 80 Plates;" "Paint The Town" follows six New York 20-something women art gallery owners, and "Newlyweds: The First Year" a docu-series following the lives of six couples.
NBCUniversal's mun2 Network unveiled a new phenomenon series "From Beyond," a reality show that investigates haunted locations, ghost stories and paranormal activities in the Latino communities of Los Angeles. Medium AJ Barrera, paranormal investigator Ramiro Ramirez, and investigator Christina Vera are the "From Beyond" team. Last, Telemundo unveiled that the very popular 12-time Emmy Award winning journalist Cristina Saralegui will executive produce and host her own two-hour talk/variety show "Pla'Lante Con Cristina."
For more information on NBCUniversal's line-up of shows log onto www.NBC.com. (Photo Credit: Eunice Moseley)
August 26, 2011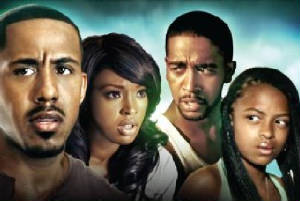 Marques Houston stars in the Vivendi Entertainment suspense thriller Somebody Help Me 2, now on DVD
By
Eunice Moseley
~
"We want the viewers to want a part three," said Marques Houston (You Got Served, UPN's "Cuts") about the Vivendi Entertainment movie release, Somebody Help Me 2, that he stars in. "If they say that, we've done our job."

Somebody Help Me 2 is a suspense thriller - a franchise of the original Somebody Help Me movie - that also stars reality star Malika Haqq (E!'s "Keeping up with the Kardashians"), Omarion Grandberry (You Got Served), and new-comer Chrissy Stokes. The film debuted on BET as their highest rated film in 2010.

Houston stars as Brendan Young and the film follows him, and his family, as they approach the anniversary of a past weekend of mystery and murder. Brendan desperately tries to find away to ease his family's fears of the anniversary's approach while dealing with frightening dreams of its return. The film takes you with Young as he tries to rescue his loved ones from a madman determined to emotionally break them.

Written and directed by Houston's long time business associate Chris Stokes (You Got Served, House Party 4), Somebody Help Me 2 is currently unrated. Omarion stars as Darryl Jennings, Young's friend - who also shares the anniversary nightmare - along with Malika who plays Marques' lady Jasmine and Chrissy who plays his niece, Tee Tee.

"This is suspenseful," Marques informed me when ask if it had gruesome death scenes. "(For example) I'm in a cage with knives hanging down and you're wondering if that was me what would I do?"

Or as I was thinking, what would happen if one knife fell! When I asked about the use of stunt men for this scene - because of the danger of knives falling - Marques said he did his own stunts.

"I'm the black Jackie Chan," he laughed. "One got loose and it fell and I had to jump out the way. Most of the knives were rubber, but a couple of them 'were' real."

Available through Vivendi Entertainment, a distribution arm of Universal Music Group, Somebody Help Me 2 is currently available on DVD and can be found at
www.Amazon.com
and
Yolanda Adams unveils new clothing line while promoting her powerfully inspirational new CD release, 'Becoming'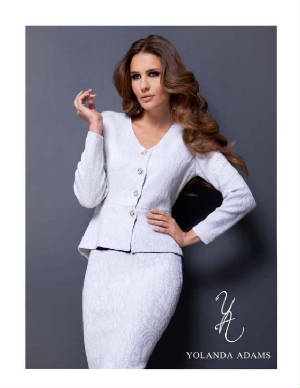 The Yolanda Adams (YA) Collection was recently launched by multi-platinum Grammy and Dove Award winner Yolanda Adams for the tall and curvy woman suited for the boardroom to the worship room. Adams is also promoting her latest album release "Beginnings" (Wal-Mart exclusive) and its first single "Be Still."
"I've been working on a jeans line for the last five years after having Taylor," Yolanda Adams said about the creation of her clothing line. "We go to the store and buy whether it fits or not. We need clothes for the curvy women and tall women with longer arms and pants legs."
Adams went on to explain that women with curvy hips have waist that don't fit in most pants in retail stores.
"Most women don't think about the fitting part of it," she said. "The Yolanda Adams Collection is fashions for the petite size 4 to women size 26 because my audience is from all walks of life...all sizes."
Her latest album, "Becoming," is a powerfully Inspirational Contemporary Praise and Worship project. The album is reminiscent of her earlier projects that garnered her signature songs such as "The Battle Is The Lord's" and "Open My Heart."
"I never did stop touring, just the recording piece of it," Adams said when asked if she stopped singing since becoming a radio jock on the Radio One syndicated radio show "The Yolanda Adams Morning Show." "I finished my record contract with Columbia and was a free agent. With Wal-Mart you get a billion people a week. They're a great partner and I just went in to get my Turkey Burgers in the stores and they said, 'well what about your album'!"
My favorite songs on the "Becoming" project include the signature Yolanda Adams Contemporary Praise and Worship track "Victory," a warriors' marching song, where her vocals are sharp and powerful; "Gotta Tell Ya," a Urban number that you can't help but rock your body to; "Golden," a hot R&B flavored song; "Not Giving Up" a stand-out Inspirational track, and "Be Blessed," a very moving selection.
For more information on Yolanda Adams' "Beginning" project or for upcoming performance dates log onto www.YolandaAdamsLive.com and to review The YA Collection log onto www.YolandaAdamsCollection.com.
Maryland's Contemporary Christian singer releases an inspirational debut self-titled album, 'Marti'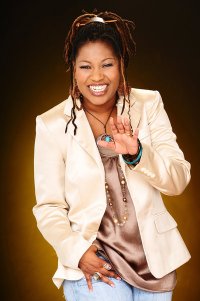 Born in the Bahamas, Christian singer/songwriter Marti Dorner was also born into a musical family so singing came naturally. Listeners to her debut self-titled album, "Marti," will see that transcends into a great Inspirational project that everyone can enjoy. The Maryland resident is offering 11 uplifting Contemporary Christian selections.
"I was 21 and in college when I took music seriously," Marti said about her music career's humble beginnings. "The calling of the Lord was really strong in high school when I attempted suicide because I didn't feel like I was pretty (though I was popular)."
Marti said that depression followed her to college, but her music was an outlet.
'I realized I had so many lyrics...my life written in words," Marti explained. "What I had gone through... He will turn it around...You can be whole too."
Marti explains how that happened on this album. It's a testimony of-sort on how God, through his music, saved her from a life of depression. My favorite cuts on the "Marti" album are "He Is Able," "Fill This Place" - a sweet song of God's love for us, and "Sacrifice," a Praise and Worship marching song.
For more on Marti's album log onto her website at www.MartiDorner.com.
September 2, 2011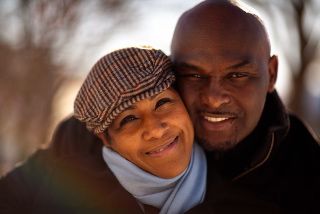 Marvin Winans, Jr. and Director Joel Kapity's Dreams film due for release in September
By
Eunice Moseley
~
"I'm the big bad wolf Donte' trying to impose my will or those around me," Marvin Winans, Jr. said about his character in the film Dreams, which he produces - along with the film's director Joel Kapity.

The movie Dreams, due out this fall, is a collection of stories based on real-life situations of a dancer, rapper, ex-boxer, singer and hustler. Dreams stars Tommy Ford ("Martin"), Terri J. Vaughn ("The Steve Harvey Show"), Geoffrey Owens ("The Cosby Show"), singer Angie Stone, Mel Jackson ("Soul Food"), Gospel singers Vicki Winans, Deleon Richards-Sheffield and Dayna Caddell, and Syesha Mercado (Dreamgirls). Choreographer Dave Scott (Stomp The Yard) choreographed the dance scenes in the movie.

A faith-based film, Dreams take place in the coldest winter in Chicago as each story's lead character tries to obtain their dream. Marvin said the film teaches you to be more patient - in obtaining your dreams - and compassionate.

"(It's) how we see ourselves and how God see's us," Winans, Jr. added about the film.
When discussing his partner in the film, Director Joel Kapity, Marvin said, "We always knew we'd work together. Joe did my (music) video."
For more on the exact date of the faith-based film's release log onto
www.DreamsTheMovie.com
.
Donald Lawrence's new album, 'Your Righteous Mind,' debuts #1 on Billboard Top Gospel Albums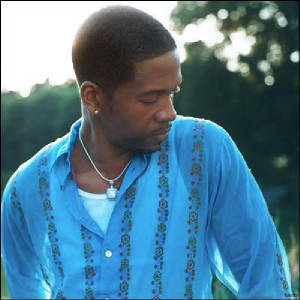 The August 9, 2011 release of the new Donald Lawrence "Your Righteous Mind" (Verity Gospel Music Group/Quiet Waters) album debuted at #1 on Billboard's Top Gospel Albums Chart. As of August 25th "YRM" drops to #2, replaced Kirk Franklins newly released CD.
"The news put people in a low place," Donald Lawrence said about the theme of the new project, "Your Righteous Mind." "God made everything...God makes no mistakes. God can only bless you as far as your mind can take you."
The first single off the album is the title track "Your Righteous Mind," featuring Dorinda Clark-Cole. Israel Houghton, Bishop Tudor Bismark and siblings Tobbi White-Darks and Tommi White are also featured on the project.
"I'm a Clark Sisters fan, Dorinda was an easy call," Donald said about his choice of featured guests on the CD. "I may do a remix with the Clark Sisters."
Grammy Award winning producer/singer/songwriter Lawrence said he wanted listeners to receive hope from the "YRM" release. I believe they did with the album debuting at #1 and currently at #2 on Billboard's Top Gospel Album Chart.
"Don't go by what you see, but by the unseen," Donald added. "Find a way to enjoy life....take a moment and breath."
For more information on Donald Lawrence and his current album release, "Your Righteous Mind," log onto www.DonaldLawrence.com.
Everette Harp blows audience away with performance at the 2011 Long Beach Jazz Festival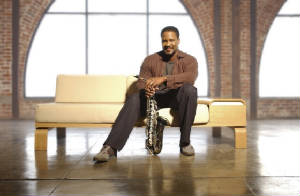 To say I enjoyed the performance of saxophonist Everette Harp at the 2011 Long Beach Jazz Festival is an understatement, his performance was mind blowing. The energy and skills (not to mention the "air") Harp used to blow his horns were very impressive.
Joining Everette on stage were guitarist Daryl Cooks; Bass player Ricky Garrett; keyboardists Don Zamolin and Max Roady, and drummer Raford Griffin. Each musician was just as incredible as Everette.
Some of the songs performed by Harp included a Marvin Gay cover, "What's Going On," were Everette makes his horn actually sing; "Texas Groove," from his new CD, had a solo performance by his guitarist Daryl - whose fingers were remarkably fast on the strings; "Old School", "Where Were You When I Needed You," which actually made me tear-up just listening to him blow - using flips and turns on his horn.
Some of the other, just as creative, performers at the Long Beach Jazz Festival included Najee, Howard Hewitt, Brian Culbertson, Amel Lurrieux, The Whisper, Kim Waters & Kenny Lattimore, Jackie, Joyner, KEM and Charlie Wilson.
"It's another way of serving the community," said Darrell Brown, Sr. VP of US Bank - one of the major sponsors of the jazz festival - when questioned about sponsoring such a massive event during an economically stressed economy. "Thirty thousand people from all communities come to take part."
Earnest Pugh's 'Earnestly Yours' debuts #1 on Billboard and iTunes, makes history at record label

Must be a sign that our country is in need of music that gives us hope, for yet another Gospel leading man's album debuts as #1 on Billboard's Top Gospel Album Chart upon its release - that man is Earnest Pugh. Pugh's new album "Earnestly Yours" (Black Smoke Music Worldwide), his forth project, was released on June 28, 2011 and debuted at #1 on Billboard's Top Gospel Albums Chart. It is currently just below Donald Lawrence and Kirk Franklin, who is currently #1.
"I had a very traumatic experience with some people," Earnest Pugh told me when asked about the motivation behind the album "I wondered why and God revealed to me, 'No test, no testimony'. When someone gives you evil, God turns it around for the good."
Out of that experience came "Earnestly Yours." The current single, "I Need Your Glory," has reached #8 on Billboard's Hot Gospel Songs Chart.
Pugh, who was named by Billboard last year as the #4 Gospel Radio Airplay Artist, made history for his Houston-based label - Black Smoke Music - for this project is their first #1 album in its' 16 year history.
"Approach God with an earnest heart and pair of hands," Earnest said about the meaning behind the title of the album. "This caught me at a more seasoned time in my life. I sing (on the album) about the mountain top and the valley low experiences."
Though the entire album is golden, my favorite cut - which I find myself play over and over - on the "Earnestly Yours" project include the current single "I Need Your Glory." "I Need Your Glory" is a beautiful love song to God which shows-off Pugh's remarkable vocals (he has a five-octave range).
For more information on Earnest Pugh and his latest album, "Earnestly Yours," log onto www.EarnestPugh.com.
September 8, 2011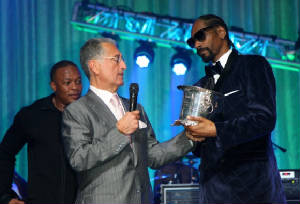 BMI goes all out to honor Snoop Dogg with the BMI Urban ICON Award
By
Eunice Moseley
~
"We built a sound," Gansta-Rap Hip-Hop legend Calvin "Snoop Dogg" Broadus, Jr. said at the recent 2011 BMI Urban Awards where he was honored with the BMI ICON Award. "I'm thankful for Death Row Records and thankful for Dr. Dre and Suge Knight for recognizing what I had, getting behind me and supporting my dream."

I still get teary eyed when I remember Snoop Dogg's expectance speech before an audience of his lifelong friends and young protégé's - with his beautiful wife Shante' and daughter Cori amongst them.

"Snoop has made a unique...contribution," said BMI CEO/president Del R. Bryant when he presented the music icon with the award. "So many people are in the business because of you."

Snoop took a 'sound' and branded it into a conglomeration.

"I started out on the eastside of LBC," Snoop pointed out to the crowd. "I was a young gangsta-rapper just trying to eat, rapping for my wife and home boys. It was so therapeutic...when I write songs I do it from the heart. I was raised around people - black, white, Asian...my music reaches those kinds of people."

Reaches it does, Snoop's first album, "Doggystyle," debut at #1 on both Billboard Hot 100 and R&B Charts selling almost a million in the first week in 1993. By 1994 it reached quadruple platinum. His "Tha Doggfather," in 1996, also debuted at #1 on both charts - reaching double platinum by 1997. The little league football coach is now currently promoting his 11th studio album, "Doggumentary."

Other awardees that night included Drake with the BMI Urban "Songwriter of the Year;" B.o.B. with "Song of the Year" for Bruno Mars' "Nothing on You;" Lex Luger with "Producer of the Year," and Universal Music Publishing - with 13 songs among the years most performed - received the "Publisher of the Year" crystal. (Photo Credit: Maurey Phillips)
Contemporary Gospel artist Deitrick Haddon blowing up the charts with new CD/DVD release, 'Anthology'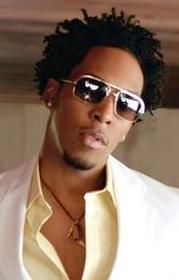 All you have to do is see Deitrick Haddon perform and you are hooked to the music of the Tyscot Music artist. The Grammy Award nominee and Stellar Award winner has record sales very close to platinum status in mainstream. He debuted his newest Contemporary Gospel CD/DVD release, "Anthology: The Writer & His Music," at #7 on the Billboard Gospel Album Chart.
"I've been crossing over since I started," Deitrick said when I mentioned his sound and delivery is a bit urban in flavor. "I always had an edge method...I perform the way I feel."
Haddon is also a pastor and choir director of Voice of Unity (currently over 60 members) whom supported him on this "Anthology..." project. The son of a Bishop, Deitrick has also produced a movie Blessed and Cursed starring Sheryl Lee Ralph.
"We always sang around the house listening to Andre Crouch, Rance Allen, Michael Jackson, Boyz II Men, Stevie Wonder, Sam Cook, Elvis Presley...," Deitrick told me when discussing his musical influences. "I transferred that to the church. My mom and day saw it at an early age. By 13 I was minister of music, a 100 voice choir."
As a result, the "Anthology: The Writer & His Music" is a powerful collection of Contemporary Gospel work and live performances. My favorite cuts on the album include "Anybody Here (Remix)" with Melody Armstrong; "The Potter," with his wife Damita Haddon, carries a deep message of how God can mold us into what He wants; "The Walking Dead," reminiscent of Michael Jackson's "Thriller," is a very creative Urban piece; "Chain Breaker," a bluesy/'rockish' number - with its hard drums and bass - features the hard vocals of his mother Prophetess Joyce Haddon and father Bishop Clarence Haddon; "I Gotta Praise, a live performance, with its R&B flavor, has Haddon making some smooth dance moves, and "Well Done," also a live performance on the DVD, is a heart-felt selection where Deitrick shows-off his vocal range.
Jazz/R&B keyboardist Jeff Logan offers an eclectic 'Black Tie Affair' with new album release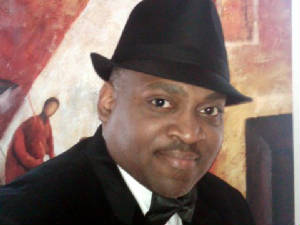 "I have an eclectic taste in music and the major labels wanted to label you on cookie cutters," Jazz/R&B keyboardist Jeff Logan said as to why his latest album release, "Black Tie Affair," is off an indie label BASS-mint Records.
The "Black Tie Affair" project offers 12 masterfully put-together selections that range in style and flavor.
"When I was 18 years-old I was performing with a Doo Wop group," Jeff said while reminiscing about his humble beginnings. "I was singing 5 part harmony...the arrangements. Any instrument I picked-up I mastered."
In his music career, since then, Jeff Logan has amassed over 400 songs that range from Jazz, R&B, Neo-Soul and even Gospel. Though his 7th album, "Black Tie Affair," is a great collection of Jazz/R&B cuts, such as "Water to Wine" and "Smoothlology," my favorite cuts include the Rodgers & Hammerstein cover "Favorite Things," a beautiful piece and "Improvise" for its funky feel.
For more on Jeff Logan or his "Black Tie Affair" project log onto www.BassMintRecordsMusic.com.
September 16, 2011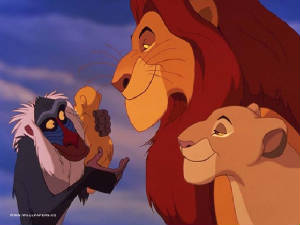 Disney offers many visual layers to The Lion King classic with 3D, arrives in theaters September 16, 2011
By
Eunice Moseley
~
"We used the technology of today to re-imagine it," producer Don Hahn said about the re-release of the Walt Disney classic animated movie The Lion King 3D on September 16, 2011. "We began it by starting in levels."
Levels that will have you flying along side the birds in the sky or feeling trapped under the huffs of a herd of stampeding animals in the Disney film that broke box-office records during its initial release in 1994. That success resulted in the long-running Broadway musical, "The Lion King."
On September 16th The Lion King is back in 3D for a limited two weeks with its original voice-over actors and Oscar winning music.

"We searched for a sound in the voice and accent we thought would work," said actor Robert Guillaume, who is the voice Rafiki - the wise old baboon. "That was a two week process. I'm amazed at the strength and long legs of the piece - that it can keep going. I still think its one of the great stories."
The Lion King is a love story between a father and son that centers on the concept that there is a "circle of life." It follows the life of Simba (Jonathan Taylor Thomas) as he is manipulated by Uncle Scar (Jeremy Irons), while a cub, to go into exile. Wanting to sit on Simba's father's throne, his Uncle, forces young Simba to leave his mother and his best girl pal Nala (Niketa Calame).
While in exile be befriends a hilarious meerkat named Timon and his warthog pal Pumbaa. A chance meeting of Nala all grown-up ends with Simba determined to return home and reclaim his place left by the death of his father King Mufasa (James Earl Jones). But first he has to get through Uncle Scars and his henchmen hyenas Shenzi (Whoopi Goldberg), Banzai (Cheech Marin) and Ed (Jim Cummings).
"I always wanted to do voice-over," said actor Jim Cummings (The Princess and the frog) about his work. "I remember Jack Benny he said he does 'the voice.' I was thinking his mom not hollering at him maybe I'll go that way too."
On October 4th The Lion King is released on HD Blu-ray and Blu-ray 3D. For more information on the Disney animated film you can log onto
www.disney.com/thelionking
.
Dorinda Clark Cole debuts at #3 on Billboard with new album, 'I Survived'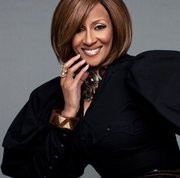 A three-time Grammy Award winner, Contemporary Gospel artist Dorinda Clark Cole celebrates the release of her 4th album, "I Survived" (Light Records), as it debuts at #3 on Billboard Gospel Chart and #13 on Billboard Top 200 Chart.
"I have really good people around me," Dorinda Clark Cole said about how she could manage all the things that she does (syndicated radio/television host, evangelist, entrepreneur, spokes-model, actress, clothing line designer and conference producer). "My schedule is hectic, but a good hectic."
With all that is on her plate, Dorinda still found the time to record a powerful project.
"I had no idea, vocally, I would be as strong as I was," Dorinda pointed out when I mention the "power" and "vocal creativity" she shows on the CD. "I asked God to 'put your oil on this project so people can hear and feel what I'm feeling'...to know that God can do the same for them."
"I Survived" was recorded live before a Nashville audience and its produces are Warren Campbell and Asaph Ward. It offers 11 selections where Dorinda Clark Cole fans can expect to hear a wide range of Contemporary Gospel sounds.
The whole CD is a powerful Praise & Worship project, but my favorites cuts include "He Brought Me," which will surely give you the "Holy ghost"; "We Believe," because of the vocal aerobics Dorinda does on this heart-felt number; "Back To You," an Urban flavored selection - with a funky beat, and "For My Good," a foot tapping gift.
You can see Dorinda Clark Cole host the 27th Annual Stellar Awards on January 14, 2012 with Marvin Sapp and on the Bobby Jones Gospel Hour October 23, 2011 on BET.
For more information about Dorinda and her "I Survived" album log onto www.DorindaClarkCole.,net.
Seven-time Grammy nominee Joe Thomas to release new album, 'The Good, The Bad, The Sexy,' September 27, 2011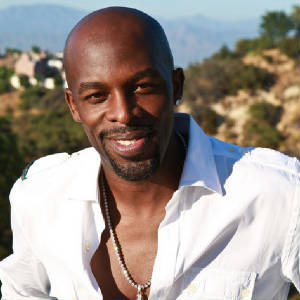 Kedar Entertainment to release the 9th studio album of seven-time Grammy Award nominee Joe Thomas titled "The Good, The Bad, The Sexy" on September 27, 2011. The album has released a music video for the cut "Losing" and its current single, "Dear Joe," was the #1 most added song on R&R this week.
"It's a good collection of music," Joe said about the new project. "...Another good album."
Joe's music is best known for his signature songs "All The Things Your Man Won't Do" and "Don't Wanna Be A Player," specially the remix that features Big Punisher. This new project offers 11 cuts with such producers as Osinachi Nwaneri, Brandon "BAM" Alexander, Gerald 'Nasty Twin" Isaac & Brennan "Epic" Gragston, Anthony L. Saunders and The Ambassadorz.
"It didn't take long," Thomas said when asked about the time it took to record the project. "I was working with new producers...young producers that are hungry and eager."
Going by the current music "Losing" (http://youtu.be/UqVq8LYq6So) and the current radio single "Dear Joe" he chose some 'hot' producers.
"It's about growing and experiences of life," Joe pointed out about what the album offers. "Without challenges, you can't grow."
Old and new fans can grow with Joe as he releases his newest project "The Good, The Bad, The Sexy" on September 27th.
September 23, 2011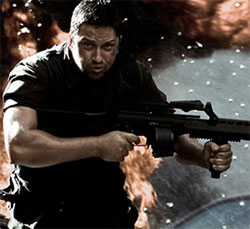 Relativity releases the powerfully intense film Machine Gun Preacher, the true story of Sam Childers, September 23, 2011
By
Eunice Moseley
~
The intensely dramatic film Machine Gun Preacher, starring Gerard Butler (300), is the true story of Sam Childers - an ex drug-using/dealing biker - hits theaters nationwide September 23, 2011. The ex-biker went to help rebuilt homes destroyed by the civil war in the Sudan and was spiritually inspired to build an orphanage there, Angels of East Africa.

The orphanage is located in the area of East Africa strongly affected by the war. The organization is dedicated to saving the, purposely, orphaned children of the Sudan war who are now being focused to become soldiers of the renegade militants, Lord's Resistance Arm (LRA).

Gerard Butler does a remarkable job portraying how the ex-biker, Sam Childers, brought his street-wise survival skills to the battle fields of the East African region in an attempt to save the children of the Sudan. To know this man still travels from his home (and church) in the United States to his orphanage located in the heart of the civil conflict is hard to believe. Let us not forget that Sam is still fighting - literally - to protect the orphans to this day.

The action-packed film also stars Michelle Monaghan as Sam Childers wife Lynn; Kathy Baker as his mother Daisy; Madeline Carroll as his daughter Paige; Michael Shannon as his best friend Donnie and Souleymane Sy Savane as the 'freedom fighter' aiding Childers save the Sudanese children. Machine Gun Preacher is directed by Golden Globe Award nominee Marc Forster (Monster's Ball).
The 2nd Primetime Emmy Suite event at Gonpachi of Beverly Hills was a delightful success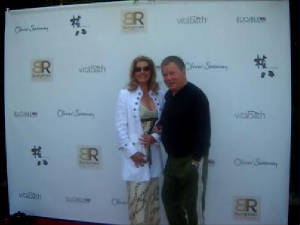 I was invited to cover the goings-and-comings of the 2nd Annual Endless Summer Primetime Emmy Suite & Party at Gonpachi of Beverly Hills and to say I was awestruck would be correct. The day long event started early as a continuous flow of Emmy Award winners and nominees came to partake of the free food, drinks and merchandise.
The delightfully successful event was produced by Doris Bergman (Bergman PR) and Kathy Duliakas. As I drank the refreshments provided by the many sponsors, such as Neuro, I greeted the visitors such as William Shatner ("Boston Legal," "Psych"), Carla Gugino (Spy Kids), Jackee' Harry ("Nurse Jackee'"), Kevin Farley (White Knight"), Tyron Davis ("Survivor"), and brothers Kyle Massey ("Cory in the House") and Chris Massey ("Zoey").
Some of the other sponsors of the Emmy Suite event included Hollywood Million Denim, LisaBerck, Joya, Royce Ware, iStick, Bootights, Vermeer, Becca, Blue Angel Vodka - just to name a few. Presented by Oliver Sweeney and Gonpachi of Beverly Hills, the event offered an array of fine jewelry, body and skin care products, footwear, swimwear, handbags, and lingerie.
LaShun Pace's new live project, 'Reborn,' is a foot-stomping Praise & Worship album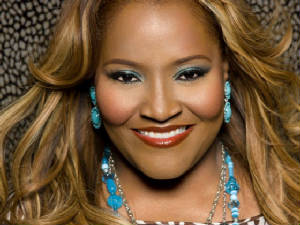 "The entire project was recorded live," said LaShun Pace, a Soul Train Lady Soul Award winner, about her new album, "Reborn," on Shananchie. "My dad always wanted me to record at the church. (With) Live you get such an adrenaline from the audience, it makes a major difference."
The 13 song project showcases the versatile vocals of the Gospel singer who offers everything from ole'- time Gospel to today's Urban/Contemporary Gospel sound. LaShun came to the lime-light as a member of the Anointed Pace Sisters. She later went solo and garnered radio hit singles "He Keeps Doing Great Thongs For Me," "There's A Leak In This Old Building," "My Times," "Ascension (Don't Ever Wonder" and her signature song "I Know I've Been Changed."
LaShun is an author, publishing "For My Good But For His Glory" through Xulon Press in 2003, and has appeared in two film projects The Fighting Temptations (Paramount Pictures/2003) and Leap of Faith (Paramount Pictures/1992).
"My songs come during my prayer time," Pace said when asked about her song writing process for the "Reborn" album. "They're about things I've gone through. Sometimes the lyrics come first, and sometimes the lyrics and the music come at the same time."
The three-time Stellar Award nominee's "Reborn" CD offers a list of great Gospel selections, but my favorite cuts include "God," a sweet love song; "It's Me Oh Lord," sung a capella, for its ole'-time Gospel flavor, and "He's Able," featuring Aarion Rhodes, for its fresh funky sound. The harmony through-out the album was also very impressive.
When asked what she wanted her listeners to get from the "Reborn" project LaShun said, "To see that in spite of difficulties in life there is a new outcome every time...stay with the Lord...you will survive."
For more information on the Atlanta native, LaShun Pace, or her "Reborn" album log onto her website at www.SingLaShun.com.
September 30, 2011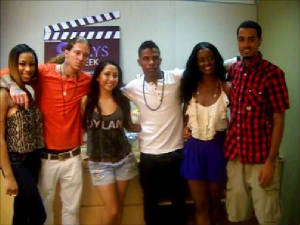 BET Network launches original web-series, '8 Days A Week,' with the stars of the next generation
~

"It's about young people's dreams, aspirations, and the emotions that young people have," said Lyah Beth DeFlore, New York bestselling author, and creator/writer of the new BET Network original web-series, "8 Days A Week" - which premiered a month ago on www.BET.com. The series is based on DeFlore's critically acclaimed book series "The Come Up."

The web-series targets the "106 and Park" audience and stars Justin "IROCC" Williams as Blue Reynolds, the lead character, a young music mogul in the making.

Blue manages up-and-coming rapper J-Shine played by Nicolas Green. The cast also includes Skye Townsend as Jude Taylor, a struggling college coed; Alex Lynn Ward as Marie "DJ ILL MaMa" Lopez, the budding young female DJ/producer; Justin Jacoby as Tommy "Whiteboy" James, the aspiring artist, and Skye P. Marshall as Olivia Daniels, the passionate young fashion designer.

"Everyone was 21, I was 17 when we taped," laughed Skye Townsend, daughter of Robert Townsend, about her experience tapping the series. "They'd hit the clubs and I'd go home."
The series follows Blue as he struggles to make it in the music business and his interactions with the other characters also passionately pursuing the ultimate success stories too. Directed and executive produced by Kenn Michael, the series is of such quality in its production and cast that I have no doubt it's the next "90210" - the Urban tale.

"It's just the beginning, the ground work," Nicolas Green said about the new web-series.
"8 Days A Week" is BET's third original web-series which includes "Buppies" starring Tatyana Ali and "Shop Talk" starring Malik Yoba. You can see the "8 Days A Week" web-series by logging onto
www.BET.com
. (Photo Credit: Eunice Moseley)
Dawkins & Dawkins returns with a new Contemporary Gospel project, 'From Now One,' the ultimate love offering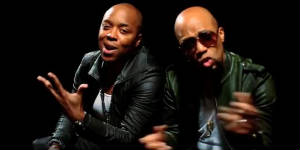 "It was exciting, after all these years, the interest," said twin brothers Dawkins & Dawkins about their third album, "From Now On," (Light Records) debuting at #4 on Billboard Gospel. "Our skill-set level has gone up. We tried for excellence, from production, packaging, quality of the sound...lyrics."
Excellence I think they found because I'm still in awe of this project, From Now On," not only for the unbelievable harmony they delivery, but the vocals and styles of music are very impressive. The Word of God delivered with Contemporary lyrics is what this project offers.
"We want to point the way to Jesus," the brothers said. 'Not so much ourselves."
Dawkins & Dawkins lyrics are carried out on a plate of Urban R&B tracks that make you stop to listen. Some of their influences are noted as Andrea' Crouch and Commission.
Some of my favorite songs on the "From Now On" project include the title track, a sweet R&B flavored number; "Like Him," a heart-felt Urban flavored cut with a great classical guitar support; "Pray For Me," which has an impression high-note; "Back," a nice hand-clapping R&B influenced song, and "Can You Hear Me," a Christian Music selection that has a nice marching-drum beat for support.
For more information on Contemporary Gospel artists Dawkins & Dawkins or their "From Now On" album log onto www.LightRecords.com.
Singer/songwriter Crissy Collins brings a fresh twist to Gospel music with new CD release, 'Faith In Progress'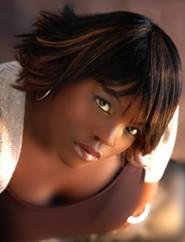 What an exquisite combination of Jazz and Contemporary Gospel singer/songwriter Crissy Collins is offering with her newest album release, "Faith In Progress." The backup singer for such mega talents as Beyonce', Kelly Price, Monica and more, steps out once again to the forefront to release a new project.
"I've been singing all my life," Crissy Collins said about how her career began, which includes singing and performing in stage-plays and movies. "I was cool and comfortable singing backup. Nine years ago it was like, 'OK, let's go."
Recently Collins presented "Up Close and Personal Part 2" in Atlanta, a 2-hour special with many of her closest friends such as Kelly Price and the cast of "Meet The Browns" and "The House of Payne.
The first single off of the "Faith In Progress" project is "Will Be Done."
"I love theater, love acting," Collins confided. "You know I was in 'Madea Goes to Jail' (stage-play)."
Crissy pointed out that in preparing for the album, as she listened to the tracks and God gave her the lyrics. That fact is evident when you listen to the album and Crissy's versatile vocals left me wanting more. Her ability to mix her love of Jazz with R&B/Urban flavor is what will give her staying power in the Gospel industry, no doubt.
My favorite songs on the "Faith In Progress" album include "Unconditional Love, which has a cute Pop/R&B feel; "Faith," shows her vocal power; the single "Will Be Done," a traditional ole' time Gospel number, for its twist of Jazz; "Father," a powerful heart-felt cut, and "Round and Round," a sharp Urban/R&B song delivered with Jazz flavor.
To learn more about Crissy Collins or to hear more about her "Faith In Progress" album log onto www.CrissyCollins.com.
October 7, 2011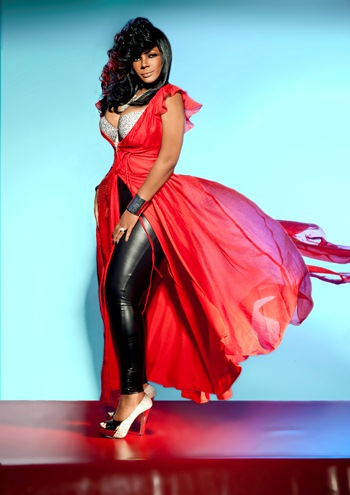 Grammy nominee Syleena Johnson releases highly anticipated new album, 'Chapter V: Underrated'

~

"My fans were my motivation," said Grammy and Billboard Award nominee Syleena Johnson about her newest album, "Chapter V: Underrated," on Shanachie. "I wanted to try something different.

Johnson, known for her collaboration with Kanye West on "All Fall Down," has worked with R. Kelly, Common, Jermaine Dupri and Twista. Also an actress and modeling, the singer/songwriter has released four other albums: "Love, Pain and Forgiveness," "Chapter 2: The Voice," "Chapter 3: The Flesh," and "Chapter 4: Labor Pains."

"Chapter V: Underrated" has Syleena working with producer Unik (Pitbull, Tyrese) on the first single "A Boss," Toxic, AK (Do or Die), Na'Tee, Malone, Big Dog and Tweet, who is featured on the cut "Angry Girl."

"I want to be a total new artist," Johnson pointed out. "But I want my old fans to know I'm here...My sound stays the same, I'm recognized for my sound."

Syleena's sound is certainly unique because its intertwined with her training in classical music. The Syleena Johnson sound is clear on some of my favorite songs off the "Chapter V: Underrated" release which include the first single "A Boss, a hot funky number, "Little Things," a deeply soulful cut featuring Malone, and "Label Me," a Pop hand-clapping song with an Urban twist.

When I asked Syleena, who was discovered the old-school way by sending in a demo tape, for advice to upcoming artists she stated for them to "not let anyone tell you different. There is going to be people hating...keep the faith."
For more information on Syleena Johnson or her newest project "Chapter V: Underrated" log onto
www.SyleenaJohnson.com
.
The Freedom Sister's exhibit launches at the Museum of Tolerance, hosted by Kevin Frazier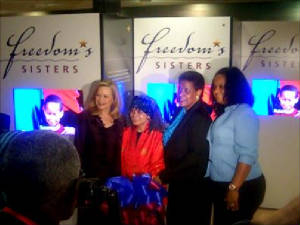 "With the Freedom Sister's I've been able to tour with Dr. Sonia Sanchez and Dr. Myrlie Evers-Williams. Traveling with them is like being in graduate school all over again," said Kevin Frazier ("The Insider"), master of ceremony, at the launch of the Freedom Sister's exhibit at the Museum of Tolerance in Los Angeles.
The Freedom Sister's exhibit has been traveling the country for some time now with its multi-media displays of 20 historically significant black women of which Sanchez and Evers-Williams are part of. The traveling exhibit is made possible by a grant from the Ford Motor Company's Ford Motor Company Fund, in collaboration with the Smithsonian Institution and the Cincinnati Museum Center.
"We sincerely thank the Smithsonian and the Ford Motor Company... they made it possible for the exhibit," said Liebe Geft, director of the Museum of Tolerance.
In the audience were 43 Los Angeles women who were recognized that day as local "Freedom Sisters." Of the 20 women in the exhibit some others include Shirley Chisholm, Fannie Lou Hamer, Rosa Parks, Coretta Scott King, Harriet Tubman and Ida B Wells.
The displays include scenes such as a bus from the time-period of Rosa Parks' civil rights stand and other fascinating moments in history. Traveling since 2008, the Freedom Sisters' exhibit will be at the Museum of Tolerance until January 8, 2012.
"The Cincinnati Museum called and said, 'You're chosen as 1 of 20 women to be honor.' I said you and I know there are so many other women that have fought for freedom and justice...but it is truly is an honor," said Dr. Sonia Sanchez about her inclusion in the exhibit.
Members of the Freedom Sisters' Committee of Honor include Quincy Jones, Dr. Johnetta Cole, General Colin Powell, Patti LaBelle and the Honorable Maxine Waters. The Freedom Sisters' exhibit is a must to see for everyone, in particularly, schools and families. History is so important to know, because without that knowledge we may just find ourselves repeating the same mistakes.
For more information on the Ford sponsored Freedom Sisters' exhibit log onto www.MuseumOfTolerance.com.
Actor Eric Keyes III lands co-hosting role on the Fox Network series 'Live Life & Win'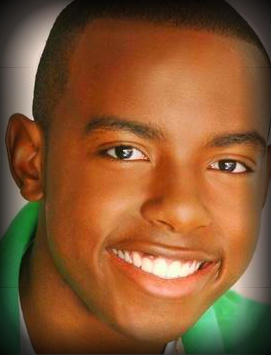 The Fox Network chose actor/screenwriter/author Eric Keyes II to co-host a new Saturday morning series titled "Live Life & Win." It premiered September 24, 2012 and it's an inspirational teen show designed to inspire and enlighten young viewers. It will have segments focusing on arts, school, sports, exercise, nutrition, health and wellness.
"We made the pilot last year," actor/writer Eric Keyes III said when questioned how he landed the co-hosting role. "I hadn't heard back from them."
Keyes reminiscence about the moment he found out that the Fox Network picked up his pilot. He received a call that said, "they got the show and want to do more episodes."
"Fox picked it up... with 22 episodes," Eric pointed out proudly.
What an impressive number of episodes, not to mention getting a show picked up by a major network at such a young age (which he wasn't telling). Eric, who has appeared as an actor in commercials for Disney and McDonalds, is also an author. His book, "The Light in the Dark," was written when he was only 11 and made it to Borders bookstore shelves were it was sold nationwide.
"I had a fear of going to sleep in the dark," Eric said when asked what would make an 11 year old want to seriously write a book. "I'd hear noises and stuff...So I literally go under my covers, and think positive thoughts and the fear went away."
He wrote a book about his fear of the dark and did such a great job it went national. He did great with Oprah and ended up in national commercials. Now, he will go national again on the Fox Network as co-host of "Live Life & Win." Did I mention this young man also published a book of poems, "Shadow Eclipse," through The Valley Press.
Eric credits meeting Oprah at age 5 for a print job as the catalyst for his success. For more on the Fox Network's Saturday morning series, "Live Life & Win," log onto www.fox.com.
October 14, 2011
TV One's 'Life After' series highlights Ginuwine, episode to air October 19, 2011
~
"I said, 'Hold up, I'm not done,'" said multi-platinum selling singer/songwriter Ginuwine when ask what his first thought was when approached by TV One to be apart of its 3rd season of "Life After." The series explores some of America's most intriguing celebrities from their break-out point to "life after." "They explained it to me, and I said, 'As long as it ain't portraying me as being done.'"

The TV One series will air 11 episodes that examines the lives of such celebrities as Jackee' Harry ("227"), Christopher "Play" Martin (Kid N Play), Countess Vaughn ("The Parkers"), Kim Coles ("Living Single"), and of course Ginuwine - his episode airs October 19, 2011.

The "Life After" series premiered on TV One September 28, 2011 and is part biography, part confessional and a celebration of the human spirit.

"It's pretty much in my face...talking about old times...my parents (death) of course," Ginuwine said about the series' content.

Also an actor (John Ruffin's "The Ideal Husband") Ginuwine's music career is a testament to the human spirit. He started in 1996 with his most notable single, "Pony," off his debut album "Ginuwine...The Bachelor." Years later that single is still being used, such as in a video game called Grand Theft Auto IV in 2008. His second album "100% Ginuwine" was released in 1999 - it reached #4 on Billboard Hot 100 Chart with the single "Difference" and #1 on Billboard R&B Singles Chart. The third album was "The Life," then he released "The Senior" in 2003 and in 2005 "Back II Da Basics"- which debuted at #12 on Billboard Top 200 Chart.

The Washington, DC native, and current resident of Georgia and Maryland, signed to Notifi Records/Warner Bros Records in 2008 and the following year released his 5th album, "A Man's Thoughts" in 2009. Married to female rapper Sole' the couple has two children (Story and Dream). This year he released his 7th album "Elgin" (Notifi/Warner) and is currently promoting that project.

"Never feel like your time is over," he said when asked what he wanted viewers to learn from his "Life After" episode. "Create new opportunities. Regardless of what's going on, you still have a place."
Praise & Worship artist Judith Christie McAllister releases fourth album, 'Sound the Trumpet,' on Shanachie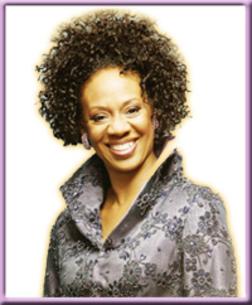 Dr. Judith Christie McAllister, who's Praise & Worship songs have traveled the world and have become modern day church standards ("High Praise" and "Like The Dew"), has released her 4th album "Sound The Trumpet" on the Shanachie Entertainment imprint. The first single, "Sound The Trumpet," has already landed in the Top 40 Gospel Radio Airplay Chart.
"I believe it's the timing of God," McAllister said about the album's release, which is five years after her last project. "When you're listening...the trumpet of God is calling...on another level of holiness."
Judith explained that the album was recorded live in 2008 but the delays, she feels, were because it wasn't God's time for it to be released.
"It has to do with our lives... to hollow out our lives so God can make a noise through us," McAllister explained about the title of the CD. "You can't blow if it's a lot of junk on the inside."
A trumpet of inspiration is what you will find on her "Sound the Trumpet" CD, full of very uplifting Praise & Worships songs. My favorites on the album include the title track "Sound The Trumpet," a hand-clapping Praise & Worship song that has some awesome support of trumpets; "How Great Is Our God" for its lovely piano sustain; "Fire," featuring T.C. Bereal, for its Barbados flavor; "Just For Who You Are," a heartfelt offering, features Nancy Jackson-Johnson, and "To Our God/Nobody Like the Lord," a mighty marching song, takes you musically back to the times that Jesus walked the earth.
For more information on Dr. Judith Christie McAllister, who is also President of the International Music Department for the Church of God in Christ (COGIC) - a 6 million member congregation, log onto www.cogic.org or www.shanachie.com.
Tracee Ellis Ross and Malcolm-Jamal Warner star in the hilarious new original BET sitcom 'Reed Between the Lines'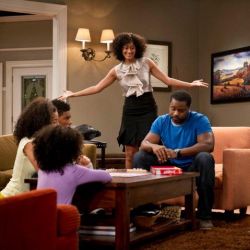 "I'm proud of what we are doing," actress Tracee Ellis Ross said about her starring role in the BET Network original sitcom titled "Reed Between The Lines" - which aired October 11, 2011. "(BET) created a family that's joyful to work with. I am finding parts of myself I didn't know I had."
The sitcom also stars Malcolm-Jamal Warner as the husband, Dr. Alex Reed, of Tracee's character, Dr. Carla Reed. Carla is a psychologist and the other an online college professor. The storyline follows them as they try to raise their three kids, maintain their crazy professional careers, while still trying to keep that love flame burning.
"My goal is to take BET into a new direction," said BET Network CEO Debra L. Lee during an intimate "cast screening" of the series. "I want to change the face of television...tell great stories. We need more shows with cast that look like us. At BET we're delighted to fill that void."
"Reed Between the Lines" also stars Anna Maria Horsford (as Dr. Carla Reed's secretary); Robin Givens as Dominique Edmonds (the sex addicted neighbor/client of Carla), and Melissa De Sousa as Gabriella Jimenez, who works with Dr. Carla Reed.
"This family is very lovable and likeable...and have a genuine like for one another," Malcolm-Jamal pointed out about the cast.
The 30 minute series airs weekly on Tuesdays at 10:00 p.m.ET on BET Networks. You can log onto www.BET.com for more information.
Debbie Allen's free concert with internationally acclaimed Complexions Contemporary Ballet, create breath-taking body dance-art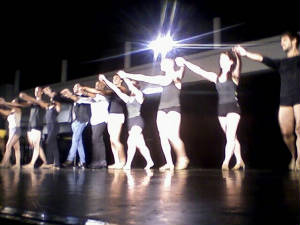 I was invited to see the performance of Complexions presented by the Debbie Allen Dance Academy (DADA), located in Baldwin Hills, California. The free concert was titled Complexions Contemporary Ballet.
It had been many years since I saw ballet and I was not disappointed. Complexions Contemporary Ballet combined classical ballet moves with many difference styles of contemporary dance moves.
Hosted by Debbie Allen's husband Norman Nixon (former NBA), the show started with the DADA dance ensembles and ended with Complexions. Celebrity guests were in the audience to witness the unbelievable display of dance-art - performed to masterful music pieces.
DADA is a 501 (c) 3 non-profit organization. Complexions of Contemporary Ballet's artistic directors are Dwight Rhoden and Desmond Richardson - who founded the troupe in 1994.
You can get more information about the Debbie Allen Dance Academy (DADA) by logging onto www.DebbieAllenDanceAcademy.com and for more on the Complexions Contemporary Ballet, log onto www.ComplexionsDance.org.
October 21, 2011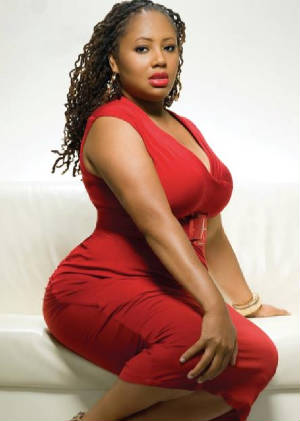 Lalah Hathaway shows another side to her vocals on new album, 'Where It All Begins'

~
"I did a great cover of Dad's song, 'You Were Meant For Me,' recorded...where Nat King Cole recorded. It was a golden day for me," said Grammy Award nominee Lalah Hathaway about her newest album release on the Stax/Concord imprint.

The "Where It All Begins" project takes Lalah vocally in a new direction from her past R&B/Jazz recordings. This project includes some Urban/R&B and Pop influences.

Hathaway said the album is a love letter to her parents Grammy Award winning Donny Hathaway and Eulaulah Hathaway (a classically trained singer).

Lalah brought on some hot producers and songwriters such as Mike City, JR, Leroy Hutson, Rahsaan Patterson and James Fauntleroy. Rachelle Ferrell is a featured vocalist on the project on the "I'm Coming Back" cut.

"I'm a musician at heart," Lalah confessed. "Everyday I listen to music...until I die and still it won't be enough."

It was a delight to hear Hathaway show another side to her vocals on the "Where It All Begins" CD. My favorite selections on the project include "My Everything," a nice R&B cut - with some Pop influence - is a hand-clapping offering; "Lie To Me," a club number that's powerful, yet a sweet all at the same time, is a song of love's end; the first single, "If You Want To," is a nice funky selection and her cover of her fathers song "You Were Meant For Me," is a sweet track of love found.
For more information on the new Lalah Hathaway album, "Where It All Begins," log onto
www.LalahHathaway.com
.
Joe's back with a hot new CD, 'The Good, The Bad, The Sexy,' debuts at #1 on iTunes R&B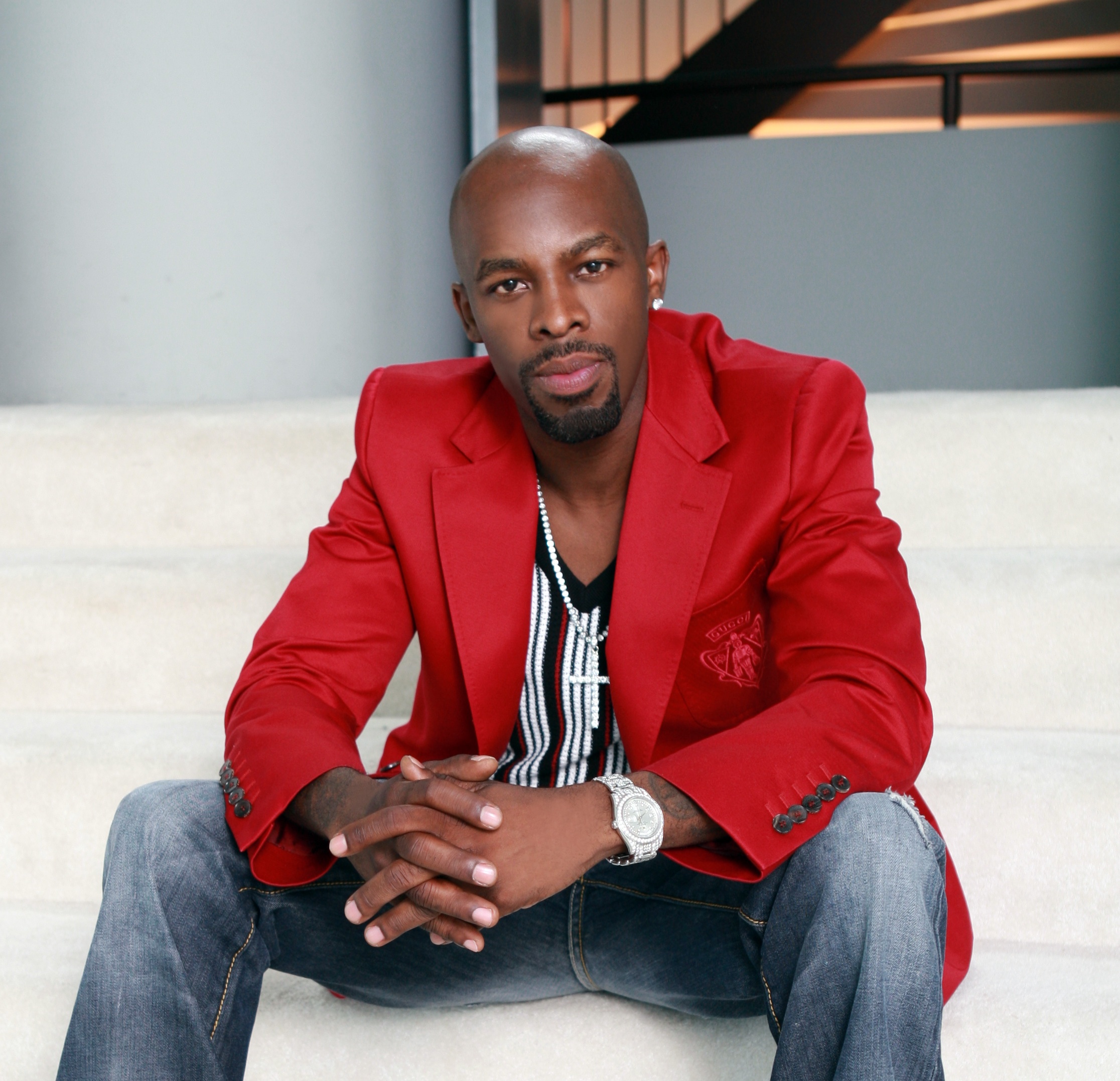 The wait is finally over, the newest studio project of Grammy Award nominee Joe Thomas, "The Good, The Bad, The Sexy" (Kedar Entertainment), has hit the stores. The highly anticipated album has already debuted at #1 at iTunes R&B.
Joe is known for giving us such signature hits as "All The Things Your Man Won't Do" and "Don't Wanna Be a Player," produced by Rodney Jerkins. Thomas is back and I do believe this project may result in a couple more signature songs.
Producers on the new CD include Osinachi Nwaneri, Brandon "B.A.M." Alexander, Gerald "Nasty Twin" Isaac, Brennan "Epic" Gragston, The Ambassadorz, and Anthony L. Saunders. Joe stays true to R&B on this album while covering all aspects of love: the good, the bad and the sexy.
Joe's first recording contract was signed in 1993 with Polygram/Mercury and by 1997 he had a deal with Jive Records which released his "All That I Am" project that garnered the song "All The Things Your Man Won't Do." That album went platinum in the U.S.
My favorite cuts on the current "The Good, The Bad, the Sexy" album are "Losing," a radio friendly song of love lost (which is accompanied by a music video), "Almost There," an Urban/R&B flavored cut, and "Dear Joe", a heart-felt selection of love lost where Joe shows some very impressive vocal acrobats (also accompanied by a music video).
Find out more on the "The Good, The Bad, The Sexy" album or upcoming performances dates to promote it, follow Joe on Twitter at www.twitter.com/JoeThomas563.
Shirley Murdock releases highly anticipated live recording, 'The Journey,' on Tyscot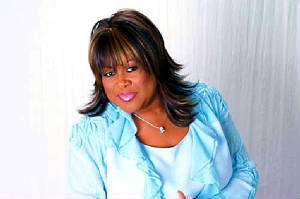 Grammy Award nominated Soul/Gospel singer Shirley Murdock's live recording of her newest album, "The Journey" (Tyscot Records), takes you to church for a foot-stomping, hand-clapping, Praise and Worship day. Joining her on this highly anticipated project are Regina Belle, Kelly Price and Beverly Crawford.
Producer of the CD is Grammy Award winning Cedric Thompson (Marvin Sapp). "The Journey" released its first single, "Dream," which became the most added Gospel song to radio. Known for her signature song, "As We Lay," Murdock offers an album full of inspiration.
Recorded live in Charlotte, NC the CD is Shirley's second Gospel project with her current label. Full of over 13 selections to listen to, "The Journey," had me stuck on the first single "Dream,' not only because of his history of being "the song that won't die," but its an anthem of hope; "Keep Lovin' Me," featuring Kelly Price brought tears to my eyes for its heart-felt message of God's love; "Upward Way," featuring Regina Belle has music support that is reminiscent of the days of Cab Calloway, both Murdock and Belle treat us with some scatting - I also love the horn support; 'It's In Your Hands," a soulful number, and "The Winner in Me," a powerful inspirational selection and I love the piano driven delivery.
For more information on Shirley Murdock or her latest album release, "The Journey," log onto www.Tyscot.com.
BET's 'Sunday Best' runner-up Jessica Reedy releases first album, 'From the Heart,' debuts at #1 on Billboard Gospel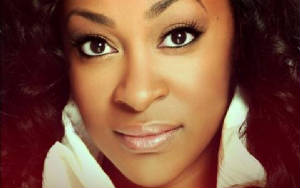 "I wanted to do an R&B album first, but I got saved after having my son," said BET's "Sunday Best" runner-up Jessica Reedy about her debut Contemporary Gospel album, "From The Heart" (Light Records).
The project is produced and co-written by Warryn Campbell, Claude Kelly, Chuck Harmony, James "Big Jim" Wright, Shep Crawford, Daniel Moore, Mali Music and Jessica. The very talent singer has featured guest Faith Evans, The Soul Seekers and Doc Powell - on the CD.
The project debuted at #1 on both Billboard Gospel and iTunes Christian & Gospel Charts.
"I use to work at AT&T," Jessica said about how she ended up on the "Sunday Best" BET competition. "Someone said, 'Come on to Sunday Best (auditions) with me.' I said I had to work and that I didn't sing anymore. Well a week later I got fired. Part of me was happy."
So Reedy took her friend up on the offer and you know the rest of the story she continued to advance in the competition. Currently on tour promoting her debut Contemporary Gospel album, "From The Heart," Jessica arrives in Washington, DC Oct 22-23, 2011 (Baltimore on November 19th) and ends in Langos Nigeria December 13th.
"Out of my heart speaks volumes," Reedy said when ask about the meaning of the project's title, "From The Heart." "How else can I talk to God."
For more information on Jessica Reedy or her debut album log onto www.JessicaReedyMusic.com.
October 28, 2011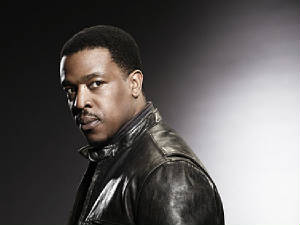 Russell Hornsby stars in the new NBC series 'Grimm,' premieres October 28, 2011

~
Seasoned actor Russell Hornsby ("Lincoln Heights") stars as Lt. Hank Griffin in the new NBC "drama meets fantasy" series "Grimm," which premiers Friday, October 28, 2011 at 9:00 pmET. One of only a few black actors in the new fall season, Hornsby's world on "Grimm" is filled with mysterious creatures from the Grimm world.

The series is inspired by the classic "Grimm" fairy tales.

"I'm the straight guy...guest stars morph into creatures... we just ask questions and try to look as normal as possible," Russell laughed about his character and his partner Nick Burckhardt played by David Giuntoli.

With the NBC "Playboy Club" series being canceled not to far from the "starting line," Hornsby says he still feels positive about the new drama series.
"The most that I can so is do my best...then I've done my job," he said with conviction.

Russell has been doing his job for a long time with 120 television episodes under his belt. One of his noticeable roles is that of Los Angeles cop Eddie Sutton on "Lincoln Heights."

Hornsby has also performed on stage in the August Wilson play "Fences" with Denzel Washington and Viola Davis.

'It's the size of it," Russell said about the difference in acting on stage than on television. "When you're on stage it's big and loud, and you use your voice. I approach theater as a sport. Its eight shows a day, six days a week. You got to be in shape. Television is more about the 'window' of your soul."

Russell has also appeared on "Law and Order," "Grey's Anatomy" and "The Good Wife."
Emmy Award nominee James Reynolds celebrates 30 year on 'Days Of Our Lives'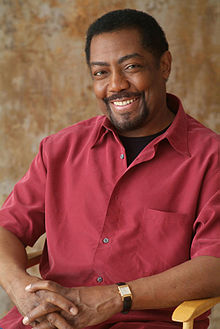 "I don't like being stereotyped. There are difference types of black people," said Emmy Award nominee actor James Reynolds about being known as "the black guy" on the 45 year-old NBC daytime drama "Days of Our Lives," where he plays Chef Abe Carver of the Salem police department.
NBC is "re-launching" the daytime series with new characters and storylines. In fact, Tamara Tunie, star of the night-time drama "Law & Order: SVW," will appear in a special story "arc."
"I don't get tired (of his character)," Reynolds said. "He has his ups and downs."
Also a NAACP Image Award nominee, James has been on contract with the show since 1981. For about nine years James also starred on "Generations" in 1991.
Learn more about the veteran actor by logging onto www.James-Reynolds.com or visit www.nbc.com/days-of-our-lives.
Grammy Award winning composer Charles Fox brings 'Killing Me Softly: My Life in Music' tour to Rockville, Maryland November 2, 2011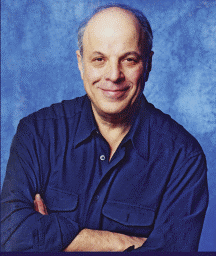 Emmy and Grammy Award winning composer Charles Fox brings his "Killing Me Softly: My Life in Music" tour to Rockville, Maryland at the JCC of Greater Washington Wednesday, November 2, 2011. The tour is to promote the soft-back edition of his "Killing Me Softly: My Life in Music" book that details his legacy in music. Fox's songs are a part of American history now and include such television theme songs as "Happy Days," "Wonder Woman," "The Love Boat," "LaVerne and Shirley," "Get Smart," and "Monday Night Football' - just to name a few.
It's a 16 city tour," Charles Fox pointed out about the concert series. "I speak about the book and perform the songs."
Charles said the theme song for the "Wild World of Sports" was the first song he wrote that propelled him down the road to becoming one of the greatest television and film score composers.
"I've written songs for 50 shows and 'some' are long lasting," he said about his legacy.
Charles is not only a television theme song composer, but he has also recorded and released a Spanish album.
"I just got back from Italy and Peru," he said about his travels as a popular composer. "I also do classical, country and ballet."
Charles, who has composed over 100 motion picture songs, said he'd like to take a trip to Poland to "bring music" to that part of the world. A two-time Academy Award nominee, Fox is also a Smithsonian and Bronx Hall of Fame inductee.
For more information on Charles Fox's book and tour log onto www.KillingMeSoftly.com.
November 4, 2011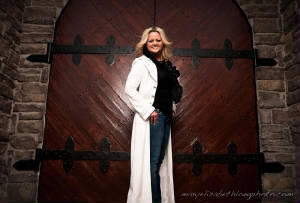 Vicki Yohe gives the ultimate Praise and Worship offering with 'I'm At Peace' album release

~
"Through the years people said, 'What's your favorite CD?'...this CD is my favorite, said Stellar and Dove Award nominee Vicki Yohe about her newest Praise and Worship album, "I'm At Peace," off the Shanachie imprint.

The live recording is a powerful 11 song offering to her listeners about a journey she was going through.
~
"I was going through some things in my life," Vicki confessed when talking about the album. "It's to let fans understand what happened in my life. I just want them to take away from the CD my words, my experiences...to know I am human like them...I go through the fire."
~
Fire is just what she gives on "I'm At Peace," which was recorded live at Bethel World Outreach in Brentwood, TN. Yohe, a preacher's daughter, signed her first recording contract with Giant Records in 1994 and released three albums "The Mercy Seat," "Under the Blood," and "Something About My Praise." She later released two more albums on Aluminum Records, "Christmas Presence" and "Beyond the Song."
~
In 2002 Vicki signed with CeCe Winans label PureSprings Gospel and released "I Just Want You," which single - "Because of Who You Are" - received a Dove Award nomination. Under PureSprings Yohe also released "He's Been Faithful," which garnered a Stellar Award nomination. By 2009 was signed with her current label Shanachie and immediately released a live recording, "Reveal Your Glory."
~
On her this latest release, "I'm At Peace," my favorite songs include "Lord Of All," a almost funky sounding Praise and Worship selection with a powerful ensemble praise-team voices; the title track "I'm At Peace," is a powerful heart-felt cut; "I've Been Redeemed," a hand-clapping "ole'" time Gospel selection - with great horn support, and "So Many Reasons," a duet with Urban Gospel Rapper/Singer Canton Jones - a perfect blend of voices, with Canton delivering a powerful set of vocals.
~
For more on Vicki Yohe and her newest album release, "I'm At Peace," log onto
www.VickiYohe.org
.
Contemporary violinist Ken Ford releases a passionate fourth album with 'State Of Mind'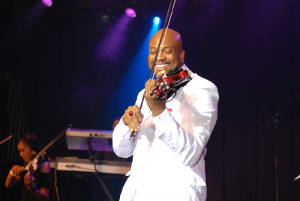 Ken Ford's gift for the violin has teamed him up with many contemporary artists such as Jill Scott, Bruno Mars, Ledisi, and Ceelo Green. Ford now takes time to release his forth album titled "State Of Mind." Best known as a Contemporary Jazz musician, Ken plays a bit more diverse on this project by including R&B, Blues, and Hip-Hop genres.
"It's my parents fault, you know how that goes," Ken Ford laughed while recalling how he became a violinist, in fact, a 'great' violinist. "I didn't want anyone to know. It never occurred to me to do it as a career until my early 20s when I saw Noel Pointer (a black classical violinist) performing with his shirt open."
Ken said he realized he could do that too and so he started to develop a passion for his skills as a violin player. Ken began playing professionally, but it wasn't until people started to ask him for a CD that he started to record.
"People would say, 'You got a CD?' And I'd say, 'It's in the oven,' so I named my first CD 'Burnt Toast," Ken laughed as he recalled it. "The first CD I was scared. I tried to put out what I thought people wanted and to make it radio friendly. But when I got to 23-24 I started to do what I do live."
Ford said he hopes the "State Of Mind" project will inspire people to "step out on faith."
Ken elaborated, "I have a huge testimony about stepping out on faith. I have been doing that for 12 years. You see me on stage, you can see I love what I'm doing and that motivates you to do what you love."
Yes, I think I am in that "state of mind" to go do what I love. My favorite selections on the, "State Of Mind," album include "Kiran" for his Latin feel - and I love the classical guitar support; the title track "State Of Mind," which sounds like a symphony; "Guttaville" for its Oriental feel; "Turn It Up" a smooth Jazz number, and "Strung Out," cause it starts out like it's going to be classical and then it turns into opera and then breaks out into an R&B feel - masterful.
For more information on Contemporary violinist Ken Ford and his newest album release, "State Of Mind," log onto www.KenFord.net.
OWN debuts new reality show, 'Welcome To Sweetie Pie's,' a family run soul-food restaurant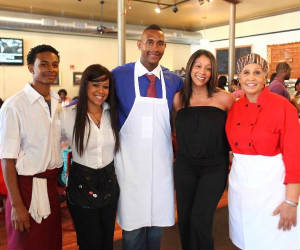 "Tim had the idea that this would be entertaining," said Robbie Montgomery, owner and head of the family run soul-food restaurant in St. Louis, about how her son Tim sold the show idea. "He said he'd get someone to tape what happens in the restaurant."
Not only did Tim Montgomery find someone to tape the show, but that someone no only taped it but secured a slot on the Oprah Winfrey Network (OWN) all within two months.
"We are not the Crosby's," Robbie pointed out. "We don't have degrees, but we make it work."
"Welcome To Sweetie Pie's" will find you watching a close knit family that is struggling to make ends-meet, while being hospitable and entertaining - all at the same time. The 'Welcome To Sweetie Pie's" restaurant serves such dishes as smothered pork chops, and sweet and spicy fried chicken. The eatery has had such high-profile visitors as President Obama, Magic Johnson and Mo'Nique.
"I went to every college and university in the area with a film department," Tim recalled. "No one saw my vision and then I came across a group. They filmed the pilot, and took it and ran with it in less then two months."
"We're a working family," Robbie said. "You'll see the pitfalls of getting food out as we argue and fight."
Robbie stressed that they believe in second chances in regards to their hiring practices.
OWN, a joint venture between Harpo, Inc. and Discovery Communications, is a multi-platform media company designed to entertain, inform and inspire people to live their best lives. Debuted on January 1, 2011 on what was the Discovery Health Channel in 77 million homes, the venture also includes an Oprah.com.
For more information on the new OWN reality show "Welcome To Sweetie Pie's," log onto www.Oprah.com/OWN.
November 11, 2011
Multi-Grammy nominated Ledisi takes her 'Pieces of Me' Tour on the road arrives in Baltimore November 23, 2011

~
"It's full of high energy," four-time Grammy Award nominated Ledisi said about her "Pieces of Me" Tour which arrives in Baltimore November 23, 2011 at the Lyric Opera House. "It's a show with ballads and outfits that I love ...fun times, it's a 'we' show, not a 'me' show."


The "Pieces of Me" Tour is to promote her current album of the same name on Verve/Universal, which features guest vocals by Jaheim on the "Stay Together" track.


The show is 90 minutes long and Ledisi said she was sure someone will be unhappy because she couldn't fit all six of her albums into the set.
"It's bigger than I am use to. Normally I'm opening," Ledisi said about the tour.


Ledisi's "Pieces of Me" project offers 12 powerful numbers that speak to the human spirit of which we all share, which is why I could relate to some of the selections, as I know the listeners will also.


The tour will have some dates with Timothy Bloom, Eric Robertson and Rashaad Patterson opening the show for her.


"It's intimate, DC and Oakland are sold out," she added about the 24-city tour.


My favorite songs on the "Pieces of Me" album include the title track, a cute Pop/R&B number; "Hate Me," a soulful selection; "Raise Up" a funky number that show Ledisi's powerful vocal ability, and "I Miss You Now," a sweet R&B love ballad.

Sheryl Lee Ralph host her 21st Annual DIVAS Simply Singing AIDS Benefit Concert
I was invited to cover the red carpet arrivals of actress/AIDS activist Sheryl Lee Ralph's 21st Annual DIVAS Simply Singing AIDS Benefit Concert at The Wilshire Ebell Theater in Los Angeles. Ralph had a long list of "divas" there to support her.

"Visit us at TheDIVAFoundation.org and TestTogether.org," Sheryl Lee said repeatedly to the crowd of media lining the red carpet to the benefit concert.

Accompanied by her daughter Coco and her husband Pennsylvania State Senator Vincent Hughes, Ralph was there to greet her guests that included Raven Symone' - accompanied by the Debbie Allen Dance Academy youth troop; Frenchie Davis, Neicy Nash, Shanice Wilson and husband Flex Alexander; Loretta Devine; Alia Rose (Teena Marie's daughter), Bonnie Pointer, and Michael J. Fisher and the Voices of Destiny.

"Next year every station that gets this show televised is going to get "a" show." Sheryl Lee Ralphs pointed out to the cameras. "This is the longest running AIDS event in the country!"

For more information on the Sheryl Lee Ralph 21st Annual DIVAS Simply Singing AIDS Benefit Concert log onto www.TheDIVAFoundation.org and www.TestTogether.org.

Jacob Latimore opens 'Scream: The Next Generation Tour,' arrives at Club Nokia November 13, 2011
"The tour has been wonderful," young R&B singing/dancing sensation Jacob Latimore said about this opening act performance gig on the "Scream: The Next Generation Tour" which arrives at Club Nokia Sunday, November 13, 2011. "I'm loving it. They try to make it all fun."

Latimore is currently preparing for the release of his debut album on RCA Records and will be performing the first single, "Like 'Em All," which features rapper Diggy Simmons - who is headlining the "Scream Tour" along with Mindless Behavior.

"I perform the original with Diggy in the concert, but I am currently promoting the remix which features new rapper Isa," he pointed out.

Only 15 years old Jacob started at a young age in his native Milwaukee at nine singing and dancing as he studied The Temptations and B2K. After a move to Atlanta and connecting with Rodney Jerkins, R&B singer Lloyd and producers Corna Boys and Rico Love, he caught the eye of RCA A&R Wayne Williams. Jacob was immediately signed to the label and handed over to house-managers Larry Rudolph and Jeremy Geffen.

"All my credit goes to God and having a great team," Latimore said about his success thus far. "I'm still learning the business."

"Like 'Em All," the original with Diggy, is produced by Infinity. Jacob is also getting into acting and will appear in the feature film Vanishing on 7th Street starring Hayden Christensen and Thandie Newton.

To others young artists trying to achieve their dreams to become entertainers Jacob Latimore said, "Work hard and keep God first...Make sure you try to perfect your craft."

Novemner 18, 2011

Warner Bros' Happy Feet Two starring Robin Williams and Elijah Wood will leave your heart happy, arrives in theaters November 18, 2011

~
"I worked with a vocal coach," said Oscar winning comedian/actor Robin Williams when asked about the voice he used in the Warner Bros' movie Happy Feet Two, to be released to theaters November 18, 2011. Williams said he has two voices in the 3D animation - Lovelace and Ramon. "One of the two (Lovelace)...is Scandinavian, which was new for me. So we worked to make it authentic."


Academy Award winning director/screenwriter George Miller's magic touch is on this sequel to his first creation - Happy Feet - and it left my heart happy because if its storyline (s) and the excellent voice casting. Returning for Happy Feet Two are Robin Williams, Elijah Wood returning as a much older Mumble and Hugo Weaving as Noah, the head elder. Added voices in the rated PG Kennedy Miller Mitchell production will include Hank Azaria as Sven, the flying "penguin"; Alecia "Pink" Moore as Mumble's mate Gloria; Brad Pitt as Will, the krill; Matt Damon as Bill, Will the krill's traveling partner; Sofia Vergara as Carmen - the love interest of Ramon (the hopelessly romantic Latin penguin); rapper Common as Seymour, the hip penguin; Richard Carter as the Beachmaster, a massive elephant seal; Magda Szubanski as Ms. Viola, the school teacher, and Benjamin "Lil P-Nut" Flores, Jr. as Atticus, Mumble's son Erik's best friend and son the of Seymour, played by Common. Ava Acres voices Erik.


"I play Atticus, he likes to rap a lot and eat a lot," laughs eight year-old rapper/actor Benjamin "Lil P-Nut" Flores, Jr., who will be appearing on Ice Cube's "Are We There Yet" on TBS, about his character in the movie. "I used my own voice. It was awesome. I recorded it by myself but the kids (who voiced the other baby penguins) where there. "


"I stayed myself," Elijah Wood said about his characters' voice. "But my register was lower since he's older."


Rapper/actor Common used his own voice as well, but added that his 14 year-old daughter reminded him of how great other artists' voiceovers were, so he said she "kept me sharp and on point."
Happy Feet Two follows Mumble's son Erik who has run away because he can't tap his feet like the other penguins. Through his adventures he rekindles a once stained father-son relationship into a bond stronger than even my heart couldn't take when seeing the film.

For more information on the Warner Bros 3D animation, Happy Feet Two, log onto

www.HappyFeetTwo.com

.

TV One highlights the life after 'Living Single' for Kim Coles in 'Life After,' airs November 23, 2011


TV One is airing 11 episodes of "Life After" which highlights the life of popular American artists and actors after that break-out period. On Wednesday November 23, 2011 at 10:00 p.m. ET "Life After" will examine the life of Kim Coles after her major success on the sitcom "Living Single."


"At first I was scared, then I said yes, then I was scared again and then I said yes," said comedienne/actress Kim Coles about her decision to go ahead with the TV One project. "It's a lot of work to look for pictures and clips...To ask friends to speak. I knew it was a big deal. It was emotional. I'm so glad I did it, it was important I did... telling your story in your own words."


The half-hour series will share the joy and happiness, pain and loss of those highlighted. It is part biography, part confession and all of them a celebration of the human spirit. The "Life After" series will follow Kim Coles as "In Living Color" ended and she worried about whether she would ever work again, to her casting as Synclaire in "Living Single," through two decades of work in television that followed, and hear her "life-lessons learned."


"I think God gets happy when you do what he sent you to do, " Kim said seriously when discussing some of those lessons she learned in life. "We all have our challenges and that connects us. It's always inspiring to see someone's story in Hollywood ...and come away inspired."

Just my conversation with Kim verifies to me that I will be inspired when I watch TV One's "Life After" with Kim Coles. For more on Kim Coles, her current roles, any comedy stage appearances and her involvement in the community log onto

www.KimColeInc.com

.

'Blues for an Alabama Sky' starring Robin Givens is worthy of Broadway, runs until November 27, 2011
Director Sheldon Epps takes the audience back to Harlem, summer of 1930, in the Pasadena Playhouse production of "Blues for an Alabama Sky," starring Robin Givens as nightclub singer Angel Allen. Entrenched in American history "Blues for an Alabama Sky," which runs until November 27, 2011, also stars Image Award winner Kadeem Hardison as Sam Thomas the neighborhood doctor; Kevin T. Carroll as Guy Jacobs the aspiring fashion designer; NAACP Theatre Award nominee Robert Ray Manning, Jr. as Leland Cunningham (love interest of Angel), and Image Award nominee Tessa Thompson as Guy's neighbor Delia Patterson (the love interest of Sam).

"You have to be brave," artistic director of the Pasadena Playhouse said about the portraying the characters in the play by Pearl Cleage. "...To dive yourself totally into (the time period)."

The time period Epps speaks of was during the depression when most blacks in Harlem were homeless and hungry, and where racism (and sexism) was overt.

"All of us are playing characters far from who we are," added Kadeem Hardison about the play.

"I sing a little bit," Robin informed when asked what to expect of her since she plays a blues singer. But when I saw the play Givens sang almost an entire song and I think she did an outstanding job.
"Blues for an Alabama Sky" is the age-old story of "dream chasers" played against an unbelievable backdrop, thanks to Emmy Award winning scenic designer John Lacovelli. The costumes insured you that you arrived in Harlem in the 1930s - Costume Designer thanks to Karen Perry.

"I think it's a fantastic place," Givens said about Harlem in the 1930s and you will when for yourself in the Pasadena Playhouse production of "Blues for an Alabama Sky," is worthy of Broadway.

For more information on the play, "Blues for an Alabama Sky," Director Sheldon Epps or The Pasadena Playhouse log onto www.PasadenaPlayhouse.org.

November 25, 2011

Award winning Mary Mary to launch Christmas Tour, Do Something Campaign with Pillsbury and Reality Show on WEtv


~
"God has called us," the sister duo Mary Mary said about their contribution to the Contemporary Gospel "movement." "That's one of the things and our up bringing experience."


Mary Mary, sisters Erica and Tina Campbell, launches a West Coast Christmas Tour, the Do Something Big Campaign with Pillsbury and a reality show on WEtv. Mary Mary believes that it was their up-bringing in the church which had them going out into the "world" to spread God's word, that was a major reason why their Gospel music became so universally excepted.


"We would go out into the streets...prisons...talk to gangsters and thugs," said the six-time Stellar Award winning duo. "It taught us to go 'out' to...plant seeds."


The powerful three-time Grammy Award winning duo will launch their Do Something Big Campaign with Pillsbury - an initiative with churches to reward them for their community service . The participating churches submitted to Mary Mary a video telling them about their local efforts in the community. The winning church will receive a free concert by Mary Mary and breakfast for the entire congregation courtesy of Pillsbury.


On December 8, 2011 Mary Mary will launch their West Coast Christmas Tour in Austin, Texas at The Moody Theater. Some of the cities the Mary Mary Christmas Tour will visit include Oklahoma City, Los Angeles, and Vegas and on December 18, 2011 it will end in Seattle, Washington at the Admiral Theatre.
March 29, 2012 Mary Mary will launch their reality show, "Mary Mary," on WEtv. The reality show will follow the sisters as they promote their sixth album release, "Something Big," as they walk red carpets and strive to balance motherhood and careers.


WEtv's "Mary Mary" reality show will air at 9 p.m. and will consist of eight hour-long episodes. "Mary Mary," is produced by eOne Television and executively produced by Tara Long, John Morayniss and Eric Hoberman. Kater Farrell serves as the executively producer for WEtv.


"We pray before we do everything," the duo confessed. "...So people will be receptive. One must be wise. Know your audience and speak how they can understand."

For more information about the Do Something Big Campaign, the "Mary Mary West Coast Christmas Tour," and the "Mary Mary" reality show log onto

www.ILoveMaryMary.com

.

Saxophonist Kim Waters' 'This Heart of Mine' offers a bit of R&B with his Jazz
Saxophonist Kim Waters recently released his 17th album, "This Heart of Mine," and 10th on the Shanachie Entertainment label. The album offers more than his usually Smooth Jazz, with a bit of R&B. His label-mate, multi-Grammy Award nominee Calvin Richardson, is a featured vocalist on the project on the "Am I A Fool" track.

"I did the song and we were contemplating later who would be best and they sent me a couple of Calvin's CDs and I thought he would tear it up," said Kim Waters about how Calvin was chosen to be on the project.

Waters, who was featured in the movie Larry Crowne starring Julia Roberts and Tom Hanks, has had thirteen #1 singles and over 20 top ten hits in his career. This project should do just as well or better because this time Kim offers a twist of R&B to his normal Smooth Jazz style.

"If I can put a smile on their faces when their having a bad day," Kim Waters said when asked what he wanted the listeners to walk away with after listening to the album. "The whole record is geared towards family, friends, my twins and the love of my life...my lady."

My favorite cuts on the "This Heart of Mine" album include "Heart Seekers," which has a nice smooth feel, "Am I A Fool," which features Soul/R&B singer Calvin Richardson - whose powerful vocals blend well with Kim's horn playing and "Empire State of Mind" because of Kim's smooth, almost silky, horn playing.

For more information about Kim Waters' "This Heart of Mine" log onto www.Shanachie.com.

Australia's The McClymonts release first American Country album, 'Wrapped Up Good'
"We always sang," said Mollie of The McClymonts, one of Australia's top Country groups, which consist of sisters Mollie, Brooke and Sam. "Universal Australia kept watching us but we were way too young to sign. They saw us in 2006 singing at the Country Awards and they asked (us to sign)."

The McClymonts, who recently released their first American distributed album, "Wrapped Up Good," are very talented vocalists, songwriters and producers. The girls can play all their instruments, even though on this album they enlisted help from other producers and musicians.

The recently girls moved to Nashville and started their own label BSM Music in a worldwide partnership with Universal Music Group. On "Wrapped Up Good" The Clymonts co-wrote 11 of the 12 songs on the project.

"We wrote the tracks," Mollie said. "They represent the time of our life (right now), happy and up-beat. We been incredibly busy, been away touring for five years in Australia and America. We've won quite a few awards for Best Group...thought we'd give America ago. It's been crazy busy."

I love all genres of music and it has been a while since I reviewed a Country album so I enjoyed this one tremendously. My favorite cuts on the "Wrapped Up Good," album include "Kick It Up," a hot party song; the title song "Wrapped Up Good," for it's ability to get me up and dancing; "Take It Back," a very sweet love song, and "I Could Be A Cowboy," a heart-felt track with a violin solo that was impressive.

For more information on The Clymonts and their newest album release "Wrapped Up Good" log onto www.TheClymonts.net.

The 2011 IndieCade Festival arrived in Los Angeles to honor 10 video game makers with the Choice Award
The 2011 IndieCade (Video Game) Festival arrived in Los Angeles to honor 10 out of 36 finalists of independent video game makers, who were chosen out of 446 submissions of games. The festival offered visitors a chance to play with the 10 games which were on display at the festival's Gamewalk/Arcade.

Video game producers and distributors came from Hong Kong, Ireland, Korea, Spain, Ukraine, U.K., Canada, Denmark, Finland, Singapore, the U.S. and South African. The event started out with a red carpet arrival of the winning game producers presented by LG Mobile.

The finalists of the four day event were chosen by 100 judges and the winners were invited to attend the "Developer and Audience Choice Awards" at the Closing Party hosted by GameFly.

For more information on the IndieCade events and its awardees log onto www.IndieCade.com.

December 2, 2011

Tyra Banks' first novel, 'Modelland,' a great mystical trilogy


~
"I do look at Modelland as a franchise," Tyra Banks said about the possibility of bringing her first novel, "Modelland" (Random House/Delacorte Press), to the big screen. "It's fun, scary and campy. I want them (the reader) to know they have beauty in their uniqueness. We have Harry Potter and Twilight... I hope it will be a big franchise built around a black girl..."


"Modelland" is loosely based on Tyra's life about a 15 year old girl named Tookie Dela Crème' struggling with her body - her tall height, her large forehead, and eyes with two different colors (brown and green). Banks, a super model turned business mogul, has her character Tookie in a mysterious place on top of a mountain called Modelland. Life there is a little frightening at times but there she learns the meaning of friendship and self-love.
~

The novel starts with Tookie at her high school, Bangle, Bauble and Bead Institute (B3). It follows her travels and training - with her cohorts Shiraz, Dylan, and Piper - at Modelland. At Modelland she meets the mysterious Ci-L.


"I always had a passion to write as a young girl. It took five years," Tyra informed me about the process of writing her first novel. There are already plans to write two other books, making the "Modelland" novel a trilogy. "I had to create the characters...a whole new world. The book has a lot of mystery."

~
"Modelland" is a great start for a franchise because it is entrenched in Tookie's struggles for self-worth, a struggle most of us wrestle with. Banks said that Tookie is a young version of herself.


"Every woman has...self doubt," Tyra said about the story-line. "My mission is to expand the definition of beauty in a fun yet emotional way. There are so many types of "beautiful," that's why I created Modelland. When you close the book you will feel better about yourself."


I know I felt better about myself and was truly motivated to stay the course of achieving my own dreams like Tookie. "Modelland" is a great place to go mentally for inspiration. I'm looking forward to reading the continued life of Tookie in the mysterious Modelland.

~

Aside from Tyra Banks' successful reality show "America's Top Model" in its 17th season, she has launch a beauty website, Type F - a website about the female body to make females feel good about themselves - and she took up studies at the Harvard Business School.

~

"My focus is on my company," Tyra pointed out about why she took up studies at Harvard. "I knew I needed school to run a business. Money is coming in and going out. School is helping me."

~

You can get lost in the mysterious world of Modelland too and follow the life of Tookie De La Crème' with Tyra's first novel, "Modelland."


Sax man Richard Elliot's 'In The Zone,' a great place to be for Jazz lovers
Saxophonist Richard Elliot celebrates 25 years since his debut album release with "In The Zone" (Artistry/Mack Avenue), a great collection of Smooth Jazz selections. Co-produced by Jeff Lorber, Richard offers 10 creatively crafted instrumental pieces on his newest project.

"This CD was unfinished business for me," Elliott pointed out when asked about the projects' motivation. "My first one paid tribute to R&B, it influenced me as I was growing up in Los Angeles. 'In The Zone' is a tribute to instrumental artists that influenced me."

Richard Elliot's projects have placed him at #5 on Billboard Jazz Albums Chart - for his 2009 album "Rock Steady." "In The Zone" has the potential to do the same or better, thanks to Elliot's skills on the tenor saxophone and the assisted production talents of Jeff Lorber.

"Jeff is one guy from that period," Richard added about his cultivating days where he was influence by instrumentalists like Lorber and Grover Washington.

My favorite cuts on the "In the Zone" album include the Marvin Gaye cover "Inner City Blues," a funky number with great electric guitar support, "Golden Triangle," a sweet piece and the title song, "In The Zone," a nice offering for when you're traveling long distance on the highway.

For more on sax man Richard Elliot's newest album release, "In The Zone," log onto www.MackAvenue.com/RichardElliot.

Label owner Keith Douglas offers a handbook of inspiration with 'The Power To Get Wealth: No Money Required'
"I could not express myself on paper," said Keith Douglas CEO/Chairman of RKD Music and Talent Management (home to Leela James and David Hollister) about his learning disability - dyslexia. "I became a good actor (in corporate America). I had people do it for me."

Douglas put his ordeal as a troubled young, his diagnosis, his adult life in corporate America into a small book titled, "The Power to Get Wealth: No Money Required" (Andy Roy Publishing). He tells his story weaved into Biblical scripture and insight.

"Never forget there are only two forces in this world: faith and fear," he writes in the book about how he conquered his doubt and fears on having this disability. Keith had the information in his mind but could not express it in written (typed) form.

'It's my total life experience as a troubled youth and in corporate America," he explained about the book. "I wrote a book about the misperceptions of wealth. It took seven years to write this book."

Douglas confessed he is still suffering from the disability, which will have him writing words backwards.

"Everyone has a disability," he pointed out. "You can't testify unless you have a testimony."

"The Power To Get Wealth: No Money Required" is Keith Douglas' testimony on how he achieved his wealth with this learning disability. It is a great inspirational reading piece that will leave you rethinking just what wealth is and walk away with a clearer idea of how to achieve it.

For more information on Keith Douglas, his book or the artists on his label log onto www.KeithDouglas.org and www.Amazon.com.

December 9, 2011

New Line Cinema's New Year's Eve is comedic, yet sentimental - arrives in theaters December 9, 2011

~
"Who is this person...that lived in New York for 30 years and not really seen much of it," said Michelle Pfeiffer about her character Ingrid in the New Line Cinema presentation, New Year's Eve. The comedic, yet sentimental film had me laughing one minute and crying the next, a great start for the New Year to know you should never give up hope.


The Wayne Rice/Karz Entertainment Production is directed and produced by the legendary Garry Marshall. New Year's Eve follows the lives of a wide cast of people such as Michelle's character Ingrid as they count down the minutes to that, supposedly, life changing moment, New Year's Day.


Ingrid has a New Year's list of things she wants to do, assisted by a guy half her age named Paul, played by Zac Efron (17 Again).


"I got to push all her buttons," Zac laughed when he talked about working with Michelle in the film.


"And I am the envy of every girl on the planet," Pfeiffer pointed out about working with him.


The rest of the stellar cast includes Hilary Swank, who plays Claire the entrusted Vice President that has the task of making sure the ball drops at midnight in Times Square. The always funny Hector Elizondo (Pretty Woman) was Kominsky whose job it is to fix the broken Times Square ball in time. Halle Berry is Nurse Aimee whose patient is a dying man, Stan - played by Robert De Niro, whose dying New Year's Eve wish is to see his daughter Kim (Sarah Jessica Parker).


The rest of the cast includes Ashton Kutcher, Jessica Biel, Jon Bon Jovi, Lea Michele ("Glee"), Seth Myers ("Saturday Night Live"), Josh Duhamel (Transformer 3), Chris "Ludacris" Bridges, Abigail Breslin (Little Miss Sunshine), Til Schweiger, Katherine Heigl (Knocked Up) and Sofia Vergara.


"The message was hope," said the screenwriter Katherine Fugate about New Year's Eve. "I hope this pie of people can bring us to that message."

Wills and Schmidt capture the essence of a legend in 'Marilyn Monroe: Metamorphosis'
Photographic preservationist and curator David Wills, with contributions from Stephen Schmidt, managed to present the essence of who the legendary "movie star" Marylyn Monroe really was in their recently released photo-book "Marilyn Monroe: Metamorphosis" (ItBooks/Harper Collins Publishers).

"I always wanted to do a book on Marilyn," David Wills said about the project. "I really wanted to do a photo-book showing the unique way she had with the cameras, the way she evolved...in that 20 year period."

More than a photo-book, "Marilyn Monroe: Metamorphosis," gives you visual look into Marilyn from her days as the brunette haired girl next door, Norma Jeane, to the iconic "Hollywood movie-star." The book also offers you quotes from those who knew her best herself, such as her first husband Jim Dougherty, Darryl Zanuck (20th Century-Fox) and film director Samuel Fuller.

"No one ever told me I was pretty when I was a little girl. All little girls should be told they are pretty, even if they aren't," Marilyn is quoted in the book, which has an outstanding collection of high resolute pictures and high quality black and whites stiles, as saying.

During the period when Monroe held super-stardom she is quoted in the book saying, "I feel as though it's all happening to someone right next to me. I'm close, I can feel it, I can hear it, but it isn't really me."

The large hardback book offers almost 300 pages of glossy enlarge prints that are historic, as well as, breath-taking in color and clarity.

"Most are from my collection," Wills pointed out about the photographs used. "The thing I'm proud of is the quality of the photographs. We went back to the negatives. My favorites are her poses at public events by news photographers."

"Marilyn Monroe: Metamorphosis" is certainly a collectable item. For more information on the photo-book, "Marilyn Monroe: Metamorphosis" log onto www.YourItList.com, www.BlowUpArchive.com or www.Duuplex.com.

Film director Ben Lee Foster's Peep Game revolutionary Hip-Hop film screens at AAMF
Young director Ben Lee Foster's revolutionary Hip-Hop film, Peep Game, screened at the 2011 African-American Minority Film Showcase (AAMF) in Hollywood. The Ben Foster Film presentation stars Terrell Mackey, Paige Hurd, Al B Sure, Lil' JJ and Vincent Ward.

Peep Game revolutionizes Hip-Hop by offering a cleaner version of the culture by following the life of a typical black youth determined to succeed as the next singing/songwriting sensation, despite the non-believers.

"Mackie had a similar story," director Ben Lee Foster said about the film's star and storyline. "This project was more a learning experience. I wrote the script in 2007 and began shooting in 2009. We really didn't have the budget."

Fosters' ability to complete a full-length feature film with little to no budget while incorporate signature filming techniques that will ensure to be identified as his. Peep Game showcases his many creative filing styles, such as incorporating 'music videos' throughout the film and other creative touches that I've never seen before.

"I see a lot of potential," Foster said about his film. "I'm still trying to push it."

The music used throughout the film is certainly platinum material, and along with the awesome dance moves and 'BBo'y dance-offs scenes, it's sure to be a winner. Peep Game had me laughing one minute and crying the next, due solely to the excellent acting skills by all involved.

Peep Game will certainly be to Ben Lee Foster what She's Gotta Have It became to Spike Lee, his catalyst to becoming the next black Hollywood film director/producer.

"God and life inspires me. I can be inspired by the smallest things in life," said Ben, also a rapper, when asked about his inspiration for his films' story-lines.

To learn more on film director/producer Ben Lee Foster and his first feature film Peep Game log onto www.BenFosterFilms.com.

December 16, 2011

Baltimore's Maysa releases funky new album, 'Motions of Love,' on Shanachie

~
"It was very therapeutic," said Smooth Jazz vocalist Maysa about her ninth album, "Motions of Love," on the Shanachie imprint. "This project is an R&B album. At the time I broke up with my long time boy friend. I think it's going to be my biggest record yet. It started at #1 on Jazz (charts) and #7 on R&B."


Those motions of love that the former Incognito lead singer went through is evident in this 14 song project. The album has co-writing support from Stevie Wonder, primary production by Chris "Big Dog" Davis and vocal support from Dwele.


The Baltimore native is best known for her lead vocals in the British Jazz group Incognito of musician/producer/bandleader Bluey - who was looking for an American singer. With Maysa's silky smooth vocals the group reach new levels of fame by reaching the American Urban charts and radio with their 1992 release "Tribes Vibes and Scribes." Their 1994 album, "Positivity," is noted as their biggest selling project to date.


In1995 Maysa started on her solo journey when she signed to GRP Records and released her debut. Through the years she has released also on the N2K Records and Encoded Music imprints before landing at Shanachie Entertainment. Her journey has securely established Maysa as one of the best Smooth Jazz vocals of this generation.


With her new project "Motions of Love" Maysa starts a new journey in securing a place in the R&B genre. My favorite songs on the project include the title track "Motions of Love" for its emotional R&B delivery; "Have Sweet Dreams" co-written by Stevie Wonder, a heavenly sweet song; "Get Wit Me" a funky R&B selection; the cover "I Try" finds her scatting with vocals delivered the "Maysa way" - clear and precise; "Love Sweet Love (LSL)," a hot dance number, and "Your Name's Not on the List," another hot funky offering.


"I want them to know that whatever they're going through, I'm going through it too," Maysa said when asked what she wanted the listeners of "Motions of Love" to get from the album. "...To feel better."

Former NBA star Walter McCarty releases sophomore R&B album, 'Emotionally'
The tall and alluring former NBA star Walter McCarty releases his sophomore album, "Emotionally," on Hit Boys Entertainment. McCarty started as a songwriter, co-writing for such artists as Tyrese

"I've always had a passion for music," Walter said when questioned about which - basketball and singing - skills give him the most passion. "It's (music) been a big part of my life. Basketball...opened the door for music."

Raised singing in the church, Walter said while playing in the NBA people would admire his voice. The 6'10" performer played basketball for such teams as The New York Knicks, Boston Celtics, Phoenix Sun and the Los Angeles Clippers.

"Trust in yourself and your ability," he said when ask to give advice to others in sports who wanted to get into music. "When you get the opportunity, go for it."

McCarthy's vocals are smooth and a bit Urban R&B sounding with Soul influences. In fact, Walter notes his influences as Boyz II Men, Michael Jackson and Jodeci. My favorite cuts on the album include "Waiting For Your Love," a heartfelt R&B selection, "Mr. DJ," a nice club track and "Oooh Wee" also a club offering.

For more information on Walter McCarty's newest album release log onto his website at www.WalterMcCarty.com.

Charlottes' Salvation and Deliverance Church Choir wins Verizon's 'How Sweet The Sound' national finale'
"We vote on how they can connect...," said Pastor Shirley Caesar, a judge of the 2011 Verizon "How Sweet The Sound" American church choir national competition, when asked what the judges were looking for.

Along with Shirley other judges included Stellar and Dove Award winner Marvin Sapp and Grammy Award winning Israel Houghton.
"We look for choirs with charisma and energy," said Israel Houghton. "You can feel it sought of. They can be electrifying, but the pitch and tone is monotone. You have to feel it, they have to feel it and the crowd has to feels it. You sought of know."

Hosted by Grammy Award winning CeCe Winans and Donald Lawrence the "How Sweet The Sound" finale was held at the Staple Center in Los Angeles. The event was supported by Queen Latifah and Dolly Parton, who also came to promote their upcoming movie release, Joyful Noise. Both performed during the event. Legendary Andrae' Crouch was honored with a performance by Chaka Khan.

Nine church choirs from nine different cities made it to the finale and they gave it their all. The voices, the moves, the choice of song and what they were wearing had the audience in awe and on the edge of their seats - I know, I was one. The judges seemed to enjoy themselves as well and at times seem to be speechless.

"I have never seen or heard anything like what I've seen tonight," said Shirley Caesar, sincerely. after one of the performances.

Competing church choirs included St. John Church Music Ministry from Dallas; All Nations Life and Praise Church Choir from Atlanta; Salvation and Deliverance Church Choir in Charlotte; James E. Jordan, Jr. Adult Choir from Washington, DC; The Anointed Voices of Higher Ground Youth Adult Choir from Detroit; Metropolitan Community Church from St. Louis; All Nations Choir from Chicago; Family Life Sanctuary Choir of Los Angeles, and the Christian Life Center Mass Choir from Oakland. The winning choir will receive $25,000 and a long list of other prizes.

At the end of the night it was the Salvation and Deliverance Church Choir in Charlotte that won with their version of Handel's "Hallelujah." The winning choir prizes also included performing at this year's Stellar Awards and at the Super Bowl Celebration.

The African-American Film Critics Awards announced, Tree of Life gets top honors
The African-American Film Critics Awards (AAFCA) was recently announced by President and Founder Gil Robertson IV and actress/director Salli Richardson-Whitfield (I Am Legend). Ten films will be awarded along with eleven other categories, such as Best Actor - which went to Woody Harrelson for Rampart, Best Actress to Viola Davis for The Help and Ava DuVernay for I Will Follow - just to name a few.

The ten films to be honored include the top winner Tree of Life," as well as Drive, Pariah, Rampart, Shame, Money Ball, The Descendants, A Better Life, My Week With Marilyn and The Help. Special honors will be presented to George Lucas with the Cinema Vanguard honor, Richard Roundtree with the AAFCA Legacy honor, Hattie Winston with the AAFCA Horizon honor, and Sony Pictures Entertainment with the Special Achievement Award.

AAFCA was established in 2003 with members a collection of individuals in various media, which covers CNN, ET, Ebony/Jet, and EURweb.com.

"There is strength in numbers when we come together to make a bigger difference," said Gil about why he formed the African-American Film Critics Association.

For more information on AAFCA and its awards show, which will be held on Sunday, January 8, 2011 at the Light Space Studio in Culver City, California, log onto www.AAFCA.com.

December 23, 2011

Baltimore's ASCAP member, platinum selling producer Lonny Bereal, assists 19 kids to an original songs' completion

~
"Chris Brown's 'I Can Transform Ya' was my first song to go platinum," Grammy Award nominated songwriter/producer and recording artist Lonny Bereal said while discussing his credentials to me at The Village Studios in Los Angeles. This was just before his recording session with 19 inner-city youth of the ASCAP Songwriter Residency @ America SCORES mentoring program. "I took a part of each one of their poems to make the (lyrics)."


The American Society of Composers, Authors and Publishers' mentoring program signed Bereal on to lead the kids - from elementary and middle schools - through writing the lyrics to and recording (vocally) on the music track to complete an original song. The song will appear on a special compilation CD ASCAP will produce and distribute.


Also a singer, Lonny started as background singer for Jamie Foxx, Tank and Kelly Rowland - to name a few. As a songwriter and producer his credits also include Tank's "Please Don't Go" and Pleasure P's "Under." His songs are included on the soundtracks of such projects as the film The Seat Filler, televisions' "Meet the Browns," short film Life Support and BET's "The Game." His latest album, "The Love Train," includes a duet with Kelly Rowland titled "Favor."


Other mentors in the ASCAP Songwriter Residency @ America SCORES program include Country music songwriter Dave Berg (Keith Urban); Latin music songwriter Roke; Grammy Award winning nominated songwriter Maiysha (John Legend); Hip-Hop artist Psalm One and Grammy Award winning songwriter/producer Scott Jacoby (John Legend). Visit

www.AmericaSCORES.org

for more information on the ASCAP program.

The Hollywood Black Film Festival highlights Peter Bishai's feature film, A Million Colours
This was the first year the Hollywood Black Film Festival (HBFF) highlighted a foreign film on opening night. The film was produced by Peter Bishai and is titled A Million Colours. A Million Colours is set during South Africa's 1976 Soweto uprising. The HBFF event was held at the L.A. Film School in Hollywood.

The red carpeted opening night received the support of actor Leon (The Temptations); actress Tangi Miller (Madea's Family Reunion); the cast of Tyler Perry's "Why Did I Get Married Too" (TBS); actress/singer Ashley Nicole (Hub-TV's "Majors & Minors"); singer E.B .Wright, and Willie Macc - to name a few.

HBFF was founded in 1999 to enhance the careers of emerging and established North American filmmakers through public exhibition and competition programs. Learn more about the film festival at www.HBFF.org.

The British Virgin Islands 'Full Moon' U.S. tour's a big success
An innovative initiative by the British Virgin Islands (BVI) Tourist Board was recently held, a two-day culturally driven string of events called "Full Moon." The "Full Moon" tour took place in Miami, Los Angeles and New York City. In Los Angeles it was held at The Conga Room.

Entertainment at the events included Caribbean singers Ouida Nisbett and Kamau Georges, and dance groups Anazazi and Mokojumbies.

"Being able to touch peoples' lives with my voice," said the award winning singer, Ouida, about her motivation to become a singer. "People respond by crying and laughing."

Along with Ouida Nisbett was Kamau who is also a saxophonist, producer and engineer that studied at Berklee in Boston. His credits as a songwriter include "Bloody Mary" on Lady Gaga's album.

The BVI tour brought the best of their culture to the U.S. You can learn more on the British Virgin Islands at www.BVITourism.com.

ComiKaze Expo reunites cast of 'All That' at the Los Angeles Comic-Con
"I'm s excited to be at ComiKaze...We had the 'All That' Reunion that brought the whole cast together," said comedian/actor Kel Mitchell about why he was at the 2011 ComiKaze, Los Angeles Comic-Con - held at the Convention Center. "I'm also here for my new movie, Dance Fu, in stores now. It's written by me, directed by Cedric the Entertainer and stars Davidson, Affion Crockett, Cedric and Rodney Perry."

Mitchell was also there to promote a new cartoon through Rubicon, Asia Lee (and shades).

"It's a good cartoon, positive for the kids and a lot of action," Mitchell pointed out.

ComicKaze is the first and only multimedia cross-genre expo in Los Angeles which has created a Pop culture that brings together the best in comics, gaming, horror, sci-fi, fantasy, anime and other cult programming. The massive expo provided a wide range of celebrities, aside from the cast of "All That," as well as comic book distributers and publishers from all across the country.


The family oriented expo was kicked off by the legendary comic book animator Stan Lee with a ribbon ceremony. You can learn more about the event for its next visit by logging onto www.ComiKazeExpo.com.

December 30, 2011

Los Angeles' production of Fela! is a powerful musical presentation of one man's search for artistic freedom


~


I was invited to the Los Angeles opening night of the three-time Tony Award winning musical Fela! and witnessed a powerful musical presentation of one man's search for artistic freedom in a militantly run Nigeria. Fela Anikulapo-Kuti was played wonderfully in the musical by Sahr Ngaujah. Presented by Will and Jada Pinkett-Smith, and Shawn "Jay-Z" Carter, the production is currently running at the Center Theater Group's Ahmanson Theater until January 22, 2012.


Many of Hollywood's elite showed up for the opening night. I saw Debbie Allen CH Pounder, Bill Bellamy, Thelma Houston, and Jason Alexander - just to name a few. The colorful and technically sophisticated production offered continuous high-energy dancing, which - at times - included the audience.


Breathtaking was the historical back-drop scenery and Sahr it seems is a great and humorous storyteller, as well as actor because he did an outstanding portrayal of Fela. Fela used his music to attack rogue militant officials. Kuti had a very unique talent, because of his American influences, and he was an accomplished singer, horn player and dancer.


The full-house audience at the Ahmanson Theater seemed to be in awe, yet totally enjoying their musical journey through the life of Fela - his music and political passions. Sahr was supported by a stellar cast, that not only could dance, but had voices to equal any America R&B or Pop singer. All this and an incredible wardrobe that took you visually back to Nigeria during the America "black power" revolutionary era.


Fela!, conceived by Bill T. Jones, Jim Lewis and Stephen Hendel, was inspired by an authorized biography, "Fela: This Bitch of a Life," by Carlos Moore. Starring with Sahr in the Los Angeles production was Adesola Osakalumi, Rasaan-Elijah "Talu" Green, Paulette Ivory, Ismael Kouyate, Melanie Marshall and Gelan Lambert. The music and lyrics are Fela's, with additional lyrics by Jim Lewis and additional music by Aaron Johnson and Jordan McLean.

Fela! is also produced by Ruth and Stephen Hendel, Fela Broadway, LLC, in association with The National Theatre of Great Britain. To attend this powerfully historic and exhilarating musical production log onto

www.CenterTheatreGroup.org

.

Ten year-old singing sensation, Ashley Nicole Green, makes final 12 in HUB-TV's 'Majors and Minors' reality show
HUB-TV's reality show "Majors and Minors," which mentors 12 kids ages 10-16 to the completion of a project with one of the 12 walking away with a recording contract and a featured spot on a national tour, airs on Sundays at 7 p.m.PT/10 p.m.ET. Ten year-old singing/acting and dancing sensation Ashley Nicole Green is one of the 12, chosen from a pool of 40,000 admissions. Mentors include Brandy, Leona Lewis, Jennifer Hudson, Jordan Sparks, Will.I.Am, Claude Kelly, Adam Lambert, Avril Lavigne, Ryan Teddy, and Mike Posner.

"I am very proud. I'm having the best time with this," Ashley said about her experience on "Majors and Minors." "I never thought of being on television...I dream of being a superstar, but never thought of the logistics."

You need only talk to Ashley to find out that she has maturity well beyond her age. She is articulate, wise and very humble to be so talented - with a passion you can clearly hear through her powerful vocals.

Judges of "Majors and Minors" that will decide who gets the recording contract include V.P. of BMI Barbara V. Cane, Sr. V.P. of RCA Records Kevin Beisler, CEO of BUG Music Johns Rudolph and President/CEO of HUB-TV Margaret Loesch. "Majors and Minors" premiered November 17, 2011 and will run for 15 weeks.

"Brandy, she pretty much mentored us. She is the person we look up to," Ashley Nicole added when discussing the major players who came to counsel them. "She is a happy spirited woman who gave us tips."

Green admitted that the show is a lot harder than she originally thought.

'It would be wonderful to complete an album. I thought it would be easy," she pointed out to me. "I been working on this (one) song for three months and I'm still not finished."

HUB-TV also airs such kid shows as "Transformer Prime," "My Little Pony," and "Strawberry Shortcake Berry Bitty Adventures" - just to name a few. The network is a digital and satellite channel launched in 2010 replacing Discovery Kids in a joint venture of Discovery Communications and Hasbro. The programming is geared towards ages 6 - 12.

For more information on HUB-TV's "Majors and Minors" log onto www.HubWorld.com and for more on Ashley Nicole Green log onto www.AshleyNicoleGreen.com.

Syndicated columnist Eunice Moseley's 'The Pulse of Entertainment' highlights of 2011
Each year for my syndicated column, The Pulse of Entertainment, I feel blessed to be able to interview such prestigious entertainment industry people, as well as attend events of the same measure - 2011 was no exception. As my interviews and dates to review events come to an end this year, I would like to reflect.

Highlights for 2011 started with an interview with Eric Benet on his album release, "Lost in Time," which hit the ground running with its' first single "Sometimes I Cry." That month also included interviews with Rance Allen ("The Live Experience II" CD/DVD), Rae Dawn Chong ("The Color Purple" Blu-ray/DVD), and Reginald Hudlin ("Black Panther" comic book).

In the weeks and months that followed I attended for review such events as the 42nd NAACP Image Awards, the 2nd Annual ASCAP R&S Grammy Brunch, the David E. Talbert stage-play "What My Husband Doesn't Know;" the "Men of Soul" tour for Freddie Jackson's performance; the musical 'The Color Purple" for the performance of Lil' Mo; ASCAP I Create Music, where industry people like Jermaine Dupree came to speak; the breath-taking E3 Expo; the Debbie Allen directed play "Twist," the Gracie Awards, the ASCAP R&S Awards, the BMI Urban Awards, and the BET Awards.

Some other interviews in 2011 included Victoria Rowell ("Of Boys and Men"), Dorinda Clark-Cole ("I Survived"), Cali Swagg District, Joe ("The Good, The Bad, The Sexy"), Jackie Harry ("Ideal Husband"), Tyra Banks ("Modelland"). Sallie Richardson-Whitfield (I Will Follow), Morgan Freeman (Born to be Wild), LisaRaye ("The Real McCoy"), Mint Condition, Tichina Arnold ("Happily Divorced"), Kim Burrell, Aldis Hodges ("Leverage"), Nick Cannon ("America's Got Talent"), Lester Speight (Transformer 3), Cedric the Entertainment ("It's Worth What?"), Martha Munizzi, Tocarra ("Ultimate Merger"), Brian McKnight ("Just Me Tour"), Yolanda Adams, Marques Houston ("Somebody Help Me 2"), Donald Lawrence, Ginuwine, Lalah Hathaway, James Reynolds ("Days of Our Lives"), Russell Hornsby ("Grimm"). Jacob Lattimore ("Like Em All"), Robin Givens, Queen Latifah and Dolly Parton (Joyful Noise), Kim Coles, Ledisi, Sheryl Lee Ralph, producer/singer Lonny Bereal, Maysa ("Motions of Love"), and Mary Mary.

Movie screenings for review included (plus interviews with the starring actors) Lion King 3D, Death at a Funeral, The Losers, The Lottery Ticket, Horrible Bosses, A Nightmare on Elm Street, Takers, I Will Follow, Harry Potter and the Deathly Hallow Pt2, Final Destination 5, Machine Gun Preacher, Happy Feet Two, and New Year's Eve.

If 2012 is anything close to 2011 then the readers of The Pulse of Entertainment will be just as pleased as me For more on The Pulse of Entertainment - over ½ million total readers each week - log onto www.ThePulseofEntertainment.com.