The Pulse of Entertainment: Contemporary Gospel's Therron Says 'She Was Strong' on New Single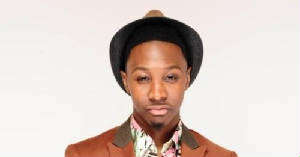 June 3, 2022) - "I wrote the song almost 20 years ago for my mother," said Contemporary Gospel artist Therron Fowler about his new single "She Was Strong " released last month near Mother's Day. "I want to give her, her flowers..."

A native of Glen Burnie, Maryland Therron has been cultivating his own style of music ministry for most of his 34 years. His debut single was "Walk with Me".
"My mother named me, it means warrior," Therron said when I asked about the uniqueness of his name.
"My dad was a Gospel singer from Baltimore and a preacher," he continued. "I developed a love for singing and performing. I've been doing it professionally for 20 years. I do a lot because I've been doing this for a while...singing background for a lot of artists - you get comfortable. He (God) reminded me to 'be a good steward on what I gave you'," Therron said.He said because of his insecurities and doubts he was neglecting his calling - music ministry.
"I teach music," he added about his job as a music teacher in high school. "I love it! I blend in with the students."
Therron teaches music at the high school in Baltimore (Lake Clifton) where I graduated from when it was a school of the arts.
When I asked him about his future in music ministry he said, "In the future I am looking to follow-up the single with an EP in September titled 'Praying About It.'" www.TherronF.com