The Pulse of Entertainment: Christopher Martin Directs the Choir in The Sound of Christmas BET Plus Musical Film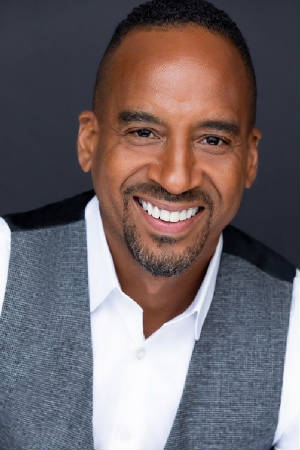 (December 9, 2022) - "I play brother Odom, a smart-aleck choir director," said actor Christopher Martin (House of Payne, The Story of Nadia) about his new role in the BET Plus holiday musical film The Sound of Christmas starring Ne-Yo and Serayah airing the month of December. "In his choir you have to come on time and ready to sing."

Christopher is not only a well-seasoned actor, but also an MC based in Atlanta. Known as The Fashion Plate MC, and I have no clue what that means, Martin is best known for his role as the father of Jordan in the Will Packer film Little starring Marsai Martin, Issa Rae, and Regina Hall. The Sound of Christmas also stars Draya Michele, Michael Anthony, Alijah Kai, Roxzane T, Mims, Charlie Newell, Sarah Cool, Jennifer Sears, William Wilmoth, and Patrick Young, Jr.

"It's running all the month of December on BET Plus," he told me when asked. "To be booked on BET as an actor you know it will air year after year after year."

The Sound of Christmas is a romance musical about love found during the holidays. Directed by Booker T. Mattison and written by Mattison and Tiffany L. Warren.

"Serayah is a powerful young actress," Christopher said when asked if he was able to work with Ne-Yo and Serayah. "I've seen her on 'Empire' and to meet her was great."

"(Ne-Yo) I did not have any lines with him, but he was in the church with me," Martin continued. "He was on the set. I had 10-15-minute conversation with him. He is a super-cool dude. I told him he has the clubs pumping. We talked about acting. It was cool, the biggest star asking for my advice...seeking knowledge."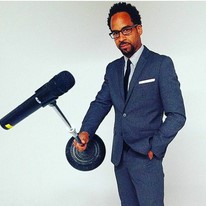 Christopher Martin is such an active actor; he is currently starring as DJ Gravy on Bounce TV's "Finding Happy" series starring B. Simone and Kim Coles. His first romantic project was an indie film All That Matters as Jay an insurance adjuster playing on Amazon Prime, Turner Classic Movies and Vimeo on Demand. Acting credits also includes Bigger and "Homicide Hunter."

"As an African-American male, all of us were in the church choir," he laughed when talking about where he draws from for his role as a choir director. "After two years in the church choir, the director told my mother I think your son should do sports. I pull from that. If a kid's voice was off, his head would turn." www.TheFashionPlate.webs.com www.BET.plus
SYNDICATED COLUMN: Dr. Eunice Moseley has an estimated weekly readership of over one million with The Pulse of Entertainment. She is also a Public Relations and Business Management Strategist and Consultant at Freelance Associates, and is Promotions Director (at-large) for The Baltimore Times. www.ThePulseofEntertainment.com EVENTS: "Uplifting Minds II" Entertainment Conference (ULMII), founded by Eunice in 1999, is into its 24th year. Next events are coming to Baltimore via Zoom Saturday April 15, 2023, presented by Security Square Mall and The Baltimore Times, and Los Angeles via Zoom Saturday, November 11 2023. The ULMII event is a free entertainment conference offering a Professional Industry Panel Q&A Session, a Professional Talent Showcase and National Talent Competition (vocal, songwriting, dance and acting) where aspiring artists have a chance to receive over $17,500 valued in prizes/product/services. Log onto www.UpliftingMinds2.com for more information or to RSVP for Zoom Access email info@ThePulseofEntertainment.com.
www.GoFundMe.com/Uplifting-Minds-II-Entertainment-Conference