The Pulse of Entertainment: Harpist Mariea Antoinette's 'All My Strings' Album is Exquisite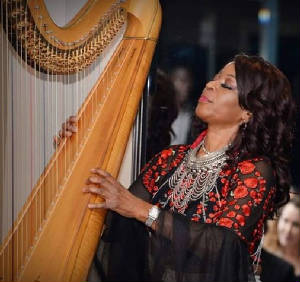 (May 12, 2020) - "This is my third project," Harpist Mariea Antoinette said about her "All My Strings" album release on the Infinity/Maasai imprint. "Lately in my live performances...usually it's a mini-orchestra and I love strings. I said next one I want to just keep strings. I think it makes it classic...what you would hear from Barry White...or Isaac Hayes."

Mariea Antoinette was absolutely right. In reviewing the album the word that kept coming up to describe the sound I was hearing was "exquisite." You can clearly hear the strings of the harp, guitars, cellos and violin - with the harp almost at times sounding like a piano. Mariea even makes the harp sing, which you can clearly hear on her covers of The Gap Band's "Yearning for Your Love," Lonnie Liston Smith's "Garden of Peace" and Minnie Rippleton's "Loving You."
"I have a wonderful producer who understands what I want," she pointed out. "I would say the beats like this and he would come up with the idea. The opening track ("Overture"), he wrote that...wanted to show my versatility."
The San Diego native's producer on the "All My Strings" project is Allan Phillips who wrote four of the nine tracks on the album. The first single was "Overture" and it reached the Top 5 on Billboard. The "Loving You" cover was in-dedication to her first producer Carl Evans (Fattburger).
"He (Carl Evans) was the musical director of Fattburger," Mariea Antoinette said about her first musical mentor. "We wanted to do a song in tribute to him...a very powerful influence on me musically. He would say, 'You can do it!'"
It was Carl Evans that introduced her to producer Allan Phillips. She was self taught on the harp, though she has a Masters in Harp Performance. Eventually Mariea Antoinette played on stage with Ne-yo for the BET Awards and for President and First Lady Obama at a private event. Her second album "Straight From the Heart," released in 2015, reached Top 5 on Billboard and in 2018 she won a Black Music Award.
"I went to an all girl school. A private school and one day out of the year for music moth they would bring artists to show us 'music.' A harpist came and I knew then it was beautiful. I went home and said, 'I want to play the harp.' And I got, 'What? Black people don't play the harp!' I grew up in a house of boys. So I went to school and came home and bagged at my brother's restaurant...in a year I found a teacher. In another year I was playing at church. The Pastor and First Lady believed in me. My first song was 'Amazing Grace.' I knew as a child I was going to do great things."
Great things she surely did. When you hear Mariea Antoinette play the harp you will know that she was born to be a harpist. The "All My Strings" is an exquisite piece of work. I love the opening track "Overture" because it reminds me of a major motion picture soundtrack - very powerful. I also like #2 The Gap Band's cover "Yearning for Your Love" because you can hear the Harp singing the lyrics to the song and it's lovely to hear. I also like #3 the title track "All My Strings" because it's a sweet and heartfelt piece. I like #4 the Minnie Rippleton hit "Loving You" because again you can hear the harp singing the lyrics and at times it almost sounds like a piano wrapped in the excellent work of the guitar to bring harmony to the piece. The last song that I liked, meaning I could see myself listening to it over and over again, was ##7 "Sekmet: Lioness Goddess," and not just because I am a Leo-the-Lion, but because I love the way it rolls, like waves in the ocean, giving it a very fresh sound.
www.MarieaAntoinette.com