The Pulse of Entertainment: Grammy Nominated Rev. Luther Barnes Tells Us to 'Look to the Hills' on New CD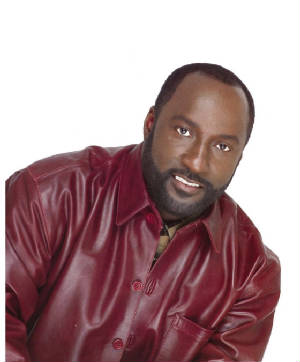 (May 5, 2020) - "He wrote 'Rough Side of the Mountain,'" said Grammy nominated Rev. Luther Barnes about his father, the late Rev. F.C. Barnes.

Rev. Luther Barnes releases on May 29, 2020 a new album that follows that "Rough Side of the Mountain" message with "Look to the Hills" (Shanachie Entertainment). The "Look to the Hills" album features the Restoration Worship Center Choir, Huey Williams, Jarrell Smalls, and Doc McKenzie. Its first single, the title track, is becoming a Top 20 Gospel Radio hit.

"The single has been out since January. I wrote it. Something to bring us into the New Year," Rev. Barnes explained. "With money problems and health issues, we don't have answers. We need to look to the hills because it's going to get better. God's got it under control."

Rev. Barnes has been part of the Gospel music industry for over 30 years and has garnered three hits. His last album "The Flavor of God" was released after a seven year absence and its single "God's Grace" became the biggest Gospel hit in 2017.

"I received the Grammy nomination actually in 2004 for the song 'It's Your Time.'" He said. "I was fortunate to go to college to study music. I wrote songs in church."

As a Gospel vocalist Rev. Luther Barnes started out as a member of The Sunset Jubilaires. His expertise in songwriting and vocal delivery made him a Gospel legend whose songs, just like his father's, will be played by the Gospel industry long after he has gone "home."

"I've been a Pastor since 2014," Rev. Barnes added. "The name of the church is Restoration Worship Center. The choir from the church, my family, is 30-40 people who do very well. It's my second recording with them. It's my father's church, he passed away in 2011. Three years later I started my own church." www.Shanachie.com
SYNDICATED COLUMN:
Eunice Moseley, has an estimated weekly readership of over ¼ million with
The Pulse of Entertainment
. She is also a Public Relations Strategist and Business Management Consultant at Freelance Associates, and is Promotions Director (at-large) for
The Baltimore Times
.
www.ThePulseofEntertainment.com
.
EVENT:
"Uplifting Minds II" Entertainment Conference (ULMII), founded by Eunice in 1999, is into its 21st year. Next events are coming to
Los Angeles in November, 2020
and to
Baltimore Saturday April 17, 2021
. The ULMII event is a free conference offering an Entertainment Business Panel Q&A Session, a Talent Showcase and Talent Competition (vocal, songwriting, dance and acting) where aspiring artists have a chance to receive over $15,000 valued in prizes/product/services. Log onto
www.UpliftingMinds2.com
for more information.
www.GoFundMe.com/Uplifting-Minds-II-Entertainment-Conference