Jazz pianist Marcus Johnson Brings His Amazing Skills to Rams Head on Stage January 19, 2017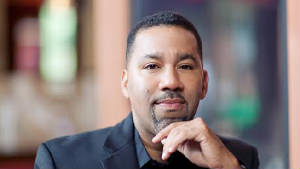 "It's featured on the menu," said NAACP Image Award winning Jazz Keyboardist Marcus Johnson about his brand of wine, FLO, being available at his January 19, 2017 concert at Rams Head on Stage in Baltimore. Since he launched his FLO brands of wine he has incorporated them into the menus of venues for every performance. "I will never stop unless I stop selling wine. Everything is to compliment the other. We are in...DC/MD/VA...300 stores."
On February 1, 2017 Johnson said he is releasing his first book "For the Love" which will have 14 chapters.
"Each chapter has step by step instructions on what you can do," Marcus said about his book on love. There will also be a Music Enterprise Conference and a "For the Love" seminar.
Marcus is not new to venturing outside of his amazing skills on the keyboards. Almost immediately starting his music career he ventured into business by partnering with BET Network founder Bob Johnson to form his label Marimelj Entertainment Group, production company Three Keys Music, recording facility Studio 8121, and two publishing companies Marimelj and Three Keys. He is CEO and President of them all. Marcus Johnson is also CEO and Founder of FLO Brands, LLC and FLO Wines, LLC.
"Last year I released 'Live and Direct," he informed me. When I asked about his most popular songs he said, "'88 Ways to Love,' 'Summertime Flo,' and 'Danny's Song,'"
Aside from "Live and Direct" Johnson has released 17 albums. The Ohio native's family moved to Washington, DC when he was 12 years old. That next year Marcus' father won the Maryland Pick 3 Lottery and brought him his first keyboard. He went on to study traditional Jazz with Joe Thomas and Thelonious Monk. Through high school at Montgomery Blair High School he played in the Jazz band. After graduation he attended Howard University and did his graduate studies at Georgetown University receiving a M.B.A. and J.D. in Law. While at Georgetown in 1997 he released his first Jazz album "Lessons in Love" which sold independently 40,000 copies. It was released also while he was at Georgetown University on his own label Marimelj with Bob Johnson as its main investor.
"If you look at my success I am not taking no for an answer," concluded Marcus who has served as a panelist at my national "Uplifting Minds II" entertainment conference (www.UpliftingMinds2.com) in Baltimore many times. Aside from all he does helping young artists has been a constant in his career as well.
Come experience the FLO of Love with Marcus Johnson Thursday, January 19, 2017 at Rams Head on Stage (20 Market Place, Baltimore, MD 21202). You can log onto www.RamsHeadonStage.com or www.ThreeKeys.com or www.FLOBrands.com for more information about his performances, his wines, his book and his latest album release "Live and Direct."

SYNDICATED COLUMN: Eunice Moseley, has an estimated weekly readership of over ¼ million with The Pulse of Entertainment. She is also a Public Relations Strategist and Business Management Consultant at Freelance Associates, and is Promotions Director (at-large) for The Baltimore Times. www.ThePulseofEntertainment.com. EVENT: 18th annual "Uplifting Minds II" Entertainment Conference (Baltimore Sun. April 23, 2017 and Los Angeles in October, 2017). This is a free event that offers an Entertainment Business panel and national talent showcase competition (vocal, songwriting and dance) with over $10,000 in prizes. www.UpliftingMinds2.com.