The Pulse of Entertainment: First Lady CeCe Winans-Love and Others Honored at '1st Ladies High Tea'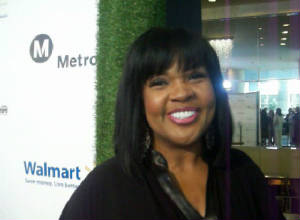 "When you understand who you are then its pretty easy I think," said CeCe Winans-Love, 10-time Grammy winning Gospel vocalist and First Lady of Nashville Life Church, about the challenges of the 1st ladies of the church. "When people try to become something that their not or what they think people expect...I think it becomes hard."
Such words of wisdom came in abundance while talking to the many first ladies of churches during the 10th annual "First Ladies High Tea" event held in late 2017 at The Beverly Hilton Hotel. CeCe Winans-Love is married to Pastor Alvin Love, II of the Nashville Life Church and she joined other first ladies who were honored at the L.A. Focus event. Winans-Love received the "Spirit Award." The "First Ladies High Tea" honors were founded by L.A. Focus publisher Lisa Collins. The event always features celebrity guests who are presenters or hosts.
The 2017 "First Ladies High Tea" hosts were Dr. Bobby Jones and Dr. Beverly "Bam" Crawford, pastor of Bible Enrichment Fellowship International Church. Aside from the first ladies of the church other honorees included 37th District Congresswoman Karen Bass and actress Wendy Raquel Robinson for their community service. The first ladies honored also included Regina Taylor of Park Windsor Baptist Church, Morgen Wilbourne of Pacific Crossroads Church, Patricia Swancy of Peace Apostolic Church and Cynthia Bueina of Restauracion Total Church.
"I had to adapt," said First Lady Patricia. "My husband (Bishop Howard Arthur Swancy) and his late wife started the ministry. It was a very thriving ministry when I came into it. It was well organized and I had to adapt to it. It wasn't that big of an adaptation. The love of the Lord Jesus Christ (helped her to adapt). He is always there for me."
"Me and my husband (Rev. Terrell Taylor) were members of the church," said First lady Regina. "We grew up in the church and went to elementary and high school together and he introduced me to the church. I accepted Christ there. We started as young adults. When the senior pastor retired he became the senior pastor - so we have a long history. Just trusting and believing God and having him led me and the support of my husband and entire family and our church family has been so warm and supportive." When I asked how God talks to her she said, "God talks to me through the Word of God. He'll lead you to the scripture that's perfect for you."
"My husband replanted the church a year and half before we got married," said First Lady Morgen. "He was a single pastor and I married into the role of first lady. But our church was a young one. Good friends and Jesus (helps her adapt). I talk to Jesus every morning, staying grounded in the Word. He most often talks to me when studying the Bible with other people. I hear him through the Word when I'm having conversations with others."
The "First Ladies High Tea" honors began in 1997 to celebrate and embrace the role of first ladies and women in the church providing community service. Past honorees have included California First Lady Maria Shriver, Oscar nominated Cicely Tyson, former Los Angeles County Supervisor Yvonne Burke, the legendary Nancy Wilson, Gospel duo Mary Mary, TV One founder Cathy Hughes, actor/activist Hill Harper and Attorney General of California Kamala Harris.
SYNDICATED COLUMN: Eunice Moseley, has an estimated weekly readership of over ¼ million with The Pulse of Entertainment. She is also a Public Relations Strategist and Business Management Consultant at Freelance Associates, and is Promotions Director (at-large) for The Baltimore Times. www.ThePulseofEntertainment.com. EVENT: 19th annual "Uplifting Minds II" Free Entertainment Conference (Baltimore and Los Angeles). Entertainment Business panel and national talent showcase competition (vocal, songwriting and dance) with over $13,000 in prizes. www.UpliftingMinds2.com.